The medicinal menu
Durangoans embrace healing power of food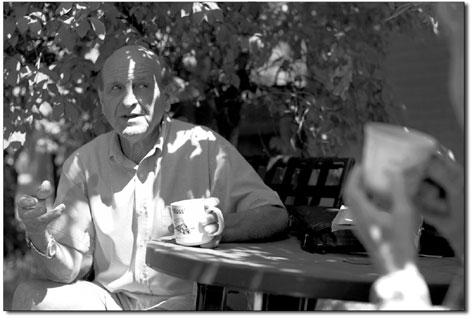 Glenn Hieronymus and Miss Norma sit together under an apple tree on Third Avenue on Saturday morning enjoying what will be Miss Norma's third cup of tea. Miss Norma has several cups of the tea, which was made by Hieronymus, every day to to help her with Alzheimer's./Photo by Jared Boyd
by Will Sands
It's good for what ails you," 'Miss Norma' Hieronymus toasts as she raises the warm drink to her lips. Alzheimer's happens to be what ails Miss Norma, and for the last three years her stepson Glen Hieronymus, a long-time food scientist, has been working with her to get the upper hand on the disease.
Miss Norma regularly consumes Glen's tea and tonic, a recipe handed down from his grandmother that combines a green herbal tea blend, organic cinnamon, yellow root, ground chili seed and peppermint. "The synergistic recipe is where the power is," Glen Hieronymus explains of the tea, available locally at the Durango Coffee Co. "It rejuvenates the hemoglobin and helps with the oxygenization of the blood cells."
Miss Norma also follows Glen's Trinity technique – which focuses on spirit, body and mind with a combination of tea and tonic, a "therapeutic menu," and regular and appropriate exercise. Hieronymus says their combined efforts have turned Miss Norma's Alzheimer's around. Colorado State University agrees, having tracked Miss Norma's progress for the last three years, and says that there is definitely something to Glen's Trinity technique.
"Miss Norma's Alzheimer's has stalled and things are now getting better instead of worse," Hieronymus says. "I don't want to make any claims but the research department at CSU seems very happy."
Like many healers, Hieronymus' treatments focus on the obvious – food. His therapeutic menu is tailored to the individual patient but is grounded in basic food sense.
"We start by eliminating the wrong foods and building up the right foods," Hieronymus says. "I immediately get them off processed foods and sugars. The hydrogenated oils are horrible for a normal person, let alone someone suffering from Alzheimer's or dementia."
The ultimate goal of the Trinity technique is reconstruction and repair, and Hieronymus hopes to support the body and mind as they rebuild themselves.
"I'm thinking about rejuvenation as much as anything else," he says. "Some of the teas and tonics immediately go into the body and cleanse and restore cells. Then the focus is on finding balance in the body, mind and spirit."
Katrina Blair, Durango native and founder of Turtle Lake Refuge, also approaches ailment from the most basic level. For nearly a decade, Turtle Lake Refuge has shared the benefits of eating wild harvested, locally grown and "living" foods.
Blair's mother, Pat, was diagnosed with rheumatoid arthritis at age 17, and the family would eat entirely raw one day each week to promote general health. Courtesy of wild and raw foods, Pat Blair is now entirely free of the disorder.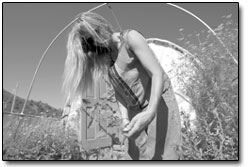 Katrina Blair, founder of Turtle Lake Refuge, harvests greens from one of her gardens./Photo by Jared Boyd
"My mom really got me into the nutritional side of foods," Blair explains. "She had rheumatoid arthritis and was able to reverse and cure the disease by consuming wild foods."
Twice a week, Turtle Lake Refuge serves a community meal of gourmet, living, wild and locally grown foods. The refuge has no menu, simply one special of the day, and the daily lunch is what is in season and what is available.
Availability and abundance are also playing into a new path for Turtle Lake Refuge. Blair is now exploring the many benefits of plants that have always been considered a nuisance – noxious weeds.
"Currently my passion is for wild food as medicine," Blair says. "So many plants that are on the noxious weed list are edible, highly medicinal and are permaculture plants that promote the regeneration of disturbed and compacted soils and make way for the next plants."
Blair lists thistle, burdock, dandelion, mallow, wild mustard, chicory, amaranth and plantain as a few of the many weeds with beneficial properties. "These plants are essential to the ecosystem in the boundary zones between human and wild areas," she says. "By spraying these plants with herbicide, we're actually undermining the soils and the entire ecosystem."
The medicinal properties of many weeds are off the charts, according to Blair. While commercially grown produce subsists on nitrogen, phosphorus and potassium, weeds and wild grown plants subsist on dozens of minerals. By consuming them, people benefit from the full spectrum of nutrients.
"All of the weeds have deep tap roots," Blair explains. "Those roots reach deep into the earth, access the minerals and transfer them into the leaves. Currently, people are so deficient in minerals, and we really need to replenish our systems. Wild plants access that whole rainbow of nutrients."
Not only is Turtle Lake Refuge tapping weeds for health, the nonprofit is turning profits from them. The group has a Sustainable Living Education and Open Space Fund and sales of its "Local Wildlife Superfood," a powder of dried weeds and wild plants, benefit the preservation of endangered, local places.
"People are really into the superfood," Blair notes. "A lot of them are already buying spirulina or blue-green algae that's freeze-dried and shipped from far-off places. This powder is harvested right here and is full of nutrients."
Blair's hope is that Durango will grow to accept weeds as a part of the landscape and start enjoying their benefits. "It feels like a real pivotal time to make a conscious change in our community," she says. "It appears that noxious weeds are taking over, but that's only because humans are expanding and creating more and more compacted and damaged soils. It's a critical time for positive change in our community."
Hieronymus also sees the present as a pivotal time, and he's hopeful that people will begin to recognize that alternative is actually essential.
"A lot of natural healing has always been stepped on," Hieronymous concludes. "It's amazing that this information is being pushed in the corner. This stuff should be primary not alternative." •