Local disc golf endangered
Colorado Timberline Academy closes course until further notice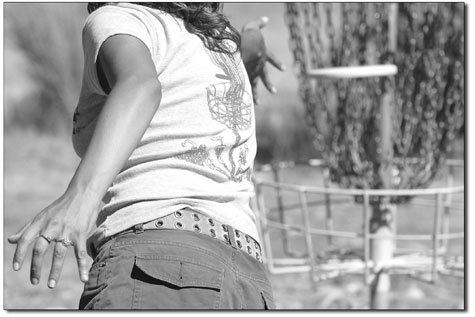 A disc golfer takes a shot at the Colorado Timberline Academy course last summer. The school has decided to close the course indefinitely due to vandalism and abuse of the facilities, which are on private property./Photo by Todd Newcomer.
by Amy Maestas
Durango disc golf enthusiasts have been worrying recently about a potential loss of one of the area's best developed disc golf courses.
In late May, Colorado Timberline Academy closed its public disc golf course after a string of vandalism and ongoing abuse of the course on 50 acres of private property north of Durango. The decision came from Dan Coey, CTA director, who sent a letter to members of the Durango Disc Golf club. The letter, posted on the club's web site, states that the course is closed "until further notice."
Coey's letter also states, in part: "Due to the increasing disrespect for the course, we have chosen to not have the course open to the public. In the past three months, the donation box has been stolen, trash has increased and other property has been vandalized. Golfers are still throwing cigarette butts on the ground (the course has a no-smoking policy) and daily we pick up beer bottles."
On Monday, Coey confirmed the course's closure but added that he eventually will re-open the course with tighter restrictions and regulations on who can use it and how. Because the private course is on CTA's land, the academy, which built the course six years ago, has to pick up the maintenance costs. He says the course seems to have become more of a "hangout place" than a place to play disc golf.
The announcement on the club's web site is prefaced with: "Due to the thoughtless and selfish acts of a few, Colorado Timberline is closed until further notice." It's a strong statement that some in the disc golf community say expresses their disappointment, even though no one knows exactly who is responsible for the damage.
Chris Bellmore, who says in the past couple of years that he used the course at least twice a week, isn't convinced that it's only disc golfers causing the damage.
"I hope (Coey) just doesn't think it's all external people or things," Bellmore says. "Who knows who it is?"
Erika Pray, Durango Disc Golf club member and a disc golf event organizer, agrees.
"There's no way of knowing who it is, but I really do not think it's the people who put the blood, sweat and tears into that course," she says.
Pray says that because CTA allows club members and their guests to use the course, disc golfers pitch in often to help mitigate weed growth and general upkeep of the wild area. Regardless, Bellmore says that if CTA decides to close the course to the public, it will be a significant loss to disc golfers. CTA's 18-hole basket course is Durango's largest and most developed. It is also a venue for tournaments and workshops each year, many of which are fund-raisers for nonprofit organizations.
"It's one of my major forms of recreation. I have a real affinity for the place," adds Bellmore.
He's trying to rally support and ideas from the disc golf community to advance to Coey. Bellmore says CTA may have to require users to register each time they use the course, making people more accountable for their actions and presence. He also hopes users will step up and volunteer to prevent damage to the course. Pray says that it will be important, once the course re-opens, for disc golfers to maintain a presence there so that people understand its worth.
"I can empathize with (CTA) 100 percent, but at the same time, disc golfers need to help out," Bellmore says.
Pray is hopeful that users will realize how fortunate they are to have such a course in Durango, particularly because it is a different kind of challenge than found in other towns, where courses are more polished and straightforward.
"There's something to be said about mountain golf," she says.
In the past few years, Pray says the Durango disc golf community has grown steadily. Although the local dues-paying club has remained relatively small, it is a "dedicated" bunch that relies on courses the public can access. That's why she wants course users to take notice about the temporary closure.
"This isn't Dalton Ranch," says Pray. "The users have to maintain it, because it's a privilege that we even get to use it." •