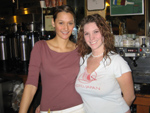 Diver:Kirsten and Jen from the Steaming Bean
Facts:These ladies cover everything from military paint-ball exploits to bad '70s television.
Got a dirty little secret?
Looking for guidance to remedy a sticky situation?
Seek help from the master of the kitchen! The Dish Diver has solutions to life's little messes. Send your problems to "Ask the Diver." - By mail to Durango Telegraph - Attn Diver -534 Main Ave., Durango, CO 81301; by email at telegraph@durangotelegraph.com, or by fax at 259-0448.
Dear Diver,
I am a junior at FLC and am interested in being more involved in school. Actually, I just want to meet new friends. I noticed the club fair today, do you have any suggestions on which clubs to join? I know it's obvious to join what you are interested in, but about 15 look fun and interesting. If you are an FLC grad, what did you do for fun while you were here?
– Fred
Fred,
Ahh, college clubs, these are just a hang-over from something that is, frankly, SO high school. For our part, we never joined any clubs during our time at FLC because they require early mornings and/or late nights, which are hours that should be devoted to drinking or recovery. Drinking? Certainly we meant studying.
– See you at the bars, Divers
Diver,
What's with paintball? Isn't it just a glorified video game?
Anyone who plays paintball is a dorky kid trapped in an adult's body. So you shoot people with paint. Doesn't it hurt when you get hit? Can't you play a real sport? I don't get it, please help me understand.
– Jenny
Jenny,
Are you kidding? A glorified video game? Paintball takes cunning and skill because humans are the wiliest of all game. If there were a group, say, a club that appreciated the welts, concussions and similarity to hunting as much as we do, we would join, immediately.
– See you out there, Divers
Dear Diver,
I'm totally baffled by my parents' obsession with reality television, especially "Survivor." When I was a kid they thought "Three's Company" was total crap. They thought all televi
sion was total crap! So now I'm an adult, and I think TV is total crap, especially reality television. Are they regressing? Getting old? What's up?
– Johnny, via e-mail
Johnny,
Your thoughts have inspired us. We would love to make a "Three's Company" reality show with you. It will be like no reality show you have ever seen. Episode One, to be filmed tonight at Falconburgh's: "Jen's Birthday Shenanigans." Your parents will be so proud ... or they will think it's total crap.
– Co-Stars in the Making, Divers