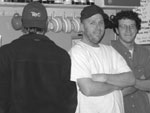 Diver: Scott, Denny and some guy from Mill Street Brews in Bayfield.
Facts:Three questions, three answers from two divers and some guy in Bayfield. It's true, life is better in Bayfield!
Got a dirty little secret?
Looking for guidance to remedy a sticky situation?
Seek help from the master of the kitchen! The Dish Diver has solutions to life's little messes. Send your problems to "Ask the Diver." - By mail to Durango Telegraph - Attn Diver -534 Main Ave., Durango, CO 81301; by email at telegraph@durangotelegraph.com, or by fax at 259-0448.
Hey Diver,
Is a hangover a legitimate excuse to call in sick to work? I don't think it is – no self-imposed sickness is worthy of sympathy or special treatment. What do you think?
– Mac in Hesperus
Mac,
You are absolutely correct. A hangover is not a legitimate excuse for sympathy or dragging ass at work. The only exception would be if the employee was at the Homeslice Christmas party the night before and drinking with Cory Kitch until 5 a.m. In that case, due consideration is warranted.
– Headachingly yours, Diver No. 1
Dear Diver,
My friend constantly borrows stuff from me and loses what she borrows! Shoes, CDs, whatever. It's even gotten to the point where she'll come into my house and take things, leave a note saying she borrowed it, then I never see it again. Should I document/itemize what has been taken and lost, and send her a bill? Or just have a sit down with her, lecture her on her rudeness and inconsideration, and then move on?
–Sheila
Dear Sheila,
This is much easier than you are making it out to be. Your friend sucks. Clearly this irresponsible hippie thinks that possessions are communal, and things are insignificant to the individual.There's only one way to teach a hippie, and for that we need look no further than the good ol' Golden Rule: Do unto that bitch until she gets the point. Next time you're in her house, hide things – toothbrushes, books, CDs, DVDs, whatever. And eat her food while you're at it. She'll go nuts. Then, after about a month of it, hand her back her String Cheese CD and say "there's more where this came from, now give me back my damn shoes!" Oh, and please feed the damn dog. That poor thing probably hasn't eaten in a week.
– Diver No. 2
P.S. If she really wants great books at hippie cheap prices, try Ted's Books in downtown Bayfield.
Diver,
I'm writing in response to something another diver printed a few weeks back, when Schoolhouse Jon mentioned that it's fun to make fun of people who like crappy music. Why does he, or anyone, think that this is OK? We all like different things. So I like stuff on MTV, does that make me a criminal? So I don't have time to research underground music, and I like the soundtrack to the "OC" TV show? Why put me down? Why Diver, why?
– Music fan via e-mail
Dear "Music Fan"
The reason Jon and all subsequent divers put you down is because you claim to be something you aren't. You are not a music fan. You are the lowest common denominator. To say that enjoying the soundtrack to the "OC" makes you a music fan is like saying standing in a garage makes you a car. It doesn't, and you aren't.
– Disdainfully yours, Some guy in Bayfield