Ski areas see strong holiday
Regional market makes big showing despite snowpack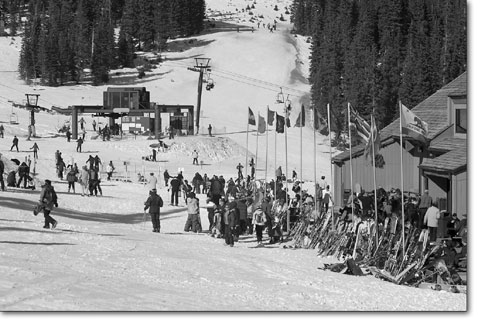 The lunch rush packs the deck at Wolf Creek ski area during the Christmas break. Despite a late start to the season and a dry December, Southwest Colorado ski resorts reported brisk or better than expected business over the holidays./Photo by Todd Newcomer.
by Missy Votel
One of the typically busiest times of the ski season is wrapping up, and lack of snow did not seem to deter holiday visitors. Local resorts are reporting better than expected numbers, despite the lackluster start to the 2005/06 ski season.
"We exceeded our expectations for the holiday week and holiday period, considering we had a late start," said Durango Mountain Resort Director of Communications Matt Skinner.
The ski area was forced to postpone its original opening date of Nov. 24 because of lack of snow and warm temperatures. After a cold snap that allowed for snowmaking, the resort was able to open Dec. 10 with limited terrain on its frontside. Currently, DMR is reporting a base of 30 inches with most of the frontside runs open, Skinner said. The resort has also replenished its snowmaking reservoir and plans to extend snowmaking until the end of January. Typically, snowmaking ends in December.
"We've blown more snow this season than we have in the past several years," he said.
With ideal snowmaking conditions, Skinner said the resort plans to have Chair 3, the Hermosa Park Express, open by this Saturday.
Although concrete skier day numbers will not be available until the end of the season, Skinner said the holidays served as a pick-me-up for a somewhat dreary December.
"It definitely served as a shot in the arm, a late start will put you behind," he said.
Positive indicators included a higher occupancy rate in village rental units than in previous years as well as Ski and Ride School enrollment that surpassed the holiday week of 2004-05. Skinner said it appeared that DMR's traditional out-of-state market made the strongest showing this year, with a majority of visitors coming from neighboring states.
"We had a good turn out from Arizona, New Mexico and Texas," he said.
Given the thin snowpack, Skinner said the resort has instead put the emphasis on guest amenities for destination skiers, such as free hot chocolate in the plaza and activities on the Purgy's beach.
"We've tried to concentrate on the guest experience and guest services in light of the limited terrain," he said.
Roseanne Pitcher, director of marketing for Wolf Creek Ski Area, said the small, family-run area also drew its typically large Texas following over the holidays, with New Mexico and Arizona also making strong showings.
Although the ski area is reporting a 32-inch base and has about half of the snow it had received last year at this time, Pitcher said that didn't seem to deter skiers. For the period between Christmas Eve and New Year's Day, Wolf Creek saw 30,256 skier days, on par with the record-setting 2004-05 season.
"We did as well as last year, which was a banner year," she said. "We're 100 percent open, and we're doing well."
Telluride Ski Resort's Director of Communications Mary Helyn Kirwan also reported crowds similar to last year, although the resort has not released any official numbers yet.
"Numbers were on par with last year," she said. "We're really lucky. We had a good holiday season."
Currently, Telluride is 84 percent open, with year-to-date snow totals about two- thirds of what they were last year at this time. However, she said recent snowstorms have helped out, and the resort, with a base of 52 inches, has stepped up snowmaking on intermediate runs.
Kirwan noted anecdotally that Texas, Arizona and New Mexico skiers also made up a bigger share than usual over the holiday period. "We probably had a larger regional drawing this year because of conditions south of us," she said.
Although low snowfall can keep away local skiers, Pitcher said it usually does not affect visiting skiers who come for reasons other than just skiing.
"They're going to come regardless because that's what they always do over the holidays," she said. "When you live in Texas, you look forward to the holidays and getting out of town."
Furthermore, the long lift lines that tend to keep locals away over the holidays don't seem to bother visitors from bigger cities. "They come from the city where it's busy, so when they have to stand in line, it doesn't bother them," she said.
In closing, DMR's Skinner also noted that destination skiers come for the whole resort experience, of which skiing is only a part.
"These are family vacations for these people," he said. "It's one of the few times of the year to get out of town with the family and come to a beautiful spot in the Rocky Mountains." •
In this week's issue...
March 17, 2022

Lake Powell drops below threshold for the first time despite attempts to avoid it
March 17, 2022

Purgatory Resort set for expansion but still faces hurdles
March 10, 2022

New health care studio takes integrated approach to healing