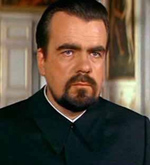 Diver: Shawn Fergusson (aka Hugo Drax) from Durango Brewing.
Facts: Drax still needs an alpha bride to fulfill his dreams of world conquest
Got a dirty little secret?
Looking for guidance to remedy a sticky situation?
Seek help from the master of the kitchen! The Dish Diver has solutions to life's little messes. Send your problems to "Ask the Diver." - By mail to Durango Telegraph - Attn Diver -534 Main Ave., Durango, CO 81301; by email at telegraph@durangotelegraph.com, or by fax at 259-0448.
Diver,
After hours of research, I've found out some things about disciplining children. Kids who were disciplined with spankings included Abraham Lincoln, Nelson Mandela, MLK and Albert Einstein. Kids who weren't included the Menendez Brothers, Dylan Harris, Erik Klebold and Adolph Hitler. Now I'm not condoning beatings. I just think anyone born between 1950 and 1970 knows what I'm talking about. What do you think?
– Donald
Donnie,
You're right; I think a good ol' smack can save the world! I'll use myself as an example. When I was 7 years old, I wanted to change my name to Hugo Drax and build a huge invisible space station from which I would launch satellites back to Earth loaded with a nerve agent that would only affect humans! This would make way for my perfect human specimens to populate the globe as the master race. Lucky for humanity my mom wielded a common kitchen utensil … the wooden spoon! As she loomed down the hall, spoon in hand, I made good my get away, with a hardback book down my pants! Damn you, Mrs. Bond!
– Diver
Dearest Diver,
What are your best recommendations for New Year's resolutions? Better yet, what do you think humans should keep on doing, instead of sheepishly giving something up then falling off the wagon come March?
– Jimmy
Jimmy
May I be honest? As this is my third offering as the diver, I feel we know each other well enough. My last New Year's resolution went terribly wrong. I resolved to learn more about transportation of the past, steam-powered railcars, horse-drawn coaches, covered wagons, and the like. Well, on my first try at the wagon thing, I forgot to place the cotter pin that retains the horses to the wagon, duh! Yep, you
guessed it; I went for one hell of a ride after the "giddy up." Being dragged through 6-foot deep drifts of snow by 4,000 pounds of horse flesh is an eye-opening experience. I believe you know what I think about New Year's resolutions.
– Diver
Dear Diver,
So here I am in the Bay Area, but I had lived in Durango for the last 5 years. I came here to find someone else to play with "under the sheets." Although I would certainly agree that the numbers in Durango for this game are not quite there, maybe at least some girls that your friends have not done it with, that are reasonably active and fun. Out here, people from all different ethnic backgrounds flood the streets day in and day out. There are girls everywhere out here, big ones, small ones, dark ones, light ones. You get the point. But, very few have style. All I am saying is good people are hard to come by … whether in Durango or San Fran. What's your take on this Diver?
– Still Celibate
Dear Mr. Stills,
As I have lived in Durango for the last 12 years, this problem is very familiar to me. Long nights trolling for trim in every waterin' hole on Main is a tiring and belittling experience. Now, I'm not the worst apple that fell off the tree. I'm actually kind of handsome, (Please refer to the picture above, notice the strong chiseled features, the charisma and the impeccably trimmed facial hair) not exactly debonair but rugged. So the arduous hunt for night companionship can be downright demoralizing with rejection after rejection after rejection after … well you get the point. My seasoned advice is to tap into the cultural diversity of San Francisco and visit one of many ethnic neighborhoods and pickup a mail-order bride. Little Saigon, Little Italy, Meadowvale Trailer Park, these are just a few that could prove fruitful. Happy Hunting!
– Diver