Skiing into the sunset
After 22 years, Ineke Boyce says goodbye to Durango Nordic Center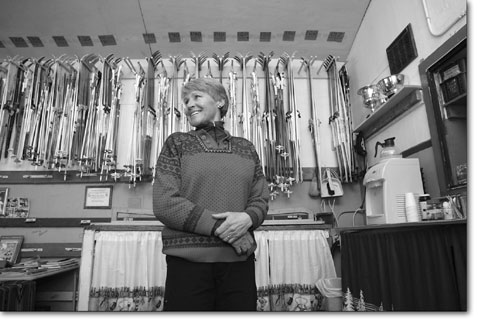 Ineke Boyce flashes a smile as she greets skiers entering the Durango Nordic Center on Sunday morning. After 22 years as the center's director, Boyce, 59, will be retiring at the end of this season./Photo by Todd Newcomer.
by Missy Votel
It's hard to imagine that Ineke Boyce, who's coached scores of young Durango Nordic skiers from Snowburners to Junior Olympics, was a relative late-comer to the sport.
A native of Holland, a rather flat place more prone to ice than snow, Boyce didn't hit skis to snow until the late 1960s, when she took a trip to the Swiss Alps as a college student. Ironically, the woman who has taught the sport for nearly three decades, was afforded little more than two words in the instruction department.
"The guy I was with just said, 'Follow me,'" she said.
Boyce's ski companion, a hopeful suitor, then took off down a black diamond run. Fortunately for Boyce, she didn't take his advice. Courtesy a poorly navigated tree, the date was abruptly cut short when her guide suffered a spiral fracture – in each leg. As for Boyce, who was sporting the wooden skis and leather boots de rigueur, she was forced to carry his skis out. That endeavor land
ed her in the chalet for the remainder of the trip with a bad sprain.
Little did she know, as she struck up a conversation with a young American sidelined with pneumonia, that this would be the beginning of a long, illustrious career – and more.
"He asked me to go traveling with him, and I told him I didn't think my parents would like that, so he said, 'Let's get married,'" she recalled. And although Boyce admits this is a simplified version of the story, soon the then-23-year-old was married and settling down in Crested Butte with her new husband, an Outward Bound instructor. "Next thing I know, I'm in America, and I've never been in the mountains."
It was in Crested Butte, in 1969, that she discovered her love of Nordic skiing – and you could say the rest is history. Through her husband, whom she later was divorced from, Boyce was soon working for Outward Bound. She not only became an accomplished skier in short shrift, but soon found herself teaching the sport once her son, born in 1974, came of skiing age.
"I got into teaching and building our own ski school in Crested Butte," she said.
Boyce, who moved to Durango in 1984, is the first to admit that she wasn't determined so much as just lucky.
"I just rolled into everything in my life," said Boyce, the second-oldest of nine children. "I've always taught outdoors – it's been fun."
But as Boyce approaches 60 – her birthday is in August – she will be rolling on. After 22 years as director of the Durango Nordic Center, 20 as a coach for the Durango Nordic Ski Club, she will be leaving her post in pursuit of personal interests.
"I'm 59 now, and I always said when I turn 60, I'm going to retire," she said Sunday in front of a cranking woodstove inside the Nordic Center's warming hut. The glorified shack, which doubles as Buck's Livery in the summer, is a piece right out of Durango history. The walls are adorned with the faces and stories of local racers who have called it home over the years. Rental skis neatly hang overhead, while a portable CD player offers everything from Boz Scaggs to Van Morrison.

The same pot-bellied stove has been there as long as Boyce can remember, and a sign over the indoor wax table implores skiers to clean up after themselves "like your mother taught you." The rustic wood floor groans with the constant clomping of ski boots, as everyone from first-timers in jeans to elite collegiate racers come and go. Fresh snow and a three-day weekend has made this the busiest day yet of the season, said Boyce, who frequently excused herself to size boots for children (something she can eyeball after years of practice) and chit chat with regulars.
"It was pretty low key back then," she said of the early years, when the center saw maybe 10 skiers on a good. "It was a far cry from now." Today, she said a busy weekend can bring in as many as 90 skiers a day.
In 1986, Durango Nordic approached Purgatory, which was running the center at the time and owns the property on which the center sits, about taking over operations. The ski area acquiesced, and Boyce became the director. With nothing more than an old Yamaha snowmobile and a volunteer or two, Boyce was responsible for setting the track and grooming – a term used loosely by today's standards.
"That's why my shoulder is the way it is," she says, rolling it back with a mock grimace. "Back then, we just rode the snowmobile until it stalled out and we flew over the handlebars, and then we started over."
Boyce said back in her early days at the center, the demand was mostly for classic skiing, so such grooming methods sufficed. However, as skate skiing exploded in popularity, so did the need for more meticulous corduroy. As a result, the center upgraded its machinery over the years, first to a snow cat that doubled as a lawnmower in the off season, and then to a Piston Bully, which often sat idle for weeks while waiting for parts from Germany. In the last few years, the center acquired a Bombardier snow cat from the folks at Chicken Creek because it was too wide for their track.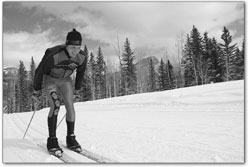 A member of the University of New Mexico Nordic Team trains at the Durango Nordic Center last weekend. The center has been training ground for hundreds of athletes, many of who were coached by Boyce./Photo by Todd Newcomer.

"It does a fantastic job when it works," she said.
However, Boyce said with the better technology comes a bigger price tag. Currently, the cat is in need of new tracks, to the tune of $7,000. She also noted that the center is becoming increasingly hard to run on only a handful of paid employees and volunteers.
She noted that it has come to rely more and more on the ski area to stay afloat.
"Without Purgatory, none of this would be here," she said. "This is their building, their land." In addition, the ski area provides free maintenance for the cat and pays for the center's insurance, she said.
And soon, the center could be theirs again, too. With Boyce's departure in the spring, the ski resort may once again be taking over Nordic Center operations.
According to Boyce, for the last two years, Durango Nordic has operated at a loss after years in the black. "The ski club decided it didn't want to get in any more debt, and that's when we started talking to Purgatory," she said.
Matt Skinner, communication director for DMR, said the idea of DMR taking over operations has been kicked around for the last few years. "Ineke's been talking about retiring for a couple of years, and this year, she said it was likely, and discussions began in earnest," he said.
Although the details won't be ironed out until the ski season is over, Skinner said many ideas are being thrown around. "We've discussed several options, and running the center through the resort is one of the options," he said. Another option would be a collaborative effort between the resort and Durango Nordic, although the exact configuration of that remains to be seen.
But one thing that is for certain is that the Nordic Center will be seeing some changes. The center's 16 kilometers of trails are on acreage slated for real estate development. Skinner said it is possible that construction on a phase of units for Tacoma Village could begin in the area this summer. Nevertheless, he said the resort remains dedicated to keeping a Nordic center. Every effort will be made to incorporate existing trails into the developments, and the resort recently submitted an application to the Forest Service to add 1.7 kilometers of trails on the lower bench.
"We are absolutely dedicated to keeping a Nordic center," Skinner said.
And Boyce is optimistic as well.
"This Nordic center has been built by the ski team and Purgatory," she said. "Forty to 50 kids come through a year, plus all their parents who get involved. I have no doubt there will be a Nordic center."
And while the Nordic Center opens a new chapter, so, too, will Boyce. For starters, there's the 60th birthday bash in August, which will be attended by her entire Dutch family – including her mother. After that, she has her sights on competing in the fabled American Birkebeiner cross country race, in Hayward, Wisc. – a race, incidentally, that she won back when it incorporated cross county and telemark skiing.
"I won because very few women did both 25 years ago," she said.
She also is looking forward to taking off winter holidays – something she hasn't been able to do for the last 22 years – and skiing in Europe.
However, Boyce, admits she will probably return again, in some capacity or another. After all, she shares the same name with a few of the center's most prominent features – Boyce Lake, Boyce Lake Loop and Boyce Lake Overlook. Although pure coincidence, it is an undeniable destiny nonetheless.
"It's a really neat little scene here," she said. "I'll no doubt get involved again."