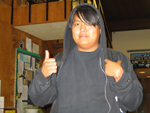 Diver: Roland from the belly of the beast that is campus dining.
Facts:Roland specializes in fattening up college students.
Got a dirty little secret?
Looking for guidance to remedy a sticky situation?
Seek help from the master of the kitchen! The Dish Diver has solutions to life's little messes. Send your problems to "Ask the Diver." - By mail to Durango Telegraph - Attn Diver -534 Main Ave., Durango, CO 81301; by email at telegraph@durangotelegraph.com, or by fax at 259-0448.
Diver,
Is it true most women end up looking like their mothers? If that is the case, I'm set because me fiancée is a total hottie and her mother is a total MILF. However, my younger brother's girlfriend is also a hottie, but her mother is a HEAVIE. If you want to get serious with a girl, should you meet and get to know the mother?
– Lars
Whoa,
Checkers are fun to play but chess can be fun, too, but it takes a while to learn to play. With that in mind, go buy a chess set and learn to play. Because your checkers set mind is getting a little toooo simple.
– Chess rules, The diver
Dear Diver,
Bono is a chump. I recently watched some ridiculous program where he was being "honored" by President Bush. Well, if Bono is such a peace-loving humanitarian, why didn't he let Bush know that he is in charge of an insane and cruel war? I wonder how much money Bono made off that, or better yet, what he got off the president in the closet. Bono might as well be a Republican and should probably re-instigate fighting between Northern Ireland and the rest of Ireland. I'm disgusted.
– Mac in Hesperus
Hello,
Why do people put celebrities or in this case, Bono, on a pedestal? I'm pretty sure you do some things that go against what you believe. Who cares what celebrities do anyway, and why are you even watching TV? Because we all know TV is bad for you and is full of crap. So, think about what you do before you judge someone.
– TV = Bad, The Diver
Dear Diver
I wrote a letter to The Diver a few weeks ago about moving away for a year and coming back to find my friends getting drunk and stoned. Well, The Diver's response was something like "that's how we roll." What is she some redneck who's been drinking PBR and smoking Camels since she was 10? I'm 16! That diver just encouraged me to drink! Thanks for encouraging deviant behavior, lady Diver, this column just went out the window.
– Alex
Ha.ha…ha.
You are funny, if you really care about being drug and alcohol free, who cares what a Diver thinks. Right? But, no, you have to take it to heart. And if the column went right out the window, why did you respond to it again? You obviously love it. Besides, being sober in a town that celebrates getting drunk every year is really cool. Thumbs up to you. Just turn up your head phones and sing along to some Minor Threat, that's always fun.
– Stay sober, The Diver