A different kind of film festival
Durango Independent Film Festival readies for kickoff

SideStory: A silver screen sampling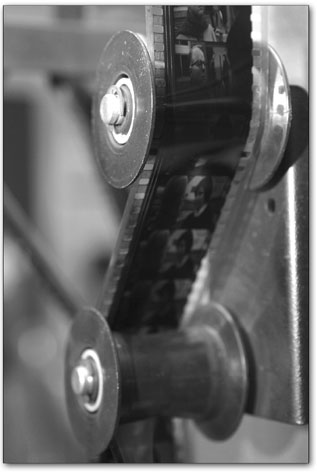 A film is queued up and ready for action recently at the GaslightTheater. The Gaslight and the Abbey will be buzzing with activity as the Durango Independent Film Festival's inaugural event hits local screens March 1 - 5./Photo by Todd Newcomer.
by Amy Maestas
Film reels are starting to rev in preparation for Durango's re-invented independent festival, which kicks off Wednesday, March 1.
For organizers, pulling the festival together in a record-short seven months is proving to be a fruitful effort to save a favorite community event. Over the span of five days, March 1-5, the festival will be showing more than 60 films that run the gamut of independent film genres – from mockumentaries to feature-length flicks.
On the eve of the festival, its organizers are collectively exhaling. They all say that the past seven months have been exceptionally demanding and challenging after learning last summer that the original Durango Film Festival was abruptly on "hiatus." Many of the new Durango Independent Film Festival organizers were involved with the original, they stepped up to the plate after learning that the head of the former festival needed time to recoup financially and pay off sizable debts to many local businesses.
Michele Malach, a DIFF organizer, says this festival is perhaps the only one that has ever been put together in such a short time.
"Normally a new festival takes at least 18 months to prepare," she explains.
Malach credits the local business community and film lovers for making it come together. She and other organizers believe that the new DIFF will be comparable to festivals of years past. She also notes that DIFF wants to expand its commitment to independent films by having year-round screenings and other events.
But before they get to that point, DIFF board members have to secure nonprofit status and continue to raise much-needed money. Reportedly, DIFF has raised only about one-third of its financial goal to put on this year's inaugural festival. At last count, the group had about $50,000. Still, says Robb Brantley, a festival committee member, it is enough money to pay its bills and fulfill its obligations to supporters.
Malach emphasizes that one of DIFF's core "guiding principles" is to put on a festival it can afford. This year's effort proves that the group is serious. DIFF has scaled back the level of nonscreening events and has sought in-kind donations for office space and, hopefully, a filmmakers' lounge.
Carolyn Mountel, DIFF coordinator and the only full-time staff member, assures locals and repeat festival-goers that they can count on another quality experience because people have been willing to support the organizers in spite of the past. She says DIFF is uncertain how much of a tourism and financial impact it will have during this shorter festival. However, board members will use information provided by a study Fort Lewis College economics students will undertake post festival. Not only will the study gauge the level of interest and support, Mountel says, it will also serve as a checks-and-balances tool for keeping the festival financially solvent.
Shan Wells, a local artist, has again provided the artwork for the festival. Previous supporters from different areas have also continued to get behind DIFF, serving in various positions and donating many hours of effort.
Ska Brewing Co. is also giving the festival a boost by brewing a one-of-a-kind beer. Called "DIFF" beer, it is a play on television animation character Homer Simpson's "Duff" beer. But unlike Duff beer, DIFF is anything but mass-produced, cheap swill. Indeed, says Ska co-owner Dave Thibodeau, Ska's is tasty and palatable – and only a single batch is being made and sold. Brewed as an unfiltered Belgian Wit, the flavor comes from authentic Belgian yeast, Pilsen malts and is spiced up with orange peel, coriander and lemongrass.
The festival also has changed a few things from years past. Because it is a shorter festival, all-festival passes, which allow entry to any festival event, are cheaper. In addition, organizers are using a new three-tiered seating system. All-festival pass holders will be seated first; punch-card pass holders will be seated second; single-ticket buyers will be seated third. Plus, screenings on the festival's opening night are free.
This year, films are being shown at the Abbey and Gaslight theaters, which together offer 330 seats. Malach says the festival hopes to pull in about 4,000 filmgoers.