Shakespearean alphabet soup
FLC students tackle Titus, Troilus and Titania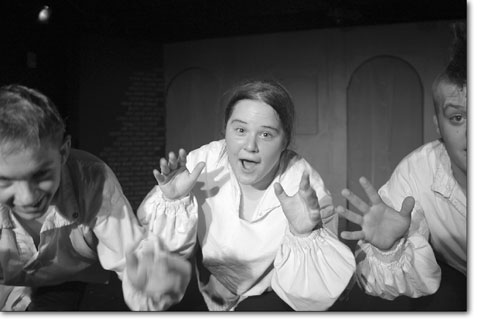 From left, James Johnson, Tiffany Simonton and Miles Batchelder keep things far from serious during dress rehearsal for FLC's production of "The Compleat Works of Wllm Shkspr (abridged)."/Photo by Todd Newcomer
by Judith Reynolds
If you've never seen "The Compleat Works of Wllm Shkspr (abridged)," now's the time. It would be great if the Reduced Shakespeare Co. added Durango to its world tour, but they're too busy reducing the Bard here, there and everywhere. So it's up to the students at Fort Lewis College to give us a taste of this modern zaniness.
Co-directors Emily Flood and Katie Brost have chosen this now-classic two-hour romp through Bardology. Performances begin Thurs., Feb.16, run two weekends, and end with a matinee Sun., Feb. 26.
"Compleat Works" is a whacky bit of theater fluff created by three Americans. It all started in 1981 when Adam Long, Daniel Singer and Jess Winfield convinced a California entertainment enterprise, Renaissance Faires, to let them perform a 20-minute version of "Hamlet." The guys competed with peddlers, sword fights, phony jousts, herbalists and buxom wenches selling tarts. So they played all the parts and filled the spoof with physical comedy. The 20-minute "Prince of Denmark" was a hit.
By the mid-'80s, the guys expanded their show and added "Romeo and Juliet." In 1987, an hour-long, more inclusive Shakespearean production followed. The next year the company began a U.S. tour. By 1991, the Reduced Shakespeare Co. and its abridgement had become a hit; it was time to travel to sacred ground. After the program conquered British audiences, the guys felt free to take "Wllm Shkspr" the world over.
Like a junk yard car compressor, the Reduced Shakespeare Co. has gone on to reduce more literary Cadillacs than you could imagine. The first, fast "Hamlet" has now morphed into an empire of wooly jokes and spin-offs: the Bible, All the Great Books, and holiest of holies, Hollywood films. One wonders how college students dare tackle a form that demands rapid-fire Shakespearean language, extreme physical action and an ensemble confident enough to stimulate audience participation. It's a tall order.
"I'm excited," co-director Flood said last week. "We've cut some lines, but no scenes. We're essentially doing the whole thing." Part of her senior project, Flood said she has been interested in Shakespeare's take on women and how the female characters in his life affected his writing.
And since the writing in this show is "sort-of frat humor, we decided to alleviate all that by casting a woman in one of the three roles."
The cast consists of junior Miles Batchelder, who has been sporting a blue Mohawk since he auditioned; freshman James Johnson; and education major Tiffany Simonton, the woman in question.
"Tiffany has the 'Adam' role," Flood said, referring to founder Adam Long, who took on most of the female parts in the original production. He'd slap on a blonde wig or a waltz in wearing a dress and get laughs for costuming alone.
"For a while," Flood said, "we felt that we might have disabled the production by not using that kind of male cross dressing. But it's even stranger when Tiffany comes on as a guy. She's still cross dressing."
The company has been rehearsing since November, co-director Brost said. "We submitted our proposal last spring, and (the faculty) picked ours. It's been a challenge to work with actors who have to create dozens of characters."
The FLC company has spent time researching the original plays, Brost said. "And we added another person to the cast of three. It's a small part. Krissy Karahalios will be our props girl – on roller skates."
You don't have to be a Shakespeare buff to enjoy "Abridged," but you do need to pay attention. If you try to analyze what the actors are doing or savor famous lines, sketches will disappear before you figure it out. The pace will be frenetic, and you need to know that audience participation is part of the deal.
All 37 plays are mentioned and a few sonnets. In the first half, you'll see a very short "Macbeth" followed by the history plays. They are compressed into a football game with (what else?) a crown as the key prop. A parody of "Titus Andronicus" appears as a TV cooking show (did we say frat humor?). The second half features "Hamlet" in a sequence of shorter and faster renditions ending with the tale told backwards.
I was lucky enough to see the original touring production. It was energetic, imaginative and left me breathless from laughter. Now I'm eager to see what the students on the hill do with this California take on the master, Wllm Shkspr. •