Durango weighs whitewater park
Citizens voice opinions on altering the Animas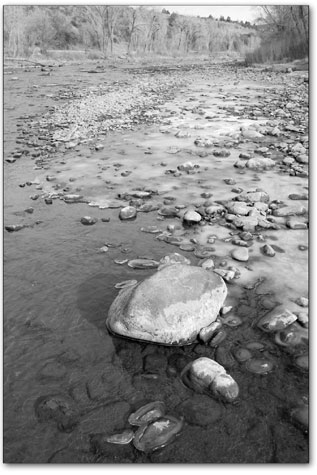 ­­­­­Ice clings to the banks of the Animas River in this view, looking north from behind the Doubeltree Inn. The stretch, from Schneider Park south to the Highway 160 bridge, is one of two being proposed for a new boating park. The park would include four new drop structures as well as other features. The other plan being proposed calls for upgrades at the esiting park at Smelter./Photo by Todd Newcomer.
by Missy Votel
The idea for a new whitewater park is once again being floated past Durango residents and city officials.
On Monday night, Scott Shipley, a designer with Boulder's Recreation Engineering and Planning, unveiled two potential plans for a new and/or improved boating park along the Animas River. The first, and more popular choice among those in attendance, would entail four pool-drop structures along the stretch of river bordering Schneider Park near the Ninth Street Bridge. Plans, estimated to cost $444,000, also call for eddies on the lower portion for flat-water training, river bank stabilization, stair-stepped rock viewing areas, and access paths.
The second plan, expected to cost less at $244,000, calls for upgrading the existing whitewater park at Santa Rita Park by shoring up Smelter Rapid, which has been plagued over the years by shifting rocks and, more recently, a dangerous right-hand bank. A sneak route for high flows also would be added. In addition, the plan calls for reinforcing and reshaping Corner Pocket, which took a beating in last year's high flows, and adding two additional play structures.
Both plans would implement the use of grout, which has been a contentious subject in the past, in order to anchor the rock structures in place.
According to Durango Parks and Recreation Director Cathy Metz, there must be permanent water diversion structures in place for the city to qualify for recreational in-channel diversion rights, or RICDs. For more than a year, the city has been mulling the idea of applying for such water rights, which would help ensure flows for recreation on the Animas in the face of future development. City Council is expected to make a final decision on the topic at its Feb. 21 meeting.
"If we would like an RICD, we have to have a structure that's permanent, manmade and can withstand high flows," said Metz.
This is not the first time the city has proposed such a plan. A few years back, Recreation Engineering and Planning, which is headed up by prominent whitewater park designer, Gary Lacy, drew up plans for Smelter.
However, they were tabled in the face of opposition from local river users. As a result, the Animas River Task Force was formed, made up of various river interests, from environmental groups to commercial rafters, kayakers and fishermen. For the last few years, the group has been crafting a master plan for the river, which was unveiled last summer. The plan identified several sites along the river for whitewater features. Recently, the group has come to focus on Schneider Park and Smelter as the most feasible sites for a boating park.
According to Metz, during this process, and in light of the structural requirements for RICDs, Lacy's firm again was brought on board. "The absolute consensus among the group was to bring Shipley and Lacy back," she said.
Over the last few months, Shipley, a former Olympic kayaker, has been meeting with the group to hammer out a plan, she said. The results were presented to the public on Monday night, in order to gauge sentiment and gather input.
About 100 people heard Shipley talk, with most of those who were in favor of the boating park voicing support for the Schneider site.
Shipley pointed out that although the Smelter site is better from a technical standpoint, with more drop and constriction, the Schnieder site would be better from a community standpoint, providing quick and convenient access to downtown.
Andy Corra, local boater and owner of Four Corners River Sports, agreed. "Smelter would have better features, but the Schnieder site ties into downtown," he said. He compared the site to that of Salida's whitewater park, which sits adjacent to the downtown and has become a community gathering spot, not just for boaters but all residents, and has revitalized the downtown.
Susan Palko-Shraa, whose son is involved in Durango Whitewater, said she also was in favor of the Schneider site because being so close to downtown, it would help bring an outdoor experience to more folks.
"It would create an area for people to interact with nature," she said. "It's accessible and inviting." In turn, she noted, more people would then have a vested interest in taking care of the river, and the environment in general.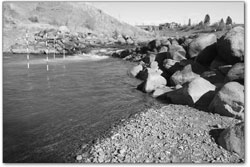 Smelter Rapid, seen here at low flow, would be reworked under one of two plans being proposed for a new boating park. The Smelter plan calls for fortifying the rapid as well as Corner Pocket, and adding two more drop features in the stretch bordering Santa Rita Park./Photo by Todd Newcomer.

However, some bristled at this idea, saying a boating4 park at Ninth Street would only detract from the existing natural setting, create a false sense of nature and simply was not warranted.
Resident Maureen Keilty referenced other whitewater parks, saying the streamside, "lounge-sized" rocks only fostered artificiality and "geological ignorance."
Robin Fritch, a 30-year raft guide on the Animas, said she is opposed to more manmade structures in the river. "A really unique part of our river is that it is natural and beautiful," she said. "I think our money would be better spent on more access, and we should leave our beautiful, natural river the way it is."
Fritch and fellow raft guide Karen Carver also took issue with one of the purported benefits of the park, which would be to bring in more visitors. The river is already well used, Fritch noted, and more people would not necessarily be better, Carver added.
Carver added that for many of her clients, Smelter is plenty of action.
"For most people, it's their first whitewater experience, if they get a little splashed, that's exciting," she said.
However, those in favor of the Schneider site pointed out that it would alleviate congestion along the popular Smelter stretch.
"Schneider Park would help with the overcrowding problem and provide a great place for intermediate boaters," said local kayaker Aaron Lombardo. He also noted that beauty is in the eye of the beholder as far as the Ninth Street stretch is concerned.
"There's not much that's natural about that section," he said. "On one side, you have a cement wall, there's a road on the other, and bridge pilons in the middle."
Meanwhile, others at the meeting took issue with the effects the park could have on fish habitat. Tom Jones, president of the Five Rivers Chapter of Trout Unlimited, said the group was opposed to a boating park at Schneider and would prefer work to take place at Smelter, where a park already exists. Mike Japhet, a biologist with the Colorado Division of Wildlife, voiced concerns that the structures could impede the passage of the rivers' native fish, which swim slower than species such as rainbow and brown trout.
"The real challenge is to design something that allows fish passage," he said. "Smelter doesn't have the biological liabilities as the lower-grade section at Schneider."
However, Shipley assured both men that, in addition to enhancing fish habitat by creating eddies and deeper pools, the structures are designed to allow for fish passage at low flows. The structures allow for passage of sediment, as well, he said.
He also addressed the aesthetic concerns over the "natural rockscapes" and "lounge-sized rocks" by saying that the firm is working on ways to better incorporate such features into a natural setting
The topic will be formally discussed at next week's Durango City Council meeting, Feb. 21, at 7:30 p.m. Metz said she was hopeful that the city will take action sooner than later on the RICDs as well as the park. Currently, a bill is making its way through the state legislature that would make significant changes, some argue for the worse, to the way towns apply for RICDs. Sponsored by Sen. Jim Isgar, D-Hesperus, SB 37, among other things, would limit RICDs only to kayak parks and allow the rights to be re-evaluated, and possibly revoked, every 20 years.
"If the city is going to apply for these rights, it should do so now before this becomes law," she said. "That's why we felt it was so important for the community to talk about it now and get more public input." •