The myth of the trophy home
Study debunks preconceptions about second homes

SideStory: Second homewners wanted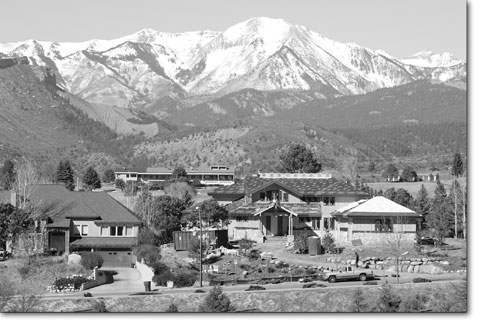 Construction on a new home continues near Hillcrest. A recent study by Region 9 has found that second homes actually make up a much smaller segment of La Plata County residences. It also found that local part-time residents tend to live in condos or townhomes rather than trophy homes./Photo by Todd Newcomer.
by Will Sands
Contrary to popular belief, second homeowners and their trophy homes are not taking over Durango and La Plata County. The misconception and others were recently dispelled by the first draft of the study, "The Social and Economic Effects of Second Homes in Southwest Colorado."
The Region 9 Economic Development District, a nonprofit organization focused on economic development efforts throughout Southwest Colorado, commissioned the ongoing study a year ago.
"There are concerns about whether second homes are an economic detriment or an economic benefit," Laura Lewis, Region 9 assistant director, explained. "Because Region 9 measures economic status among Southwest Colorado's counties, we decided to commission the study. Based on what we're seeing, I think we're going to break a lot of myths that have been going around about second homes."
Tourism has long been an economic force in the Four Corners region. Drawn by the local quality of life, tourists often move here, either bringing their businesses and lifestyles with them or building second homes. But this variety of growth can create a set of problems, according to Lewis.
"There's the dilemma of 'Do you live here because you can or do you live here because you care?'" she said. "Second homeowners can really make changes in a community that are not welcome. The question becomes what they give back other than a few construction jobs for a few months."
Second homes have also been shown to take up large amounts of land while driving up the local cost of housing. This combination forces the labor force into satellite communities and long commutes. All of these things are legitimate concerns for San Juan and Archuleta counties, where outsiders own 83 and 60 percent of the total property, respectively.
Durango and La Plata County have less to be worried about, according to Lewis and the study. Only 29 percent of local property is owned by nonlocals, a number that pales in comparison to other Colorado mountain communities.
"I thought La Plata County would be much higher," she said. "Part of that might be just based on the amount of local talk. Part of it might be that people are moving here, but also choosing it as their primary residence."
Lewis then added, "Compared to a place like Archuleta County, I always think of the Durango area as being more ideal for second homes, and that's turning out to not be the case."
That second homeowners are responsible for the spread of local trophy homes was another major misconception dispelled by the study. In fact, part-time residents of Durango and La Plata County generally live in modest dwellings.
"La Plata County has this idea about trophy homes," Lewis said. "But what we saw in the study was that nonlocals' homes actually tend to be condos and are not high in value. The trophy homes you see tend to be primary residences."
The perception that Durango and La Plata County are growing out of control is also contradicted in the study. In reality, La Plata County is currently growing at a relatively modest 1.4 percent annually, down from 3.1 percent growth between 1990 and 2000.
"La Plata County has really slowed down," Lewis said. "We only saw 1.4 percent change in the last four years, and the state demographer believes that will remain stable. Growth in La Plata County may seem fast to some people, but statistically, it's very manageable."
However, La Plata County may face greater challenges than second homeowners and trophy homes, according to Lewis. New full-time residents wanting to bring their habits and old towns with them can have much greater impacts, she said.
"The study is making me realize that what we're seeing is people moving here permanently," Lewis commented. "That changes the community dynamic even more. We could have even more fall-out based on their being full-time residents rather than second homeowners."
And knowing what forces are currently shaping the Durango and La Plata County communities is the first step to planning for the future, Lewis concluded.
"Once you know some of the real statistics, you can take appropriate action," she said in closing. "If we just think it's all second homeowners and trophy homes, we're really not going to be prepared for the realities." •