Ladders to the sky
Red Shoe Piano Trio introduces Mesa Verde work


The trio's trademark red shoes tickle the ivories following a rehearsal early this week./Photo by Todd Newcomer.
by Judith Reynolds
Red is their signature color. Their style is high-heeled confidence. And they've developed a reputation for elegantly pairing classics with the newest of new music.
The Red Shoe Piano Trio will do it again at 3 p.m. on Sun., Feb. 12, in Roshong Recital Hall. All are members of the music faculty at Fort Lewis College: violinist Mikylah Myers McTeer, cellist Katherine Jetter Tischhauser, and pianist Lisa Campi. For their first concert in 2006, they will perform works by Wolfgang Amadeus Mozart, Bedrich Smetana and Gwyneth Walker. Who?
"Gwyneth's a contemporary American composer who lives in Vermont," Tischhauser said in an interview last week.
"We played two pieces by her at our first concert in 2003," McTeer added as the trio got ready for a regular rehearsal. "As a composer, Gwyneth has a wonderful grasp of programmatic writing,"
Walker, 59, embarked on life as a full-time composer in 1982. A graduate of Brown University and the Hartt School of Music, she used to teach at the university level but now creates music while living on a dairy farm in Braintree, Vt.
"Gwyneth will be here for the premiere," Tischhauser said. "It's part of the commission, and she wants to be here. She'll arrive early enough to speak in our music theory class: 9:05 a.m. Fri., Feb. 10. The public is invited to attend – Room 203 Sage Hall."
On behalf of Fort Lewis College, Tischhauser said, the trio asked Walker to create a piece celebrating the Mesa Verde Centennial, which falls this year.
"" is the result, the first of three new musical works commissioned by the college, said John Ninnemann, dean of arts and sciences, in a separate interview. Walker's commission, he said, is part of a larger college grant ($20,000) to partner with Mesa Verde for centennial events. Organized by FLC's Peter McCormick, Southwest Studies professor and director of the initiative, the grant underwrites a number of things: a website, a lecture series, new courses, and a major gallery installation set to begin March 24. The Trio's concert is the next specific event in the FLC commemoration, Ninnemann said.
"Ladders" is set in three movements, the middle section titled "The Seasons."
"For winter," Tischhauser said, "There is a very stark, minimalist sound, and in contrast 'spring' has very lively, active music."
In the summer section, all the musicians use what are called in contemporary music, extended techniques, knocking and tapping on their instruments, for example. "The music suggests thunder and lightning," McTeer added. Persistent, repeated rhythms (ostinatos) evoke natural effects, and long glissandos (slow slides on violin strings) suggest others.
"Overall," Tischhauser said, "there is a movement from darkness to light, which reflects the title, a reference to ladders coming up and out of kivas."
"Overall," Campi said. "Gwyneth's music is very beautiful."
"Audience and player friendly," McTeer concluded.
Lest the two big masterworks that frame Walker's piece get lost in the hoopla over a premiere, the ensemble will open its program with Mozart's Trio in E major.
"It's elegant," Campi said, "one of the few of Mozart's works in the key of E Major, a very bright-sounding key. It was written in 1788, one of the last he composed while in Vienna. Four days later he finished his Symphony in E flat, then Symphony No. 4 in G Minor, and a month later the Jupiter. His mind must have been immersed in symphonic colors, because this trio is symphonic in scope. It's extremely dense in content and texture, then light, as if he were thinking of an orchestra and a soloist."
Closing the concert the trio will play Smetana's Trio in G Minor.
"It's the only work on the second half," McTeer said, "and Smetana's only piano trio. It's very dramatic, steeped in Romanticism."
The musicians plan to give some background and biographical information at the concert. McTeer's story of Smetana's life and losses is too long to include here, but maybe she will tell the tale at the concert. •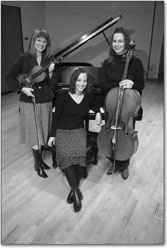 From left, Mikylah Myers McTeer, Lisa Campi, and Katherine Jetter Tischhauser will perform as the Red Shoe Piano Trio this Sunday./Photo by Todd Newcomer.