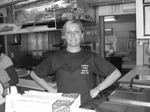 Diver: Dandy Lyon from Serious Texas BBQ
Facts: Dandy's a self-proclaimed "rotten peach."
Got a dirty little secret?
Looking for guidance to remedy a sticky situation?
Seek help from the master of the kitchen! The Dish Diver has solutions to life's little messes. Send your problems to "Ask the Diver." - By mail to Durango Telegraph - Attn Diver -534 Main Ave., Durango, CO 81301; by email at telegraph@durangotelegraph.com, or by fax at 259-0448.
Dearest Diver
I'm a longtime Durango resident who just relocated to Leadville. Well, an old friend of mine just broke up with his girlfriend. She lives in Denver but comes up here every two weekends or so to just hang. Guess what? She digs me. And I dig her. And she's hot. Guess what I don't want to do? Piss my friend off. Guess what I do want to do? Hook up with this hottie, who also happens to share many of my interests. Oh, what to do? I've tiptoed around this with my friend, and his feelings are "go for it, I'm over it." However, if we go whole hog, I think his attitude will change. What to do?
– Charlie
Charlie,
Have you ever considered checking out Denver? She is there all the time, and so are a million other girls. If it works out, hopefully your friend will understand – he fell for her too. On second thought, what kind of bro are you? I mean your friend seems really cool. You, not so much. Why would you wanna go where your friend has already been and take sloppy seconds? All she is going to do is compare you to her ex's moves. Try one of the million in Denver, or wait till summer and try to hook up with a stinky hippie raft guide in BV.
– Diver
Dear Diver,
I'm a 16-year-old who was born here and lived here until my dad was transferred away for work for a year. That was a year ago. Well, we just moved back to Durango from the East Coast, and although many of my friends are still here, that year away was a big change. They are now into this whole "party culture." You know, drinking and smoking pot. Well, I guess I'm not catching on because it doesn't interest me. Yawn. Am I wrong to think this? Am I going to be a loner?
– Alex
Dude bro,
Go back to the East Coast. That's how Durango rolls. Um, hello, have you ever got laid when you are drunk? Or better, don't lie, how many girls have you taken home solely because they were drunk? Actually I have seen you out, and you're lame because you're ugly, not because of your friends' habits.
– Diver
Hey Diver,
I recently had a lengthy conversation with a friend about music. Well, the subject turned to the music of The Doors, and things got crazy. I dismissed Jim Morrison's work as nothing but tripe. The others in the conversation got pissed at that. I then noted that he was a wife-beating drunk. They agreed he was a wife-beating drunk, but kept defending him. What a violent prick that Jim Morrison was! Why do people think it's OK to admire a writer (or any type of artist) when on a personal level the particular artist may be a complete ass?
– John
P.S: John Lennon pretty much ignored his first son, Julian.
Well John,
It just so happens that there are a whole lotta stupid prick meanies in this world that we just can't explain. I can tell you one thing, we should dump them all in the ocean.
– Diver