Dirt Works
Exhibit takes an elegant approach to underlying theme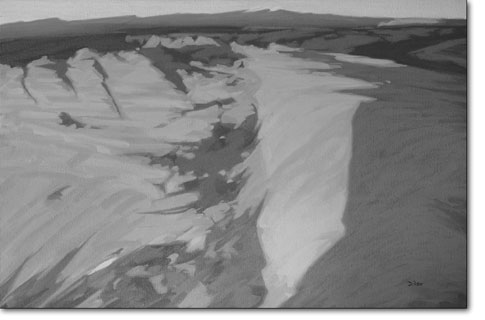 "The Ridge" Series No. 3 by Don Weir hangs from the Durango Arts Center wall as part of the new exhibit./Photo by Todd Newcomer
by Jules Masterjohn
It was a beautiful, warm Sunday afternoon, and while many people were walking around downtown in their shirtsleeves, inside the Durango Arts Center, sleeves were rolled up for a day spent hanging and placing artwork for the exhibit "." The display of creative work by Don Weir, Lorraine Trenholm, Lanette Hartman and D. Michael Coffee looks unified and tidy, as if the artists might have come together as an exhibiting artistic team with forethought and intention. However, this is far from the fact.
These four artists are showing in the DAC's Group Exhibits Program, which presents work by12 to 16 artists each year. In order to participate in a group exhibit, an artist must submit a portfolio of creative works, slides and an artist's statement to the Exhibits Committee for review. Every year, an average of 35 artists from around the region and the country offer their work for consideration in hopes of being chosen. Artists are selected, through a daylong jury process, by the Exhibits Committee – a group of self-selected volunteers who oversee gallery exhibits. When selected, an artist is grouped with two to three other artists into an exhibit, thus the name "Group Exhibits Program." Given the diversity of work submitted, it is always surprising when a group exhibit turns out looking so cohesive.
The title, "Dirt Works," was conceived by the artists in preparation for the exhibit. They communicated back and forth until a decision was made. D. Michael Coffee offered, "It just seemed right … we each were using dirt in our work, either photographing, drawing and painting it, or working with it."
To me, "Dirt Works" sounds like the name of an excavation company and doesn't do justice to the elegance of the work in the show. This is one of a few small contradictions in the exhibit.
For many viewers, a bigger incongruity would be found in viewing Don Weir's painting, "Sunlit Peak, Jago Mountains." Most people will be reluctant to believe that this painting depicts a desert mountain, not in New Mexico, but in Alaska's Arctic National Wildlife Refuge. Weir, who spent his childhood in the Mojave Desert in California, has lived in the wilderness areas of Alaska for the past 30 years. Five years ago, he started traveling to Alaska's southwestern region to begin painting a series of northern and southern desert scenes, focusing on "the interaction of light and shadow on austere land forms."
Austere and reductionist, Weir's oil paintings suggest little difference between Arctic desert landscapes and those in the Southwest. Through three decades of becoming familiar with the light and colors in the northern deserts, Weir says that the southern deserts have a "distinct color and light ensemble" that define them. Three remarkable paintings of our region's landscape, his "Ridges Series," are worth studying to better understand Weir's interest in contrasting color, simplifying form and flattening space.
Weir begins with sketches and photographs on site. Back in his studio, he uses these tools to assemble a palette of 12 to 20 colors that fit with his visual experience. He then covers entire sheets of paper with each color. Weir cuts the colored paper into bits to create a small collage to familiarize himself with the colors and forms of the place he will paint. Nearing the end of his preparatory phase, he takes a digital photo of the collage, which acts as his map for the placement of the warm and cool colors and simple shapes he will paint.
Despite the methodical processes he uses for crafting his work, Weir's paintings look fresh and alive. Through his technical practices, he achieves a goal of translating, for the viewer, the "mental space" that a certain landform evokes.
The other colorist in the group, Lorraine Trenholm, uses pastels for their purity of material. Except for a small amount of binder to hold the powdered pigments together, pastels are pure color rolled into sticks. She says, "Pastels are my favorite medium, as there is little between the artist and the pigment." Viewing her skillful pastel paintings, I see why this medium appeals to her. Exaggerated, saturated colors dominate her landscape scenes. Trenholm completed "Waterfall in Hermosa" in one sitting, in front of the waterfall. This piece is a bold, loose and free rendition of the water feature, soaked with color.
Another waterfall image, "Raining Beads," is a black-and-white photograph taken in Zion National Park by Lanette Hartman. This photo is the most unusual of her presentation, which consists of landmarks familiar to us in the West – arch and spire rock formations, Mesa Verde ruins, canyon trails, and wildflowers. "Raining Beads" is an apt title for the image, which looks like strands of shimmering pearls hanging in front of a delicately faceted rock face. The subtle contrast and ambiguous scale lends intrigue to this quiet scene … the water could be falling one foot or a hundred.
D. Michael Coffee presents his ceramic "Intuition Marker" series in the heart of the DAC gallery. Trained and retired as an architect, his enigmatic forms reflect a concern for structure. He constructs his tall, wheel-thrown vessels by placing cylinder shapes on top of each other, creating multi-part, stacked ceramic forms with differing embellishments as their lids. The works' aesthetic is minimal in form and color – each section is covered in brown, black or bright blue glaze. His elegant forms embody strength and rhythm. Coffee, drawing on the rich tradition of pottery making, is creating nonfunctional forms that are abstractions of functional pottery. "I consider them both pots and sculptures," he told me.
The pots-that-are-not-pots come from Coffee's "mindless mind," a place of intuition and instinct. In this mental state, he says, "I strive to create outside my conscious self." The "Intuition Markers" are his signposts, showing him the way back to a specific moment in time. Coffee writes, "These are my personal 'Post-It' notes."
"Dirt Works" is on display through Feb. 28 with an Artist's Reception on Fri., Feb. 3 from 5-7 p.m. at the Durango Art Center's Barbara Conrad Gallery. •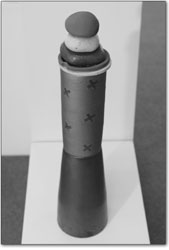 An Intuition Marker titled "Duc" represents the work of D. Michael Coffee, which is now on display at the Durango Arts Center./Photo by Todd Newcomer