Cleaning up the Follies
Kid-friendly version debuts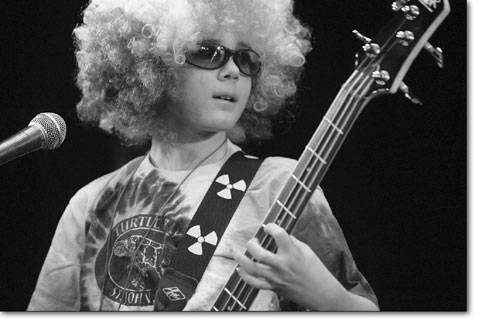 Jayson Taylor, bass player for the Hounds of Purg, keeps the rhythm during kids follies dress rehearsal Saturday at the Arts Center./Photo by Todd Newcomer
by Missy Votel
Sophomoric, juvenile, childish. Over the years, the Snowdown Follies have been called a lot of things. But this year, for the first time in the event's 28-year history, such remarks can actually be taken literally – and without offense.
This Thurs., Feb. 2, marks the inaugural Snowdown Kid's Follies, at 7 p.m. at the Durango Arts Center. The variety show will feature Durango's rising young stars, from ages 8 to 17, in a number of disciplines, from comedy and magic to singing, disco dancing and Broadway musical numbers. And, of course, there's not a single lewd comment or raunchy act to be found. Even the lyrics for the show's finale "Joy to the World" (of Three Dog Night, not Christmas carol, fame) have been PG-ified for all audiences to enjoy.
"It's kind of like what The Follies are, but – you know – clean," said Denise Hagemeister, DAC director of finance and facilities by day, Kids Follies director by night. "It's family entertainment; something you can take grandma to."
Hagemeister, who also is involved with the Art Center's Applause and Encore after-school theater programs, said the idea for a kids follies was a no-brainer. "It just seemed that this would be a good thing to do," she said. Tryouts were held in mid-December, and the field of candidates was whittled down to 41 participants and 18 acts.
Emcee-ing the evening will be Durango High students Leah Nikula and Adam Fontana. Like their adult follies counterparts, the two keep the festivities rolling along with their friendly banter and running jokes – and dare I say, better comedic timing. Throughout the show, Nikula plays the role of cunning prima donna, looking for ways to upstage the other acts. The result is painfully exaggerated high notes and spastic dance moves, the likes of which haven't been seen since "Solid Gold" (which graced the airwaves before Nikula was born, thus making it all the more impressive). Her uninhibited antics are worth the price of admission alone ($7 for adults and $5 for kids).
The evening is heavy on the music, which in keeping with the Snowdown theme, is of a decidedly retro feel – at least for those of us lucky enough to have lived through disco the first time. However, expect some of the old classics to be given new life as they are taken on by those lucky – and young – enough to be experiencing it for the first time.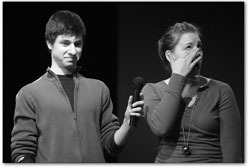 Emcees Adam Fontana and Leah Nikula share a moment between acts./Photo by Todd Newcomer
Getting the crowd rolling will be none other than the Hounds of Purg – Durango's modern-day answer to the Partridge Family, except a lot cooler and I don't think the band members are related. This quart-sized quartet (recently graduated from "pint-sized" now that they've officially entered middle school) delivers a rocking rendition of "Funky Music" with a bass line that taunts audience members not to get up and boogie down. OK, so the tie-dyed shirts may be a little more Jimi Hendrix than Jimmy Osmond (something only a geezer like myself would know), but the sound is pure '70s – an irresistible, driving funk way beyond their years.
Other notable music acts include Spotlight to Stardom's 2004 grand prize winner and sweetheart of the local stage, Ilima Umbhau. With trusty sidekick Kermit at her side, she sings her 8-year-old heart out to "The Rainbow Connection," sure to leave a sentimental smile on the face of everyone over 30. On the more glittery end of the spectrum is the Encore troupe's send-up of "Razzle Dazzle," from the Broadway hit "Chicago." The piece is headed up by Josh MacDonald, whose performance and swagger smacks of a young Elvis.
Of course, one can't properly salute the '70s without a sampling of the dance craze that swept the nation off its platforms and onto the lighted dance floor. With moves that make John Travolta look like an amateur are Tori Duhaine, 13, and Kaylee Coggins, 12. In costumes they bought at Maurice's and retrofitted themselves, the two carry on the Broadway theme in high '70s style, dancing to George Benson's "Broadway." And what disco tribute wouldn't be complete without the quintessential "bad girl" herself, Donna Summer? Gracefully pulling off what most of us only dare do in the privacy of our own living rooms is Leah Gervais, 13, decked in orange chiffon, performing Summer's disco anthem, "Last Dance."
There also are many acts offering a change of pace from the '70s theme, including "Old Man River," a comedic skit starring DHS students Erik Andersson, 15, and Anna Pierotti, 14. Andersson, who appears in the Diamond Circle Melodrama in the summer, plays a stodgy singer who is continually shut down and censored by an over-zealous member of the "Greater Durango League of Decency and Entertainment," played to the hilt by Pierotti. Although Andersson finally storms off the stage in disgust – after being forced to change his lyrics to "Elderly Man River" – it is Pierotti who gets the cane in the end.
While she may meet an untimely demise, the entire cast of the first Snowdown Kids Follies deserves a standing ovation for boldly going where no kids have gone before. But if you want to see it, Hagemeister said you better act fast. As of press time, there were only a handful of tickets left to Thursday's show. Not to worry, though. Proceeds from ticket this year will go toward DAC kids scholarships and future Kids Follies.
Although given the show's content – and without pointing any fingers at another certain follies in town – Hagemeister admits a name change may be in order.
"This will really be an adult show," she said. "It won't have the jr. high humor." •