Tour of the rural route



by Lindsay Nelson
Four-point-two hours. That's how much time the average American spends watching television. Every day. We only read for about one hour a day. Cable and satellite TV costs each person an average of $2.17 a day. This newspaper is free. If you spend even 15 minutes reading The Telegraph today, you've gotten a quarter of your free daily requirement of printed media consumption. Congratulations! (Thanks to the U.S. Census Bureau for that and many, many other fascinating tidbits of cultural insight in the form of statistical tables.)
If you watch TV, listen to the radio or enter places of commerce, you can't avoid the twilight zone of holiday insanity. Can you feel it? The buying frenzy is building to critical mass; the incessant whining of "A Pop Star Christmas" has fully penetrated the midbrain, creating a deadened sensation similar to the pithing of frogs for lab experiments; and there's only four days to go. Things get especially eerie around here, as what feels like 75 percent of Durango disappears for Christmas travel this week, leaving all but a few stragglers to listlessly flip through the pages of a days-old Telegraph once the lethargy and post-Christmas depression set in. Quite honestly, there isn't much to do around these streets in the coming week. You really ought to behave like a decent, God-fearing American and stay home with your family, drinking unspiked eggnog and watching Jimmy Stewart.
But…if you're more interested in Jon Stewart, jukeboxes and the whiskey half of the eggnog formula, there is one infernal mission you and others like you could pursue this weekend. For the sake of furthering cultural understanding and bi-county brotherhood, take an East Coast/West Coast tour of our rural nether-regions. (Inappropriate Content Police of Durango take note: the preceding statement was not a gay joke or in any way sexual in nature. You sick puppies.)
Seriously – Durango may be dead this weekend, but the country folks know that when the holidays near and dear family members get a little too close for comfort, it's crucial to have an outlet, an escape, a second home of sorts. The neighborhood or Rural Route bar is the perfect setting for such a sanity-restoring sojourn.
The journey should be completed over a three-day period, to allow for travel time, sleeping over and sobering up. We begin in Mancos, across the county line into Montezuma. Established 1903, the Columbine Bar is one of Colorado's oldest continuously operating bars. They have food and drinks, and live music most weekends. Tonight's bill is Nate Mayfield, who may or may not be a trumpet player. (Attempts to reach the Columbine Bar at 8 a.m. on a Monday morning were unsuccessful, and Google results were iffy). Whether Nate is a trumpeter, acoustic singer/songwriter or kazoo player, you owe it to yourself to check out the Columbine and its unique crop of patrons. It could be the best thing anyone can do for the incestuous dating pool of Durango.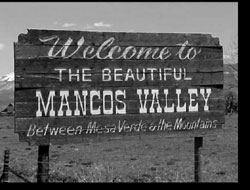 Friday's itinerary takes us to Gem Village, that little ruby in the rough nestled most way between Durango and Bayfield. There's not much going on there since the diamond mines closed down, but the village's one bar remains. Under the new ownership of Ashleigh Tarkington, who is working hard to bring entertainment to the 40 mph zone of Hwy 160, the Billy Goat Saloon is stop number two on this bi-county tour. Regional country-rock fixtures Wild Country play Friday at the Goat, where you can also get good grub and plenty suds.
And from there it's just a short distance (2.36 miles or so) to busy downtown Bayfield and Mill Street Brews. What started as a coffee shop is now also a bar, and a nifty place to hang on a Saturday. You could start in the morning with coffee and a burrito, and once the noon hour chimes, start in on the other brews. The only live music may be Denny's a capella renditions of bawdy Christmas carols, but it's worth a check-er-oo anyhow.
In order to keep up with the average American, you should read for at least one hour each day (see paragraph one, above). Presumably, cereal boxes, bathroom advertisements and bar menus count, but assuming this newspaper and the bathroom wall only take 20 minutes to scan, you might need to pick up a book or two. As I have done on many occasions, you should rush out to read the book upon which an upcoming movie is based, in order to get the full experience of the story as the author intended, so that you might better enjoy, abhor and/or scoff at the film version.
Some time ago I read Augusten Burroughs' Running with Scissors, one of his four autobiographical works and the first to become a flick. It's a highly engaging story, a vivid return to what may be one of the most uniquely f-ed up childhoods ever recalled. I have been waiting to see it since its limited theatrical release two months ago, and wouldn't you know that it finally arrives the day I leave for Christmas vacation. I can't comment on the film's worthiness, but Judith Reynolds will have the full report next week. The film opens Friday at the Abbey, and so long as it faithfully renders Borroughs' story and doesn't overdo the Alec Baldwin, it should be worth an afternoon's time.
How are you celebrating the solstice? Dec. 21 marks the winter solstice (OK, it's technically on the 22nd this year, but I prefer to believe that it always coincides with my birthday), the longest night or shortest day of the year. There's hope now for the return of sunshine, an end to the veil of blackness that descends over the Earth while we are still hunched over our keyboards in fluorescent-lit offices. A minute or two at a time, the daylight will return. Maybe then we can wean ourselves off the Prozac.
Happy Christmahanukkwanzaka! lindsay_damico@yahoo.com. •