Putting some art under the tree
Arts Center offers up Holiday Art Olé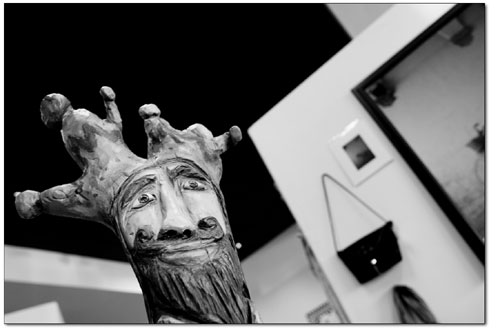 One of local wood carver David Sipe's unique characters sits on display at the Durango Arts Center. The works of several local artists are on sale at the arts center as part of Holiday Art Olé boutique.Photo by Jared Boyd
by Jules Masterjohn
If you haven't yet purchased those perfect gifts for family and friends, a trip to the Durango Arts Center's Holiday Art Ole', a boutique of work made by local and regional artisans, could be just the right move.
Though I am tempted to call attention to the chaotic and distracting display of the featured fine art and craft items, I will overlook my compulsion in the name of the season … and the fact that there is some very fine work in the gallery that merits getting down on your knees to see. Like Deborah Gorton's beautifully crafted collaged boxes. A master with the medium, Gorton combines patterned, colored and textured papers in a most subtle and appealing way. Her mindful, aesthetic choices vibrate quietly yet strongly through her work.
Gorton knows when to quit, unlike many mixed-media makers that are tempted to include everything AND the kitchen sink in their artwork. As part of the creative process, all artists struggle, now and again, with the questions, "When is it finished … done … complete?" This "enough-ness" in Gorton's work imbues each piece with an ease, as if it is comfortable with itself.
Each wooden box form covered in paper rests on four feet and is topped off with an adornment. This embellishment functions as the lid's handle, as well. The surfaces of her box forms are touchable and sturdy, something one expects from a functional object. Yet they function as objets d'art and need not actually contain something. They function to be beautiful … simple enough.
Though she has made boxes with feet and lids, Gorton does not forget that as an artist, she is also a meaning maker. Her content is not blatant but is found in visual innuendo. Her meaning speaks to us softly. She leaves some things for us to figure out, as in "Traveler's Box," which reveals an exotic postage stamp affixed to the layers of earthy toned and textured papers. On her "Good Fortune Box" a large oriental coin offers itself as the lid's handle, implying that a mere touch will bring good luck.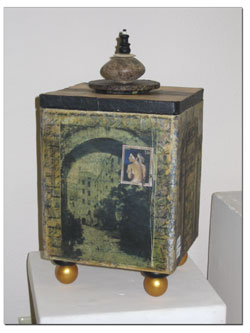 Debra Gorton's mixed-media "Traveler's Box"
Painter Lorraine Trenholm shows us that small is beautiful. Her miniature paintings of farm animals – cows, chickens and horses – are vibrantly pigmented. Using warm yellows and oranges as background colors, she delights our eyes with finding indigo blue, purple and turquoise hues hidden in her cast shadows. Particularly charming is "Inquisitive Baby," a portrait of a colt and rooster sharing common ground.
"Tomboys to Temptress" is a line of handbags created by artist Margaret Pacheco. The behavioral dichotomy to which Pacheco refers is most obvious in her redo of a pair of Chino pants made into a shoulder bag, sporting black lace and a bright purple belt. Purple satin appliqués adorn the front pockets.
Dave Sipe, carver extraordinaire, brings a once-forest of wooden beings together for the holiday boutique. I call him extraordinary not because he is a genius at wood carving, which he may be although I do not have the knowledge to judge his technical skills. What I do know is that, though carved from timber, his animals, cartoon characters and imaginary creatures are not wooden in personality – they all have panache. His buzzard and baby duo each hold an ill-tempered facial expression, his small bear figures emanate sweetness, and his gnome looks shyly mischievous.
It is a skill beyond technique that enables a carver to "find" the soul of a being within a mass of solid material. Michelangelo chiseled away, from a massive block of Italian marble, all the unnecessary stone to expose his Renaissance masterpiece, "David." Using a similar process of discovery, Sipe uncovers the Looney Tunes character Wile E. Coyote within his logs.
With the addition of colorful paints and a dose of whimsy, Sipe "finds" everything from within dead limbs or as he calls them, "born-again trees." From a simple piece of watermelon to benign forest animals to relief carvings of trees and even Santa Claus, the artist shows himself to be intuitive and productive.
Sipe does have a dark side, however, and one of the sculptures that indicates this is my favorite. Two legs, from the knees down, wearing striped tights and real leather boots poke out from underneath a Christmas tree skirt. If it is the Wicked Witch of the East or a relative of Pippi Longstocking who over-imbibed during the holiday, we will never know. Unless, of course, we ask the artist!
Dave Sipe can be found, most days, at his home and studio on the south side of Highway 160 about halfway between Mancos and Mesa Verde. Believe me … you can't miss his place. If it's more your style, give him a call at 533-7518 to let him know you are coming. •