New charter high school in works
Alternative school hopes to enroll first class in 2008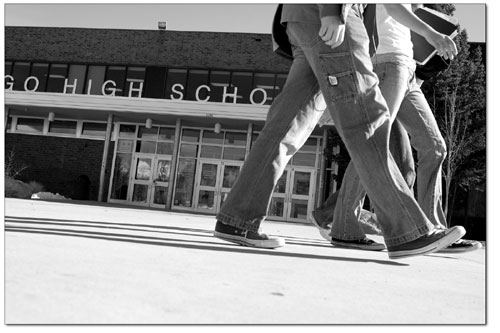 Students make their way between classes recently at Durango High School. A local group of parents has recently announced plans to start a new charter high school in Durango. If approved by the school board, the new school hopes to open in the fall of 2008, possibly in the Grandview area. The school will be limited to 400 students and based on California's successful High Tech High charter school model./Photo by Jared Boyd
by Missy Votel
As Durango's only charter school makes plans to come into the fold of School District 9-R, a group of concerned parents has stepped in to fill the void in alternative, public high school education.
Operating under the name Durango Charter High School for the time-being, the group hopes to submit its charter application to the 9-R school board by the spring of 2007 and enroll its first class of ninth-graders in the fall of 2008. Although the school requires school board approval and has not settled on a location, it is focusing on the Grandview area, said Gisele Pansze, a member of the charter school's steering committee.
"We're hoping to look at the Grandview area because that's where the growth is happening and where land is available," she said.
As a charter school, the school would be semi-autonomous – able to set its own curriculum, calendar and policies and select its own staff and board of directors. However, as a public school, it would still receive state per-pupil funding.
Pansze, who has three children currently enrolled in 9-R district schools, said a group of about 10 has been meeting for the last 18 months to examine options for a new high school in Durango. She said the group is united in its concern over Durango High School's size as well as the anonymity, disengagement and lack of community that can come with larger, more impersonal schools.
"What we hear from students is that they sometimes feel like their education is pointless," she said.
The group also cited the poor attitudes of other students as another challenge to learning in such a large setting. "Some students are there only because they have to be, not because they want to be," Pansze said. "We've heard from other students that this inhibits their learning."
The objective of the charter school would be to raise the bar for achievement by engaging students in a smaller, individualized setting that emphasizes "project-based learning" – whereby students learn by doing. By capping enrollment at 400 using a lottery system, the school would remain viable while keeping a more personalized atmosphere. She said the group decided on a charter school versus a private school because it is committed to the idea of making the experience open to all kids, regardless of socio-economic or academic status.
"We'd like to design a high school that raises the bar for all students, not just the high-achievers," she said. "We strongly believe that a quality education should be available to everyone."
The new charter high school will be based upon a successful charter model in California, High Tech High. The first High Tech High opened in 2000, stressing the use of technology and real-world situations as a means to an end in the learning process. The school was so successful that it has been replicated throughout the state. The High Tech High system now boasts more than 2,500 students with 100 percent of graduates being admitted to college, more than half of them first-generation college students.
"It's inspiring to see them so successful," said Pansze, who along with fellow steering committee member, Holly Jobson, visited the school firsthand this summer.
What separates High Tech High from other schools is its commitment to student-adult interaction. In addition to fostering strong parental involvement, the school assigns each student a teacher-advisor, who acts as the point of contact for parents. At the beginning of each student's career, their advisor pays a visit to the student's home. "I thought how wonderful that was, to make that connection and see where students are coming from," said Jobson.
The school also plans to collaborate extensively with the local community, with internships and shadowing with businesses and nonprofit organizations figuring prominently, Pansze said. "This way, students can learn what it takes to be in a certain field and what they like and don't like," she said. "It also reinforces in their mind the importance of continuing their education."
But Pansze said the most exciting part of the High Tech High approach is the project-based learning, whereby students take an active part in engaging not only their minds, but their hands. For example, instead of learning geometry through conventional textbooks and problems, a teacher invited an architect to class. Students were then split into groups and given the project of designing and building a scale model of a sustainable, four-person home. The different groups were assigned tasks of varying difficulty based upon their grasp of the mathematical concepts. "It's a great example of how projects can be tailored to teach and challenge different levels of students," Pansze said, adding that the architect's involvement gave the project real-world relevance.
Although the charter school's curriculum would be different from district schools, Pansze said it would still be rooted in state standards, noting that High Tech High students in California placed among the highest in that state's Academic Performance Index rankings. Students also would receive letter grades, but in addition would be ranked on a "rubric," a scale that outlines the steps to be taken in order to become proficient in a certain area. "It's really the opposite of standardized assessment," said Pansze. "It tells students what they need to do to get where they need to be."
Although the school would not offer organized sports or extracurriculars, such as drama, students would still be able to participate in these activities through DHS. "That's the nice thing. Students will have an innovative curriculum but still be able to take part in these traditional high school activities," she said. "And since they've already gone to school with these kids, they won't be strangers, either."
Durango Charter High School has held three informational public meetings, with another scheduled for early January. So far, Pansze said response has been good. "It's really exciting," she said. "The feedback's been positive, and there's a lot of grassroots support. It shows that the community wants an alternative."
However, Pansze and others involved with Durango Charter High School admit that success also will depend on avoiding the pitfalls of Durango's first charter schools: Community of Learners, which folded in 2001, and Excel, which is slated to cease operating as a charter after this school year. Both schools were plagued with sagging enrollment and budgetary woes. Furthermore, they often became the schools of last resort for students who were not performing well in the district schools.
But Pansze said Durango Charter School organizers have learned from these mistakes. Furthermore, the new school would have some safeguards built in to ensure that students who attend truly want to be there. "If a student doesn't make a C-average or better, they're held back," she said. In addition, at the end of each school year, students have to make a presentation to their peers, parents and teachers, arguing their case for moving up to the next grade.
Despite the failure of its local predecessors, Pansze also pointed out that generally, charter schools are thriving in Colorado. "I think the big misconception people have is that charter schools are failing, and that's really not the case," she said.
There are currently more than 100 charter schools open in Colorado serving 40,000 students. Since the Charter School Law was passed in 1993, only 11 have closed down. "There are some charter schools that have failed, but there are some that are successful and have really changed students' lives," she said.
But more so than changing students' lives, Pansze said charter schools have the ability to change an entire community. "Kids get real world experience and in turn, the community gets to work with these kid and see how great they are and what they have to offer," she said. "I think that's what's going to make this school fly in Durango, more than anything else." •
For more information on Durango Charter High School, e-mail: charterhighschool@ durango.net.
In this week's issue...
March 17, 2022

Lake Powell drops below threshold for the first time despite attempts to avoid it
March 17, 2022

Purgatory Resort set for expansion but still faces hurdles
March 10, 2022

New health care studio takes integrated approach to healing