Real estate rush starts to subside
Durango?s red hot market shows signs of cooling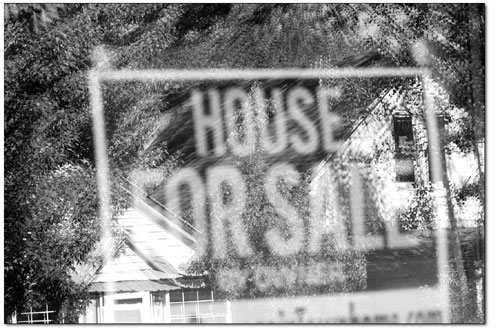 After several years of red hot growth, sales of in-town homes in Durango have cooled. Numbers released by the Durango Area Association of Realtors found that sales of in-town homes dropped 40 percent in the second quarter of 2006 over the same period of 2005. The trend is one mirrored in real estate markets throughout in the country and attributed to various factors including high fuel and materials prices, climbing interest rates and the ongoing war in Iraq. Local real estate experts expect the numbers to rebound for the third quarter, historically the most brisk sales period of the year. /Photo by Jared Boyd.
by Missy Votel
he Durango real estate feeding frenzy appears to be subsiding – at least for now. Yet, local real estate experts point out that the end of the feast does not portend famine so much as the return of sensible portions.
"I don't call it a slowdown so much as a settling down," said broker Samantha Gallant, owner of Gallant Real Estate and president of the Durango Area Association of Realtors.
Recent numbers released by the group from the second quarter of 2006 showed a 40 percent drop in sales of in-town residences over the same period last year. Sales of homes outside city limits but in the vicinity of Durango showed a similar if somewhat less-dramatic decline of 15
percent. The drop in sales marks the end of three years of double-digit growth in the local real estate market, punctuated by the banner year of 2005, which posted a 29 percent increase over the previous year's sales.
The trend is one that is being mirrored across the nation, signaling that the robust Durango market, which typically rebuffs national cycles, is not as resistant as once thought.
"There's been a deceleration in sales
activity, and our real estate market may not be as immune to national conditions as some might think," said Bob Allen, local appraiser and real estate consultant.
Allen said myriad conditions have gone into creating the current state of affairs. Among those influences cited by various sources include after-effects of Hurricane Katrina, immense growth in China, high fuel prices, climbing mortgage rates and the ongoing War in Iraq. All these factors have put pressure on the
home market by driving up materials costs and putting the cost of an average home out of reach for many Americans
"Construction and materials costs have gotten so high that it's hard to build for under $300,000," said John Wells, owner of the Wells Group Real Estate Brokerage.
Further compounding this is a heightened sensitivity among homebuyers over instability at home and abroad, making buyers more gun shy than in years past. Furthermore, sluggish activity in Durango's "feeder markets," such as Phoenix and California, has also had a dulling effect.
"Buyers are in tune immediately with what is happening on a national level and in the media," said Gallant. "Right now, I see buyers sitting back and waiting. 4
They're not as quick to pull the trigger."
These factors have influenced certain parts of the local market more than others. The segment most affected has been lower-end homes, which in Durango account for those below the $500,000 mark. According to Wells, this segment is "interest-rate sensitive," meaning most buyers need to borrow money in order to finance the purchase. When interest rates go up, lower-end buyers get priced out.
In contrast, in the higher-end home market, buyers tend to be more affluent baby boomers and second-home owners who don't need to borrow much, if any, money. As such, Wells said this market has not been hit as hard by current conditions. "There has not been as much of an impact in the more expensive range," he said.
Gallant added that current conditions have not only affected local buyers, but sellers as well. Although the average days on market for homes in the second quarter of 2006 were on par with the same time in 2005, she said she expects that to change. "I think you're going to see that in the third quarter, days on the market have extended," she said.
Although numbers for the third quarter won't be released until October, this development is already being observed anecdotally by the number of persistent "for sale" signs around town. "It was such a frenzy last year that if people didn't sell their homes in six weeks, they'd start wondering what was wrong," she said. "But over the next six months or so, there's going to be a real awareness that the type of activity level we've seen won't be there."
While Durango seems to be experiencing some of the national slowing pains, Wells noted that the local market is unique enough – with its mix of retirees, vacation home owners, second-home owners and permanent residents – to remain insulated from the severe price shock experienced in other markets.
"The good news is, we aren't seeing price devaluation," he said. "In places like Phoenix, California, the Southeast and even Denver, prices are actually going down by 10 to 20 percent."
He also cautioned against reading too much into the numbers, noting that 2005 was a watershed year. To get a more accurate picture of what is happening, one must look at the trend of the last seven years.
"Basically, 2006 is pacing right on that trend line, whereas 2005 was above it," Wells said.
Allen, who independently tracks all sales through county records, also warned against jumping to conclusions based upon the recent findings, including the latest figures for median home price. In the second quarter of 2006, the median home price climbed to a record high of $448,000, a 26 percent jump over the same period in 2005.
"The problem with statistics is that you can have sales in there that can throw it off," he said. "You can have a stack of million dollar sales one quarter, and none the next."
Indeed, despite an overall drop in home sales, the second quarter of 2006 saw the sale of 12 more homes in the $500,000 to $999,999 range and one more in the $1 million-plus range than the second quarter of 2005. Instead, Allen said a more accurate depiction of trends can be arrived at by looking at the end-of-year numbers. Furthermore, numbers for the third quarter, the period from July to September, tend to be the highest of the year because of families looking to get settled before the beginning of school.
"The greatest buyer activity is June through August, so we could have the greatest closing activity in September," Allen said.
In fact, Gallant said third quarter numbers may give the impression that the local market is rebounding a bit. However, just by personal observation, she said so far, third quarter numbers appear to be off those of last year's, although they are not as dramatic as the second quarter decline.
Nevertheless, while Durango waits out the adjustment period, she noted that a little breather may be just what the local market needs.
"Last year was an absolute free for all, and that's not good," she said. "The fact that the market is settling down is not a bad thing." •
In this week's issue...
July 21, 2022

Land swap approved in Southwest Colorado, but not without detractors
July 21, 2022

The latest strategy to save the San Luis Valley's shrinking aquifer: paying farmers not to farm
July 14, 2022

Despite SCOTUS ruling, San Juan Generating Station plans to shut down