New life at the jobsite
Construction recycling comes to the Four Corners

SideStory: A few recycling facts and figures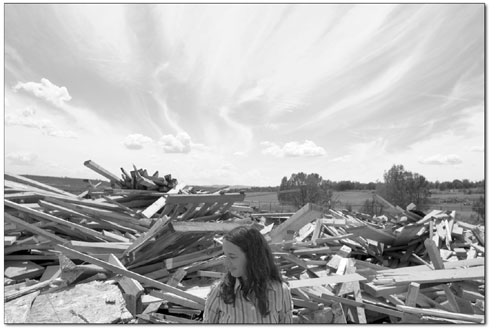 Alex Arribau, who owns Phoenix Recycling with her husband, Mark Thompson, stands at the company's new construction recycling faciity in Three Springs. Phoenix will be recycling construction materials, which account for more than 50 percent off all new home construction waste, from Three Sprigns as well as other developments in the area./Photo by Jared Boyd
by Missy Votel
Residential construction at Three Springs was not the only thing breaking ground last week. The Southern Ute Indian Tribe and a local recycling company also kicked off a ground-breaking venture, with the goal of keeping thousands of tons of construction waste from local landfills.
Leasing a 7-acre parcel from the tribe, Phoenix Construction Recycling has opened a state-of-the-art recycling facility at Three Springs, the first facility of its kind in Colorado, New Mexico and Utah. At the site, where construction materials will be hand sorted on a concrete pad, Phoenix will provide recycling services for not just builders at Three Springs, but throughout the area.
"I'm really excited about the volume of waste that's going to be saved," said Phoenix co-owner Alex Arribau. "There's a lot of development going on in our community, and it's exciting to find solutions like construction recycling to improve it."
Arribau and husband, Mark Thompson, started Phoenix Recycling more than 5 years ago to serve residential recycling needs in La Plata County. They also own a data-storage company and document-shredder truck in addition to the latest venture.
"Annually, builders in the United States generate approximately 31.5 million tons of construction waste, almost 24 percent of the total municipal solid waste," she said. "When over 50 percent of that waste can be recycled there is no reason for it to go into the landfill."
Arribau said she and Thompson had been considering the idea of construction recycling for some time, but were stymied by the lack of affordable land for the facility, which in addition to a sorter area also must house waste containers and heavy equipment. However, at the same time, the tribe was thinking along similar lines and approached the couple.
"They came to us, and we'd been researching it for a while already," she said. "We told them we were interested in starting construction recycling, and they said they were interested in having it in their development."
By leasing the land to Phoenix, Arribau said the tribe created a mutually beneficial situation. "The tribe leases us the land, and we, in turn, are able to provide excellent service by being on their property, right there."
The establishment of the facility at Three Springs fits into the vision of the development, said Patrick Vaughn, president of Growth Fund Properties Group, developer of Three Springs. "We have made a commitment to seek and implement innovative methods of green construction standards from the start, and certainly, construction recycling has an immediate and favorable impact on the environment," he said.
Phoenix estimates more than 10 million pounds, or 5,000 tons of waste will be recycled during the 20-year build-out of Three Springs. The 621-acre planned development calls for 1,800 to 2,200 residential units as well as 864,000 square feet of commercial space. According to Arribau, recyclable construction materials fall into four basic categories: wood, concrete, cardboard and metal. Together, they make up more than 50 percent of new home construction waste, with wood making up the lion's share, at 38 percent. Right now, wood will be mulched for landscaping at Three Springs, scrap metal will be sent to Valley Metal in Farmington, concrete will be used as aggregate by Sky Ute Sand and Gravel, and cardboard will be sold on the open market.
Arribau said so far, reception among local builders has been good. "Contractors in our area are really resourceful, we've gotten a good response," she said. Right now, Phoenix has 63 of the 30-cubic-foot bins, with more on the way. The company also bought two new roll-off trucks to haul the massive containers as well as a new truck to haul waste to the landfill. She said their rates, $325 per "pull" for removal of a full container, is competitive with other waste companies.
"We're basically providing the same service, except they bring it all to the landfill whereas we sort out the stuff that can be recycled," she said.
Arribau explained that in researching the operation – which led her and her husband as far away as Eugene, Ore., to visit similar facilities – the biggest concern among builders was the need to separate. As a result, she said all the materials can be placed in the same container, alleviating the need to train workers on sorting.
In addition to Three Springs, Dyerbilt, Habitat for Humanity, Tom Gorton Construction and Classique Custom Homes also participate in Phoenix's program.
"Our goal was to make it easy, and make these guys understand how easy it is," Arribau said. "By forming partnerships, we can make things happen. And this is a good example of that." •