Gathering in the name of change
People of Conscience going strong after four years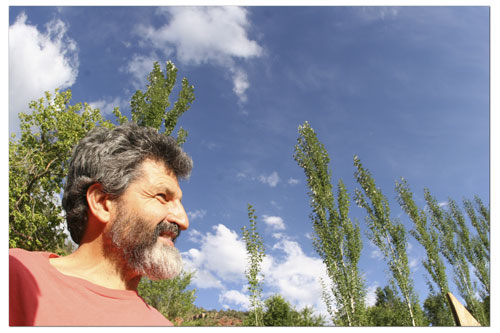 Ron Margolis, founder of People of Conscience, a local, grassroots group looking to affect change and foster peace, talks about the group's objectives near his home last week. The group was founded four years ago on the wake of the 2002 presidential election debacle, but is stronger than ever in light of recent global issues, Margolis says./Photo by Jared Boyd
by Dunbar Hardy
Sliced, summer-ripened peaches, organic greens, a tasty bean salad, bow-tie pasta, and fresh-picked beets are spread over the buffet table. Meanwhile, an equally colorful and homegrown group of individuals assembles nearby. The monthly People of Conscience gathering is best described as just that, a gathering and not a meeting. The monthly get-together is one of healthy food and lively discussion, and food for both the body and mind are provided. A respectful order falls over the group as group founder and 20-year Durango resident, Ron Margolis reads a statement of intent.
"People of Conscience is a broad-based group that seeks to empower citizens for positive community action," explains Margolis. "We stand for such values as truth, respect, compassion and cooperation. We attempt to dialogue rather than protest, to find common ground rather than to promote divisiveness, to build rather than tear down, and to inspire rather than to make fearful."
The 20 or so Durango-area residents listening to Margolis run the gamut from surveyors, health-care providers, retail clerks, teachers and landscapers to public office candidates, farmers, artists, engineers and volunteers. They also run the full range of ages, from teen-agers to octogenarians. What is it that has brought – and kept – this diverse group together since its founding nearly four years ago?
As Margolis puts it, with continued conflict in Iraq and an imploding Middle East, the group feels there is an imperative for action now more than ever. And local citizens looking to enact grassroots change are stepping forward in even greater numbers.
"There has been an increased interest in our group over the last few months," explains Margolis.
"We have seen an increased number of people who have never participated join our gatherings. There is a feeling of urgency. We can't just sit back, watch and do nothing. We are committed to change."
Formed by accident in late 2002 in the wake of the presidential election fall-out and the build-up to the Iraq War, People of Conscience began with an op-ed call to action written by Margolis titled "Re-Creating a Vision for America." Roughly 200 people responded to this call to action, gathering on a cold November day in Rotary Park to express their own disillusionment. From that day's dialogue, the interest to carry on and seek solutions was shaped into the group, People of Conscience.
Margolis said there is a sense that, after a period of more reflective and internal time, group members are ready to take action. He feels that on major issues the nation is much less divided than the mainstream media is telling us. For instance, he points to a recent national poll that found 90 percent of respondents thought America was heading in the wrong direction.
It is harnessing this unity that the group sees as its overriding challenge.
"I believe we are all seeking to bridge the gap between 'us' and 'them' so that true dialogue can occur," explains group member Victoria Fitts-Milgrim.
Longtime group member Jules Masterjohn echoes this sentiment. "We need to be truly open-minded, so we don't continue to demonize each other's views," she says. "Our challenge is to remain open to others."
In keeping with this theme, the format of the gathering is to let everyone speak. The group itself sets the agenda, which some might describe as unorganized. But in this setting, everyone is a leader and has a voice to be shared. With this "all can participate" concept, true democracy can be a slow process.
As the gathering moves ahead and the slow democratic process percolates ideas to the surface, ideas are recorded. The range of topics discussed, with possible plans for future action, include local issues such as education, the local economy, housing costs, a living wage and health care to bigger issues such as the integrity of our voting process, the growing disparity between the rich and the poor, corporate domination, the cutting of social programs, and the environment.
From this broad list, Margolis, explains that interest dictates what, if any, action, is taken. "When enough energy or interest gets behind certain topics, action gets taken," he says. "A beginning point for each person is to ask themselves how each issue affects them personally."
By the end of the night's gathering, there is a renewed sense of hope. The list of topics discussed will be passed around and prioritized. Combining the momentum of the evening's discussion, a tangible agenda is in place for the next gathering.
"This group really is about engaging in a process to get people inspired to do some good," says first-time attendee Ricardo Moreno. "It is promising for the future. I will come back."
Indeed, with 300-plus Durango people on the People of Conscience mailing list, there is a growing community of individuals seeking alternative and sustainable solutions to many of the issues facing us here at home, as well as on national and global levels.
"We will keep this group going because the energy we create helps support us all and provides us fuel for community action," Margolis says in closing. "If we become hopeless, we are defeated. People of Conscience does give hope because we can all see we are not the only ones. We inspire people to take action and that's how we can change the world. Small actions can lead to big changes." •