Bongo Love!



by Ted Holteen
No really, that's the guy's name. I couldn't very well use a line like that in the title and not follow up on it, because then you people would just skip ahead to see what the hell Bongo Love means and you'd miss valuable information about free train movies. I couldn't let that happen. But when someone named Bongo Love comes to town, it has to merit a headline somewhere, and damn it all, why not here? So anyway, Bongo Love. The short answer is that he's a Zimbabwean native descended from chiefs and kings who plays real African music like they have in Africa. That's the cradle of civilization place where the people figured out things like farming and science and such and generally enjoyed life in and among the natural world. Sounds lovely. Then came whitey, cheap transatlantic boat rides and even cheaper housing in the New World. I'm sure there was more to it than that, but the whole story escapes me now and space restrictions here prevent historical details. But today, the ancestors of those hard-working immigrants can be found in cities across America not named Durango, comprising of course our nation's African American population. The combined heritage of native Africa and the slave experience in America created an entirely new and unique culture on our shores, but that's also another story for another day. Bongo Love is not an African American. He's an African. Things like oral history and tradition, music as a healer and respect for people aren't just New Age buzzwords to him, but rather a way of life. And lest you forget, agriculture and astronomy aren't Africa's only contributions to the modern world. They've always been really good at the music thing over there, too. That's another tradition that Bongo enjoys carrying on, and I suggest you check him out on Friday night to see how much fun African music, real African music, can be. If your well of African music is still poisoned by memories of the Barefoot Dance Studio, like mine is, this should cure you for good. Bongo Love plays Friday night at the Summit around 10 p.m., and I'm sure he'd love to see you there.
I wasn't joking about the free train movies. Apparently there's a Narrow Gauge Train convention happening in town and like all conventions, these people need to be entertained lest they be loosed for a night of grab-ass at the Diamond Belle. We can't have that, and so the convention organizers have taken a page from the 21st century parenting handbook and decided to dump them in a movie theater for a few hours. Seriously, movie theaters and golf courses are turning into surrogate day-care centers. I can't blame the parents – I don't want to be around their kids either – but that's why I don't have any of my own. That and all the acid. Early on my parents instilled in me the idea that most adults don't really like children, and when it was time to ditch me, they simply sent me into a dark forest for a few hours to figure things out for myself. Could be why I started smoking at 9, but other than that I turned out OK. Oh yeah, the movies. Today, Friday and Saturday at 12:30 and 3 p.m., the Abbey Theatre is showing movies that feature our own train. (You know, the one that's always blocking the McDonald's driveway.) Today it's "Butch Cassidy & the Sundance Kid" (if you've never seen it, I probably don't like you) followed by "Support Your Local Gunfighter," starring James Garner, Suzanne Pleshette and Harry Morgan. Tomorrow's features are: "Denver & Rio Grande" (1952, no stars to speak of), a semi-documentary of the construction of that railroad; and "Ticket to Tomahawk." The latter should be a highlight, as this 1950 film has everything from Rory Calhoun to a Chinaman named Long Time. I'm guessing it also stars a few dozen Italians who were hanging around the movie lot as the pesky Indian raiders. And for a kicker, an uncredited Marilyn Monroe has a bit part as a dance hall girl. There's a stretch. The mini film fest wraps up on Saturday with encore performances of "Ticket" and "Denver & Rio Grande." There is no cost for these free movies. Stick around after Saturday's double-feature for an evening performance by the Hot Strings. I had always thought they were onto something when they were the Pagosa Hot Strings, which I thought quite clever, and so I'm mad at them. But they're still good, and it should be fun. You will be asked to leave the theater following the films, so "stick around" is used loosely here.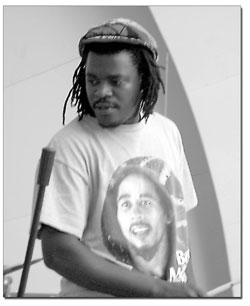 Last week, I touched on the final performance in Fort Lewis' free summer play reading series, "Merrano of the Dry Country." You remember, Louis L'Amour's kid Beau made a play from his dad's short story about some ranchers who were mean to the Mexican guy who really knew what was up the whole time. (Straight from the Cliffs Notes) That show happens tonight (Thursday) at the amphitheatre on campus. And it's free.
Also free: KDUR's Fall DJ meeting – stop bitching and do your own show. Apply next Wednesday at 5:30 p.m. in the College Union Building … Lawn Chair Kings at the Patio on Saturday … Beautiful Losers at the Columbine in Mancos, also on Saturday, and I'm pretty sure it's free. But don't hold me to that – Mancos is a weird place.
As for me, I'm off to the Big Apple to try to get on that damn "Millionaire" show with the chick from "The View." (Not Barbara Walters) If things go well, I hope to never see any of you people again, unless you have investment advice. If not so well, I guess I'll come back next week and work a little harder on marrying into money or slipping on Rod Barker's icy sidewalk.
Who wants to be my lifeline? (I gotta get on the show first, remember) egholteen@hotmail.com. Fear not, MMS, I can always cheat, and I'll buy you something real nice. •