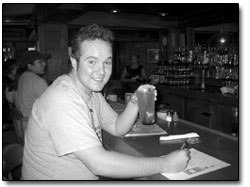 Diver: Andy from the Palace
Facts:Andy reveals that gansta rap and fanny packs are two great tastes that go great together
Got a dirty little secret?
Looking for guidance to remedy a sticky situation?
Seek help from the master of the kitchen! The Dish Diver has solutions to life's little messes. Send your problems to "Ask the Diver." - By mail to Durango Telegraph - Attn Diver -534 Main Ave., Durango, CO 81301; by email at telegraph@durangotelegraph.com, or by fax at 259-0448.
Diver,
I was on vacation in Durango recently and loved the town. One question though...what's with all the white kids cruising up and down Main Street blaring hip hop? And not even good hip hop mind you, they blare mindless gangster rap. Makes me think your town is full of a bunch of wanna-bes. Boy, I bet it's hard to be a gangster when you are a Durango teenager and your parents own one of those big ass houses on the ridge.
–Jerry, via email.
Dear Jerry,
Thanks for visiting Durango. I'm sorry that my peeps were rollin' so deep on Main Street. Being that my surname is Sug Night, I see nothing mindless about gangster rap. But I see something overly coward about sending this message via email.
Considering the fact that I have been involved in numerous shootings and knife fights, I think the next time you visit Durango you should be prepared to roll Durango style….mad gangster. Next time you are in town, I will show you how we really get down at my folks house up on the ridge.
–Diver
Hey Diver,
I was at a wedding in the Midwest recently, and the greatest thing happened. Well, post-reception, a bunch of us ended up in some bar, including the bride and groom, still in tux and wedding dress. They got smashed, got into a fight, and the bride beat the crap out of her new husband in the middle of this bar. It was quite a sight, but downright embarrassing to watch as well. Why would two people fight on their wedding night?
–Johnny
Johnny,
I'm assuming that the bar you were at was similar if not exactly like my favorite watering hole, El Rancho. Considering this elite establishment has been temporarily shut down due to arson, I will go ahead and compare your bar to the roadhouse. The only difference is that your friends were blasted off OLD STYLE or SCHLITZ instead of PINSTRIPE or PBR. I believe this will end for the worse. If there was a bloodbath within the first 23 hours of marriage your friends will either stay together for eternity or enjoy their makeup sex and talk to a good divorce lawyer because I have a feeling that the new husband may just have the upper hand. Unless they return to the roadhouse, which is where all the major problems in life stem from.
–Diver
Diver,
Am I a dork for wearing a fanny pack? Maybe it's a bit out of style, but I happen to like the thing. It's like a hands-free purse for men, and it's damn convenient. It holds my wallet, my keys, and whatever else would normally be in my pocket. It especially comes in handy when I go to music festivals or Yonder Mountain String Band shows. Know what I mean? I just don't like it when people call it a fag bag. Do you like fanny packs?
–Marcus, via email
Marcus,
Sounds like a fanny pack is functional for the Yonder Mountain Hippie Fest. Although, it may be easier and more socially acceptable if you went by one of Durango's fine mountaineering sports stores and picked up something similar to what my feminine yet hip friend Jess B. wears, which would be a MountainSmith bag that can be used for school or festivaling among many other popular uses. That was my PG rated answer. Here we go at PG-13. I think you probably own pink jogging shorts that you wear when you are dancing to Richard Simmons and "Sweatin' to the Oldies." You have two options. One is to come out of the closet. The other is to kick your own ass and start dating women.
–Diver