Gold mining resurrected
High commodities prices drives reopening of mine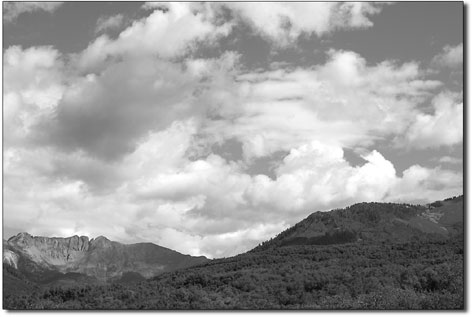 Clouds gather over the La Plata Mountains, west of Durango, recently. With gold reaching a 26-year high of $700 an 0ounce, there has been renewed interest in mining the precious metal, including a recent proposal by the Wildcat Mining Corp. to rehabilitate the Idaho Mine in the La Platas./Photo by Jared Boyd
by Missy Votel
With metals prices at their highest point in nearly 30 years, the Durango are is seeing a renewed interest in mining precious metal. A San Diego-based company, Wildcat Mining Corp., has submitted an application with the La Plata County Community Development Department for a class II permit to conduct gold and silver mining in the La Plata Mountains, near the small burg of Mayday.
However, the operation may already have run afoul of county land-use regulations. The county issued a stop-work order in mid-July based upon tips that work had already begun on teh site, despite the absence of a proper land-use permit.
"We have gotten a couple of complaints and issued a stop-work order while we investigate what we can do," said County Planning Director Nancy Lauro. "They were claiming to only be cleaning trees off the road and cleaning up the old mill structure."
Wildcat's Vice President of Operations Adam Vega did not return a phone call seeking comment.
The Wildcat proposal calls for setting up mining and milling operations on the old Idaho Mill property, north of Mayday. The 141-acre parcel changed hands July 25, when Aaron Taylor, a former county planning commissioner, sold it to Old Idaho Properties, LLC. The land, as well as the adjacent Mayday Mine, would be leased by Wildcat. According to documents supplied to the county, the operation will include refurbishing the old Idaho mill on the property as well adding a portable crushing plant, office trailer, storage for chemicals, a tailings pond and a tailings pile to the site. No new permanent structures are planned at this time, according to Wildcat. The mine will employ as many as six workers as well as "additional support, maintenance and technical employees" who will be on site from "time to time." Projected hours of operation are from 7 a.m. to 5 p.m., five days per week.
The facilities will be used to concentrate ores from the Idaho Mine, the Mayday Mine and from waste dumps and tailings piles on these and other properties. The operation will run on an electric generator and use the flotation-concentration method of extraction, with no acid-forming or toxic chemicals used on site. Many gold mines, including the Cresson Mine near Cripple Creek, use cyanide to leach gold from ore. The practice has come under fire for the environmental damage and pollution it causes.
Access to the Idaho Mill site will be on the Mayday Mine Road, off County Road 124, which bisects La Plata Canyon. Water for the operation will be transported from the Mayday Mine. The mill is expected to use 40 gallons per minute, which will include 30 gallons of recycled water.
Although Wildcat may have permits from the state Division of Mining and Geology, it will still need to go through the proper county channels before it can begin operating, according to Lauro. Jeremy Howard, the county planner assigned the project, said the county is trying to determine whether the Mayday Mine, which was issued a land-use permit in the mid-80s, has been in continuous operation since that time. If not, activities here also could be found in violation of county regulations.
"For the land-use permit process, if anyone ceases the permitted activity for more than a year, then a whole new land-use permit is required," he said.
Howard said a decision on the proposal likely will not come before October, a full month past the company's proposed start date of Sept. 1. In the meantime, the county is awaiting replies from several governmental agencies, including San Juan Basin Health Department, on the proposal.
"There would need to be public meetings, and they will need to mitigate any possible impacts such as for noise, etc.," said Lauro.
The company also will be required to reclaim the site once operations cease, as per federal regulations. Lauro said the application is the first of its kind the county has seen in several years.
"It is unusual," she said. "In my 11 years in this department, we have looked at only one other proposed silver and gold mine up La Plata Canyon, and it never happened."
That project, the Tippecanoe Mine, near the top of Kennebec Pass, ended up being a scam perpetrated by a California telemarketing company attempting to bilk would-be investors out of millions. In 1997, a court settlement ordered the company to pay $2.4 million in damages.
According to the Colorado Division of Minerals and Geology, the state agency responsible for mineral and energy development and regulation, there are four active gold mines in La Plata County: the Mason Mine; Incas Mine; Neglected Mine; and May Day Mine. The most recent of these, the Mason Mine, was activated in 1989. To Lauro's knowledge, the Incas Mine, which is located in the La Platas and was activated in 1986, is the only one that has been in continual operation since. •