Motorized debate revs up in Silverton
Snowmobile access takes center stage as forest plan debated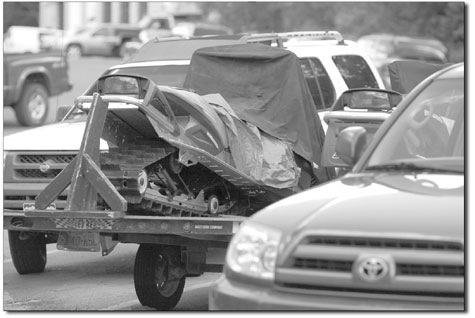 A snowmobile makes a rare summertime appearance in downtown Durango recently. The topic is also on the minds of San Juan County residents, who gathered to debate whether county commissiones there should draft a letter opposing the Forest Service's forthcoming travel management plan, which calls for segregating motorized and nonmotorized uses./Photo by Jared Boyd.
by Shawna Bethell
The first snow will not fly for months, but the debate over winter access to the backcountry is already boiling. Motorized and nonmotorized winter recreation groups once again faced off in the San Juan County Courthouse last week.
On July 26, San Juan County Commissioner Pete Mckay called a public hearing after fellow commissioner Terry Rhoades suggested the county oppose the Forest Service's Travel Management Plan. The current draft of its winter travel plan seeks to put an end to the constant fight over motorized vs. nonmotorized winter access in the San Juan Mountains by segregating the uses. With officials from the Forest Service on hand, the commissioners heard impassioned, bitter and sometimes humorous comments from both sides that represented reflections on a political and cultural level, between how life in the San Juan Mountains was, and how it will be in the future.
The nonmotorized community openly expressed concerns about snowmobiles. The list included noise, safety concerns and fumes. Another statement put the current feud in historical context. Julie Singer, who introduced herself saying she had been a Colorado girl all her life, referenced a time when cattlemen and sheep herders fought each other for exclusive grazing rights. The final decision by federal officials, she recalled, allowed allotments for each group and "peace reined throughout the land."
But it is that very separation of access that angers the motorized contingent most. Many speakers stressed that public lands should be for all people, regardless of noise, speed or exhaust. Other snowmobile proponents were less bitter, only concerned about what they saw as the continued re-evaluation and cornering of motorized access. Dale Jaramillo, of Silverton, stated that quiet users already have the entire Weminuche to themselves and asked how much more they would continue to take.
However, it was longtime Silverton resident and quietly persistent voice for wildlife, Skip Conrad, who pointed out that no people were being prohibited from certain regions, only their machines. He added that snowmobile impacts go beyond humans and further stress wildlife already challenged by high-altitude winters.
"Times have changed, and we penetrate farther and farther into the quiet natural world with our machines," he said. "The Forest Service is not proposing keeping people out of anywhere. It is proposing to limit the area machines can operate in."
The draft the Forest Service is currently working on for the Molas Pass region and the Red Mountain Pass region alters the boundaries of and attempts to separate land used by the two camps. According to the presentation, the agency anticipates utilizing terrain breaks as natural barriers making boundaries both more distinguishable by users and enforceable by officials. On Molas Pass, motorized use would still be permitted on both sides of the highway, but a new boundary would restrict it below the visible ridgeline on the west side of the highway. On Red Mountain Pass, the Forest Service has found the west side of Highway 550 suitable for motorized vehicles and the east side of the highway suitable for nonmotorized use.
In an effort to come up with a mutually agreeable solution, the Forest Service has interviewed hundreds of public land users and held numerous public hearings over the past few years. A formal draft of the entire forest plan, including travel management issues, is expected to be released for public comment this September, at which time another series of public hearings will be launched to gauge response.
Only one speaker addressed this changing climate at last week's hearing. Carla Safranski, a 30-year resident of Silverton, pointed out that the times are indeed not what they were 30 years ago, when only locals used the region. As a result, she said changes need to address the increasing usage. This same issue has plagued Forest Service officials when addressing off-highway vehicles and the summer travel debate. As more and more people "find" the pristine areas and want to use them, new measures of preservation need to be implemented to accommodate resource management and recreation.
Three meeting attendees identified themselves as both snowmobile users and backcountry skiers. Citing interest in both activities, Blair Clark, of Silverton, stepped forward to say he is in favor of multi-use but supported the Forest Service plan to separate the areas. He later commented that he spoke on behalf of the plan because he did not see many people who enjoyed both activities stepping forward.
As the hearing came to an end, the commissioners were split on the issue and rejected the idea of writing a letter of opposition to the Forest Service because the number of San Juan County residents who supported the plan far outnumbered those who opposed it.
For more information on the Forest Service's current forest planning effort, visit www.ocs.fortlewis.edu/forestplan. •
In this week's issue...
July 15, 2021

With the West in extreme drought, locals look to flee – but to where?

July 15, 2021

State considers permanent funding for strapped search & rescue teams
July 8, 2021

Plastic bags, Styrofoam will largely disappear from stores and restaurants in 2024