Breaking ground
Habitat for Humanity begins largest project to date

SideStory: Housing authority names new director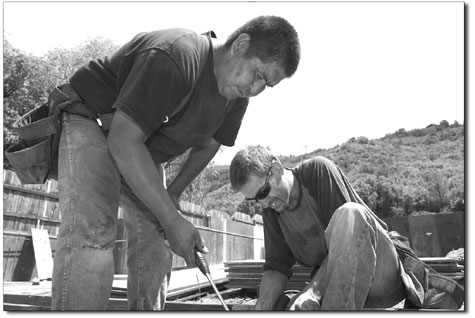 Denton Williams, left, and Dustin Klingenberg work together on the foundation of a four-unit Habitat for Humanity townhome complex being built on Florida Road. The project is the first in-town Habitat project in several years and marks the first time the group has built more than two homes in a year./Photo by Jared Boyd
by Missy Votel
On Saturday, dozens of volunteers will begin construction not only on four new homes, but on the dreams of four local families.
The Habitat for Humanity of La Plata County project is a milestone of sorts – marking the first in-town project in several years for the group as well as the first time the group has undertaken more than two homes in a year. The project, at 1470 Florida Road, near the intersection of County Road 250, will ultimately contain seven townhomes, with the first four slated for completion early this winter.
"We've got families lined up. Some have been in the program for years, so they're ready," said Connie Imig, Habitat for Humanity of La Plata County's executive director.
Imig said each townhome will be about 1,300 square feet, including a garage, which was required under city parking regulations. The homes will be bought for $130,000 with interest-free loans. However, as Imig notes, the families will pay for their homes in other ways.
"The houses aren't free," she said. "The two-parent families have to put in 500 hours in sweat equity and the single parents, 300 hours. And when they're done, they'll also have a mortgage to pay."
Habitat for Humanity bought the sloped, 1.9-acre parcel four years ago, but ran into trouble with concerns over the need for retaining walls. As a result, the architectural plans were reworked, with retaining walls built into the design of the homes. The summer was spent installing infrastructure, such as driveways and sewer and water lines, and finally this week, the foundations were poured – two months behind schedule but a momentous occasion nonetheless.
"We had some unanticipated setbacks with the soil and other things, but we hope to be finished by mid-November or by Christmas at the latest" said Habitat on-site construction-volunteer manager and self-described "go-fer boy," Phil Regulinski.
Saturday will mark the first day that public volunteers will work on the project, helping with the framing. Up until now, much of the work has been done by licensed contractors, as required by law. However, the volunteers are the work horses for Habitat projects, responsible for keeping costs down and ensuring that homes are completed in a timely manner.
Regulinski and Imig said volunteers run the gamut, from church and civic groups to businesses people to professional builders.
"A lot of construction companies are generous about sending workers over during the week even though it's a paid day for them," said Regulinski.
In addition to these groups, Imig is reaching out to special interest groups, with a "Teacher Build Day" on Aug. 19, two upcoming "Women Build Days" on Aug. 26 and Oct. 14, and a community service project for Fort Lewis College freshmen on Aug. 24.
In addition, Regulinski said anyone older than 14 can simply show up between Tuesday and Saturday for duty, and after a short safety talk, be put to work.
"The perception is that we don't need volunteers, and that' absolutely not the truth," she said. "Anybody that wants to come out, we'd love to put them to work."
While finding volunteers is a constant challenge, it pales in comparison to the challenge of finding land. With the median home price in Durango nearing $450,000 acquiring affordable land is difficult at best.
"Durango doesn't have those big surrounding areas, and it's so desirable to live in town so people can ride their bikes or walk everywhere," said Imig, who moved to Durango from Tucson and took over as executive director a year ago. "That's why we're so thrilled about this Florida Road community, because it's in town."
With the challenges mounting against affordable housing in Durango, Imig said she believes the answer lies not only in more homes in outlying areas of the county, but with more cooperation between organizations and creative solutions.
"I think the Regional Housing Authority will be taking the lead on acquiring land," she said. The authority, which was created in 2004, recently hired a new executive director, Jennifer Lopez. "Collaboration is the name of the game, between private, public and nonprofit groups and the community. That's how we're going to make affordable housing work."
A recent example of this collaboration involved a trip that Imig took with members of the county's Affordable Housing Task Force, which included business, government and nonprofit interests. The group went to Santa Fe, where it looked at ways that city is grappling with its affordable housing problem. According to Imig, outcomes of Santa Fe's solutions have been mixed, some good, some bad. One idea that seems to have produced undesired consequences is that of inclusionary zoning, whereby developers are required by law to make a certain portion of a project affordable or attainable. In Santa Fe, it is 30 percent. While the law does provide for more affordable housing, the net effect can actually drive up housing costs.
"To build those affordable units and break even, the cost of everything else has to go up," she said. "Despite popular belief, the profit margin in construction is very low with a high risk. Everyone who buys in is subsidizing those low-price units, and that's not fair."
Rather, Imig believes the cost of affordable housing is something that should be shouldered by the entire community. To that end, the task force is working on a "tool box" implementing various measures, including: land subsidies supported by the Regional Housing Authority; "fees in lieu of," whereby expensive land is leveraged to buy more land in a less expensive location; and the waiving of governmental fees.
"Inclusionary zoning can work, but it's not the be all, end all," she said. "There are all kinds of different things out there."
But before any of this can happen, Imig said there needs to be a shift in common perception. Borrowing a phrase from longtime local affordable-housing champion, Bill Mashaw, she said, "The idea of (not-in-my-back-yard-ism) is as harmful as racial prejudice," she said, adding that a Habitat home is "as attractive as any out there."
"It's a very exciting time right now, but we do need community buy-in," she said.
And as far as Imig is concerned, there's no better way to accomplish this than stopping by a Habitat project and swinging a hammer for a few hours.
"It's such a good feeling to come in and know you are helping a family achieve their dreams. It literally changes their lives." •
In this week's issue...
August 16, 2019

• Meetings explore homelessness
• City hosts tour of Roosa upgrades
August 16, 2019

Conservation groups ask feds to put brakes on e-bikes on nonmotorized public lands
August 8, 2019

Over the past several years, Colorado's elected leaders have tried to tackle the rising cost of healthcare.