Taking on immigration
New Los Compañeros director takes helm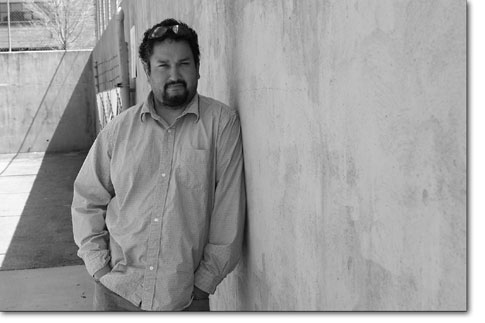 Eddie Soto, the new executive director for Los Compañeros, takes a break from his duties earlier this week. The grassroots organization was originally developed to assist area Hispanics with translation and other services, But the advent of HR 4377 made it necessary for the group to become more politically involved./Photo by Todd Newcomer.
by Shawna Bethell
Everyone has the right to work, to free choice of employment, to just and favorable conditions of work and protection against unemployment," reads Eddie Soto, director of Los Compañeros, a local grassroots organization developed to assist Hispanics in the Durango community. Soto is quoting Article 23 of the General Assembly's Universal Declaration of Human Rights. This is the document that begins by stating that it is a "common standard of achievement for all peoples and all nations." According to Soto, the United States is violating or considering violating, 17 of the 26 articles.
It is a sunny day in April, and Soto escapes his busy office for a brief respite in the springtime weather, a busy man made busier by the recent HR 4377, which would have made felons of undocumented immigrants, their families, employers and any aide organizations including churches or social service providers. According to Soto, Los Compañeros was never intended to be a politically active entity. Created in 1991 and originally directed by Olivia Lopez, Los Compañeros was developed to meet the needs of Durango Hispanics who were seeking translation services or education concerning other aide services in the community. But with the advent of HR 4377, or the Sensenebrenner Bill, Soto has galvanizer the immigrant community, which has made it necessary for him to become more politically involved.
"It is a fallacy how people can enter this country legally," says Soto. "It takes 17 years for the paperwork to go through. It states that if potential immigrants have a job, they can apply to come in legally, but what job is going to be held for 17 years?" Soto argues that the 17-year wait is the result of a web of changing regulations and percentages of allowable visas. Often visas run out while people are waiting for their papers to get through the system.
Immigration is a complex and emotionally charged issue, and Soto feels it has become the scapegoat for a myriad of issues our government does not want to address.
"No one wants to address immigration because it is used to thwart attention from other issues like national security, the war, the living wage and health care. If our representatives really cared about a living wage, they would vote to support it. Instead, it is easier to blame immigration for the lack of paying jobs. They don't address the health-care issue, instead they say immigrants are taking (advantage of) it while the government isn't even providing it.
"If we all got together and said, 'The only thing we care about is the well being of our children,' we could get things done. Instead we listen to the fear mongering of our representatives."
However, the aid provided by Los Compañeros – the translation and the community connection – is not falling by the wayside as the group becomes more politically involved. And thanks to Lopez, San Juan Basin Health Department has created an aid organization of its own, led by Lopez, which also assists immigrants. In addition to its aid services, Compañeros also is responsible for addressing the lack of a court translator in La Plata County and has assisted in the implementation of a city ordinance that prevents Durango police officers from asking individuals their legal status, thus guarding against racial profiling. As immigration infractions are of a civil nature and not criminal, this allows police to focus on their areas of jurisdiction. More recently, Compañeros had planned to organize individuals and human rights groups to stage a presence at the trial of former Durangoan Shanti Sellz. Sellz, a volunteer for Arizona's No More Deaths, has been indicted by a federal grand jury for transporting a man for emergency medical care. However, the trial has been postponed.
A volunteer with the organization since 2001, Soto took the reigns of Los Compañeros in November, when Lopez resigned her position He never thought he would become an activist, with parents who worked in government and politics. It kind of drives you away, he said, but when he realized "the horrible things that were passing for laws" he decided to get involved. He worked for Victory 2004, the federal campaign in Colorado for the last election, and made sporadic visits to his brother's place here in Durango during that time. Like everyone who visits, Soto says, he thought it would be a cool town to live in.
"I've been a migrant my whole life," he says. "I was born in Texas. Then my parents were stationed in Mexico City. I've lived in Alabama, Louisiana and California. I wouldn't be an activist if I didn't believe people could make a difference."
Soto would like to see Los Compañeros expand to areas where there are people who still need a way to express themselves, perhaps Farmington, Cortez and Pagosa Springs. But overall, he sees Durango as a community that is very accepting of just about everybody. With this in mind, he would like immigration to become a nonissue locally. He would like immigrants to be able to sit at humanity's table, where rights are expected and any issues would just be about maintaining human rights for everyone.
He has plans for Los Compañeros and its role in Durango, which reflects the sense of community for everyone.
"We are trying to create a local television show where we teach people to use the technical equipment, where all segments of the production are done by people working together," he explains. "If you work with someone different than you, you realize they really are not that different than you at all."
There is already Radio Latino at Fort Lewis College's KDUR, and Soto says his group also is trying to reach out to Durango High School. Another project he would like to see initiated is a Latino garden. He says Compañeros would like to teach newcomers what is available in the community, including food at the farmers' market, or showing them how they can take what they grow to the market themselves. Immigrants should support all community efforts and work to bridge differences, according to Soto.
"We want the newcomers to know their neighbors aren't going to be the ones calling INS," he says. "And we want people to know their Hispanic neighbors next door aren't terrorists either." •