Planting peace in Durango
Community Peace Pole Project takes hold

SideStory: Resolving local conflicts: Auction benefits Braided River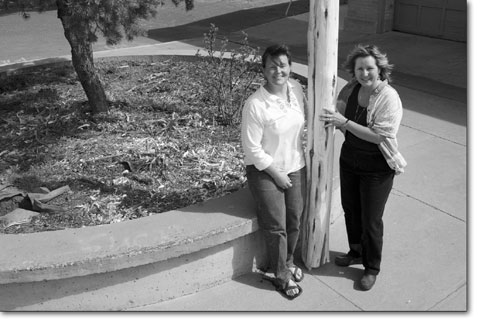 Hallie Whitney, left, and Rose Burek stand Monday with a yet-to-be-finished peace pole outside their Durango offices. Local schoolchildren and artists are decorating more than 40 of the peace monuments as part of the Community Peace Pole Project. Sponsors and buyers are sought for the poles, with the proceeds going to the Braided River Mediation Center./Photo by Todd Newcomer.
by Missy Votel
With the arrival of spring, a coordinated local effort is looking to plant the idea of peace throughout La Plata County, quite literally.
Starting next month, the Community Peace Pole Project, spearheaded by the Braided River Mediation Center, will be placing dozens of the 8-foot-tall wooden, hand-crafted peace monuments throughout the area in an effort to promote nonviolence. The poles, which have all been donated, were decorated by local schoolchildren and artists. They will be on display on Sat., May 6, at Cinco de Mayo Festivities at Santa Rita Park, before going to their permanent homes throughout the area.
"I think it's going to be a powerful display," said Hallie Whitney, a teacher at School District 9-R's Phoenix Program and member of the peace pole project. Whitney's students, who range in age from sixth to 12th grade, recently finished their pole, which incorporates peace messages in Spanish, English, Arabic and Native American languages.
"The point of the project is to bring the community together, to create a community that is more peaceful," she said.
Although peace poles are a worldwide movement, a local, coordinated peace pole effort was the idea of Rose Burek, a Braided River board member. The peace pole movement was started in 1955 in Japan by the World Peace Prayer Society, a nondenominational, nonprofit organization. The project was launched with a goal of uplifting humankind toward harmony, versus conflict. To date, supporters of the movement have dedicated more than 200,000 poles in 180 countries, according to Peace Pole Project International. Burek said she came up with the idea for a local project after noticing standard peace poles around Durango, which can be bought on the Internet for around $300.
"That's how it got started. We had seen these regular poles and thought we could do so much more with it," she said. "A lot of people have done projects on peace, but no one's taken the peace pole and done anything with it."
So Burek, who works as a School to Work Alliance specialist for San Juan Board of Cooperative Services, set about assembling a committee of people to get the ball rolling. The committee met in November of last year and from there, contacted local schools, artists and businesses about participating. The project has resulted in 23 poles from various schools and programs throughout the county, including Durango School District 9-R schools, Ignacio public schools, the DeNier Youth Services Center, Durango Montessori, Los Amigos and Columbine Christian School. Burek also said 18 artists have designed poles, which will be auctioned off May 19 at San Juan Mountains Nursery as a fund-raiser for Braided River. Prior to the fund-raiser, the poles will be on display at Cinco de Mayo and at various businesses throughout town, including Beads and Beyond, and the Karyn Gabaldon Fine Arts Gallery. In addition, local businesses and individuals will be able to sponsor the school-designed poles on a plaque that accompanies the poles. That money also will benefit the organization.
So far, Burek said response to the project has been strong. "We got a lot of artists to agree to it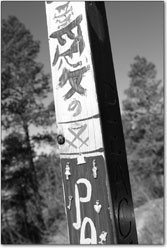 A finished peace pole stands outside the home of Lauren Patterson earlier this week. The pole, which was done by the Los Amigos program, has a variety of languages and symbols from cultures as diverse as the Mayans to the Japanese./Photo by Todd Newcomer.
right away," she said.
Whitney said she also has received a good response from students and teachers, as well as businesses wishing to sponsor.
"A lot of our students have worked at Durango Cyclery over the years, so when we were doing the peace pole, I asked if they would sponsor it, and they said of course they would," she said.
It is this sort of community relationship that Whitney and Burek are hoping to foster. In addition to reaching out to the community, the project also seeks to engage students and teachers in thinking about peace, on a personal and global level.
"I've been encouraging teachers and kids to connect it to some curriculum they're working on, whether that's poetry, artwork or social studies," Whitney said. "I'm also asking them to look globally, since it is a worldwide movement."
She said for many students, this may be the first time they have really stopped to consider peace, particularly those who come from less than peaceful living situations. "Maybe some kids are thinking about peace for the first time," she said "I know a lot of our kids live in violent homes, so this may be a new concept to them."
Whitney said the project also has been instrumental in bringing together disparate groups even within individual schools. In one school, high-achieving students were paired with a group of students at risk for expulsion to create a pole.
"Two polarized groups are coming together to work," she said. "These are kids who don't even talk to each other in the hallways."
Taking that concept one step further, Whitney said all the poles will be dedicated on the same day at their respective schools. "All the schools will have dedication ceremonies on May 10," she said. "It's all about reinforcing the connection – it's just more powerful that way."
There also will be a community peace pole at the Cinco de Mayo festivities for the public to decorate. Burek said there is no prerequisite for the decorating of that pole or any of the others, except that each must contain a message of peace. "The only criteria is that it has to say 'peace' on it somewhere," she said. The rest is left to the imagination of the pole's creators, which has proven that when it comes to growing peace, the sky's the limit." •
Braided River Mediation Center is still seeking local individuals and businesses interested in sponsoring a peace pole. For more information, call Rose Burek at 749-0421 or e-mail her at sue@braidedriver.org.