A fresh look at women's studies
Durango Acting Studio launches adult satire 'Parallel Lives'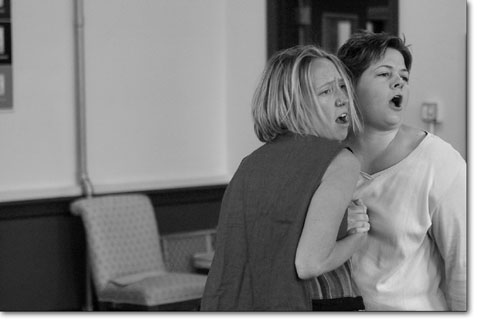 Saray Syverson, left, and Theresa Carson join hands as they rehearse Friday evening at the Smiley Building. /Photo by Todd Newcomer.
by Judith Reynolds
Honey, you learn things you don't want to know," Madeline Samuels, 60-something, says about her women's studies class at a local junior college. Samuels and her best friend of 43 years, Sylvia Dunleavy, wanted to take a course in real estate, but it was full. So they signed up for the first course in women's studies: "Women in Terrorism."
"It was scary as hell," Sylvia reports, "but I got an A." Now they're on a field trip to a vegetarian restaurant, "Las Hermanas," Spanish for "sisters," of course.
What's special about this sketch in "Parallel Lives," a comedy by Mo Gaffney and Kathy Najimy, is its take on women's studies, an offspring of the feminist movement. Unlike "The Vagina Monologues," Eve Ensler's darker, more mean-spirited play, "Lives" aims its light-hearted arrows at everyone, women and men alike. In its 14 scenes, you meet two dozen characters, old and young, male and female, in many different kinds of relationships. And it's relationships that matter as we all navigate the murky social waters of modern life.
Playwrights Gaffney and Najimy, both comedians, collaborated on this work back in the 1980s. "Lives" is roughly contemporary with another early feminist play, "A, My Name is Alice," a musical pastiche that deals with sisterhood of various kinds. In a sense, both step-mothered "Monologues," which went on to garner more attention than it deserves. If you're a V-day fan, you owe it to yourself to see "Parallel Lives," the best of the lot – funny, imaginative and ultimately life affirming in all its variegated wonder. Gaffney and Najimy's satire is aimed primarily at the received cultural non-wisdom that fills our language and perceptions with a lot of nonsense.
The newly formed Durango Acting Studio has chosen "Lives" as its premiere production, and it is adults-only theater. Founder Theresa Carson has a lengthy resume as an actor, director and multi-level drama teacher. Currently a visiting faculty member at Fort Lewis College, Carson said she decided on the "Kathy and Mo" show for its wit, range and mature content. And she asked another professional, Lisa Kramer, to direct.
Kramer is relatively new to Durango and is an adjunct faculty member in drama at the college. She holds a master's degree in directing and her doctorate in youth theater comes from Arizona State University.
"I saw the original production of 'Parallel Lives' in New York," Kramer said in a telephone interview this week. "When we decided to do it here, we needed to change some of the references to make it more current. And yes, it's a feminist piece, but it's not a man-hating piece. There are a lot of good male characters in it."
The work can be staged with two to four actors playing all 25 parts. For the Durango production, Kramer said she decided on three actors: Carson, Maya Pierce and Sarah Syverson. Carson is the pro in the pro-am cast. Pierce attended an Eastern high school for the arts as a theater major and now is a sophomore at FLC. Originally from Montana, Syverson studied psychology and after 10 years in Durango has decided to return to the theater by joining the Acting Studio.
This is a high-energy show, Kramer said, and the cast is more than up to the challenge. "There's heavy line memorization," she said, "and extensive character work. The Strater stage is a perfect venue for a piece that's all about relationships."
Women's friendships, as well as male bonding, come into focus with hilarious detail. Madeline and Sylvia's field trip for their final women's studies course has a surprise ending. It's worth waiting for. •