The Last Romantic
San Juan Symphony closes its season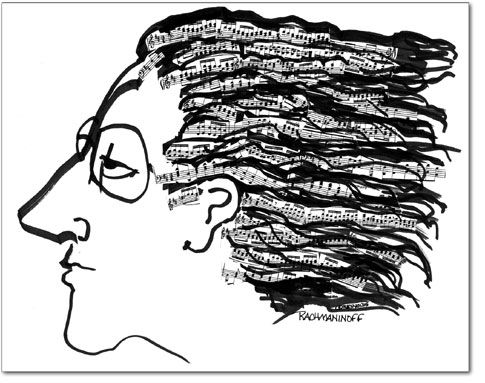 Collage illustration of Sergei Rachman-inoff by J. Reynolds 2006.
by Judith Reynolds
The San Juan Symphony will conclude its season with music dipped in emerald green, blood red and iridescent black. How else to describe works steeped in the Romantic tradition. Big sounds, dark emotions.
"The Last Romantic," a concert pair Saturday night, April 22, in Durango and Sunday afternoon, April 23, in Farmington, seems a perfect conclusion for a remarkable season. What better final frame for a year that began with blue-white Classicism
"The whole idea of Romanticism," conductor Arthur Post said in a telephone interview this week, "is extremes leading to the ends of things. In the Romantic era even love led to doom or death before rebirth was possible."
Thematic concerts are one of Post's strengths as artistic director and conductor. He shapes each season and each performance with a concept. This year "Insight Insound" has linked music of the Enlightenment to Spain and the turgid waters of Romanticism. In each case Post finds new and classic works that resonate together in present time.
"When you've got a theme," he said, "and have made the connections between past and present, what you ultimately present must be a good show. You must offer variety. If I can design a concert that takes the audience on an emotional journey, they will remember that experience for a good, long time."
"The Last Romantic" is, of course, Sergei Rachmaninoff. Born in Russia in 1873, Rachmaninoff lived well into the 20th century and died in America in 1943.
"At a time when art was being fractured into any number of 'isms,'" Post said, "he believed music should express simply its author's life experiences."
Originally, pianist Norman Krieger had been scheduled to perform Rachmaninoff's Concerto No. 3, a knuckle-bender in the piano repertoire if ever there was one.
"Norman withdrew for artistic reasons," Post said. Over the last year, Krieger apparently decided not to add the concerto to his repertoire at this time. So the San Juan Symphony has contracted with Ilya Itin.
"It's fitting that Ilya's Russian born," Post said. "He was trained at the Moscow Tchaikovsky Conservatory, and I worked with him in Berlin in 1991. He's gone on to win many prizes and is living in New York now."
After Itin won the Leeds International Pianoforte Competition in 1996, invitations from European orchestras poured in. As an example, he performed the infamous "Rach 3" with the Birmingham Symphony (England) under Sir Simon Rattle. And Itin joined that orchestra for the conductor's final European tour. About that performance, a Viennese music critic wrote: "The perfect pianist, Ilya Itin, succeeded in transforming the romantic revelry of Rachmaninoff's 3rd Piano Concerto into rhythmic force and compactness."
For Post, the concerto "is a tightrope walk with both the conductor and soloist on the tightrope. It takes a lot of coordination in the orchestra. And then there's the sheer technical difficulty of playing all those notes."
The Rachmaninoff, naturally, will close the concert, and an unusual transcription of Franz Liszt's "The Black Gondola" will open it.
"This is the music that inspired the whole program," Post said. "The American composer John Adams decided to arrange Liszt's piano piece for orchestra. What a title."
Apparently Liszt had a premonition about Richard Wagner's death, Post said. "Liszt had a dream in which he saw a funeral gondola gliding along a Venetian canal. After waking, he wondered if the dream was about Wagner. In fact, three months later Wagner died, and Liszt thought there was a connection."
Adams and Samuel Barber are the two 20th-century, neo-Romantics on the program. Barber's "Adagio for Strings" will be familiar to many. Its elegiac tone has underscored a number of films including "Platoon." And over time, Barber's "Adagio" has been played in ceremonies of public mourning. Wherever there is human suffering, Barber's music seems to express a deep sense of sorrow and also transformation.
In contrast to the smaller scale "Adagio," Post will need all hands on deck to perform Wagner's "Siegfried's Rhine Journey." The fourth work on the program comes from Wagner's closing opera (Götterdämmerung) in the Ring Cycle. And no program about Romantic music would be complete without Wagner's dark purple curtains fringed with gold. •