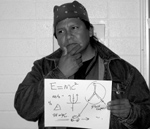 Divers:Ricardo from theSouthern Ute Drum and frequent around town diver for SOS staffing services
Facts:Ricardo's strangest dive is too bizarre to recount in print
Got a dirty little secret?
Looking for guidance to remedy a sticky situation?
Seek help from the master of the kitchen! The Dish Diver has solutions to life's little messes. Send your problems to "Ask the Diver." - By mail to Durango Telegraph - Attn Diver -534 Main Ave., Durango, CO 81301; by email at telegraph@durangotelegraph.com, or by fax at 259-0448.
Dear Diver,
My good friend just pissed me off really bad. He took my truck, drove it to Albuquerque to take a flight to the West Coast, and then flew back into Durango. Meanwhile, guess where my truck still is? I mean, I'm angry to the point of violence. I don't want to fight, but I do want to do something devious to him. What do you recommend?
– Please help,
Jenny
Jenny,
First of all, I despise guessing games. Second, violence is not the answer. However, Mahatma Gandhi once said "happiness is when what you think, what you say and what you do are in harmony." So, if you are thinking that calling your friend a "dumb ass" to his face and then having all of your guy friends beat the crap out of him will make you happy and one with nature, then go for it.
– Signed,
Forrest Gump, aka the Diver
Dear Diver,
I'm not sure where you stand with open space/private property/development issues, but I'm wondering about Wolf Creek. Here's my two-part question: everyone complains around Durango about how if they had only bought property around La Plata County in the '80s they'd be millionaires right now. These
are a lot of the same people that rant and rave about "No Pillage at Wolf Creek." If property is built at the ski area, won't people be complaining in 20 years that they should have bought it up when it was cheap?
Also, what if Colorado Wild sues the Forest Service for allowing the access road to be put in across national forest to Ol' Red's building pad and, in an ironic twist of fate, the Forest Service decides to pay out their court loss by selling a large tract of timber for harvest or by selling out a piece of property for development in another area of the nation?
– Thanks,
A concerned citizen
Concerned Citizen (is there only one of you?)
To answer the first of your two-part question, I converted my Geo Metro into a time machine (flux capacitor and all) and traveled 20 years into the future, and this is what I found: No one was complaining about buying property in Wolf Creek when it was cheap because most were killed by Cybernet T-1000 Terminators who, by the way, all had a striking resemblance to the governor of California. As for your "what if" question, I am not psychic. However, with the Forest Service's decision to grant not one, but two access points to Red's "village," I would say that Friends of Wolf Creek need to make a lot more friends (hint, hint) if a successful administrative appeal is to take place. As for where I stand with development issues, let's just say that if Red continues to play this game of
Monopoly, I hope he draws a "go to jail" card soon.
– Thanks,
Dipsomaniac Diver
Hey Diver,
I just found out my daughter has been seeing/dating an older, married man (with kids) who lives in my neighborhood. Well, I just found out the guy is leaving his family, and my daughter is moving in with him! She doesn't believe that she is the cause of the wreck of his marriage and family. Now our town, his wife and her friends, and countless others are turning against my daughter. However she won't believe me. How can I make her?
– Discouraged Dad
Hi Dad,
I have news for you, my friend: there isn't much you can do about your daughter. She is not your little baby girl any more 'cause she's all growed up and old enough to make her own decisions. If she wants to boink the old geezer till he croaks, so be it. By the way, does your daughter have any sisters?
– Desperate Diver