Eating beautiful things
DAC hosts Edible Book Show and Tea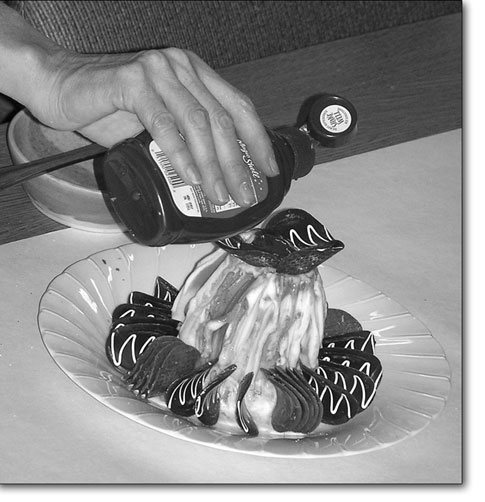 Participants in the April 7 "Edible Art Book Show and Tea" prepare to devour "Scoops,"a work by Margaret Pacheco./photo by Jules Masterjohn
by Jules Masterjohn
By the end of the night, the place was in shambles … paper plates and sterling silver forks littered the table, and crumbs were strewn about. Even the Cheez Whiz container was lying on its side, lid akimbo. Standing and sitting around the small Durango Arts Center Art Library were 25 happy people, licking their lips and rubbing their bellies, having enjoyed a lusciously literary event. One participant at the "Edible Book Show and Tea," held on Fri., April 7, was art devote' Carol Ozaki, whose closing comment really said it all, "This has truly been a reader's digest."
As introduced last week by guest writer Judith Reynolds, the "Edible Book Show and Tea" is an international event, with artists and aesthetes the world over, gathering once each year to stretch their creativity and merge two of life's finest pleasures: food and art. In New York City last week, The Center for Book Arts in the Chelsea district, hosted its annual fund-raising edible book event. This year's theme, "Books That Kill: Edible Mystery Thrillers," invited artists to submit proposals for "projects that result in sculptural edible books with a clear reference or tribute to any mystery novel title, character, plot, icon or key idea." The selected proposals were then paired with some of the city's finest chefs to collaborate on the edible artworks.
The Durango event, organized by book artist and long-time DAC volunteer curator Mary Ellen Long, had no overarching theme. Participants did not need to submit a proposal but, in true small town casual style, just needed to show up with their edible book art at the appointed time. For eight participants, all artists and art students, this was their shining hour. We, the spectators and tasters, were in awe of their innovative and creative uses of Jolly Ranchers and Kit Kats as well as the more delicate cuisine of phyllo dough, pasta salad and celery pulp paper. Participant and artist Margaret Pacheco remarked, "It is so interesting to me that the artist's mind goes into the grocery store and sees so many different things to use as art materials."
After an hour of mouth-watering viewing and brief introductions by the culinary creators, it was time for the true test of success: Held at dinnertime, the many participants and enthusiasts present were hungry and ready to eat. Just before cutting into Deborah Gorton's "An Open Book," a phyllo dough and mushroom delicacy shaped as its title suggests, I overheard someone say, "It's almost a sacrilege to eat these beautiful things!"
Pacheco used a radial book form with a mound of frozen yogurt as the book's spine, whose pages where "Scoops" – Pringles-shaped chocolate wafers (who knew?) – radiating from the yogurt center. Her pink, white and dark brown sugary sculpture, "Some Written Words," was the first to be consumed by the crowd.
The dramatic highlight of the evening involved Fort Lewis College art major S. Graham Pierce leveling a hammer into his stained glass-like gingerbread-and-hard-candy book, "Smash." Pierce, feeling the stresses of finals week approaching, decided to relieve some of his tension by smashing his edible book, which conveniently broke the gingerbread up into bite-sized pieces.
Pierce is enrolled in the FLC course, "Art of the Book," which is an interdisciplinary study of the history of written communication. FLC art professor Amy Wendland, who conceived of and teaches the class, gave her students an extra credit assignment to create an edible book for the event. Wendland, with her characteristic intellectual playfulness, brought in a chocolate sheet cake titled, "Ceci n'est pas un livre (This is Not a book)," as a tribute to the famous painting of a pipe, "This is Not a Pipe," by French artist Rene Magritte.
Another student, Allison Dickson, presented "Frank & Stein," a visual pun consisting of a traditional Bavarian beer stein filled with apple cider and a plate of hot dogs in buns, embellished with artful ketchup markings. A more conceptual offering by Dickson, "Gone With the Wind," displayed a nearly empty plate dusted with a few cookie crumbs. When it came time to munch, the wind blew a pile of fresh cookies onto the plate.
Back in the literary realm and literally titled, "The Cheese and Crackers," FLC student Whitney Buckholtz created a book with various "pages" of cheese alternating with Ritz and Saltine crackers, sewn together with the fibrous strings of the celery stalk. Abbey Holmes, also enrolled in Wendland's class, assembled a book out of hand-made paper using celery pulp, sunflower seeds and echinacea flowers and called it "Vegie Tales." I had never thought of making paper out of vegetables before – leave it to the younger generation to keep our eyes opening wide! The celery paper needed a bit of salt or cumin but otherwise stimulated my palate and my mind.
Carol Ozaki's, "There's a Story in There Somewhere," took the form of a clear glass vessel filled with alphabet pasta and chopped vegetables. Her goal, she simply put, was "to make something that tasted pretty good."
Recently returned from the Caribbean, "Edible Book Show and Tea" organizer Mary Ellen Long took us to the tropics with her coconut, mango and ginger sculpture, "Loblolly." Elegantly arranged on a platter with Loblolly leaves, the sensuality of these fruitful elements entered into the aromatic, with the mango scent hovering alluringly above the table.
Local artist and FLC art instructor Barbara Klema, a spectator at the event, had always been interested in attending and finally made it this year. "Being an avid reader and loving books, I think this is an incredibly creative event. The fact that the works are edible, that they are impermanent, and are not made to go down in history, is a vital concept … the joy is in consuming." •
To see photographs of past year's offering at the Edible Book Show, visit the DAC Art Library, upstairs at 802 East Second Ave. in Durango. Photos are compiled in a binder for viewing.