Making the grass greener
Artificial turf golf course takes shape near Mancos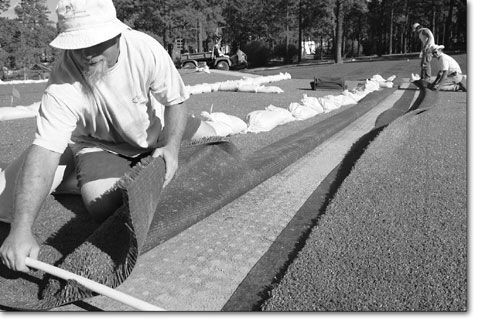 Ben Bartlett unrolls a section of artificial turf at Echo Basin Ranch, near Mancos. Owner Dan Bjorkman is building an 18-hole course made entirely of artificial turf./Photo by Todd Newcomer
by Jeff Mannix
Dan Bjorkman is 45,000 square feet into a 1.2 million-square-foot championship, artificial-turf golf course. The course, located on his rambling Echo Basin Ranch in Mancos, will be the first of its kind, and the largest layout of artificial turf in the world.
Go ahead, laugh. It is patently outrageous. The guy must be a nut case with time on his hands and money to burn. But then think of Ben Franklin out in the rain with his front door key tied on to a kite or Mr. Hoover applying for a patent on a contraption that sucks dirt off the floor.

Be warned, Bjorkman is not a nut case. On the contrary, Bjorkman is only slightly crazy and is definitely on to something that may save the withering golf industry and bring the heretofore exclusive sport to the club head of the working class.

"Sure, there are days when I wake up and question my sanity," Bjorkman chuckles with the steely gleam of a poker player who just peeked at his two cards face down on the table, "but grab your clubs and come out to the driving range and you tell me what you think."
The driving range is complete except for about half the turf that serves aesthetic appearance only. The turf can be installed in less than a week and consists of an elevated tee line that's 15 feet deep and probably 30 yards long, supported and surrounded by layered slabs of indigenous rock walls. The range is contoured, as opposed to the vacant lot appearance of most, and there are six manicured putting greens at distances between 100 to 250 yards, designed for the accomplished golfer and not the duffer reminding himself to keep his head down. The westward view is breathtaking, as are the views from everywhere on the ranch, and the hitting surface responds just like real grass, even down to leaving a divot after the shot (more about that later).

"We have five different grasses for the course – putting, fairway, rough, fringe and tee box – ranging from 5/8th inch, 7/8th, 1¼ inch, 2¼ inch on the fairways, and 2¾ inch in the rough," Bjorkman explains with sweeping arm gestures and a faraway look. "It will be groomed as immaculately as any major golf course, never flooded or swampy after big rains, playable anytime it's not covered in snow – which will melt faster. And all we have to do for maintenance is occasionally run the broom over it to pick up pine cones and twigs after big winds." He points to two highway sweepers sitting idle on the smooth dirt surface that will soon become fairway.

Bjorkman, 48, retired after selling his software company in 1996 and moved his wife and daughter from Minneapolis to the newly purchased Echo Basin Ranch, a few miles north of Highway 550 outside of Mancos. He continues to run Echo Basin as a horseback-riding resort and special events center, but as a lifelong golfer with a five handicap, he couldn't look at the place without seeing it transformed into a championship golf course.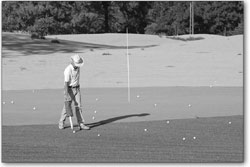 Dan Bjorkman collects golf balls from atop the artificial surface of a putting green last Friday./Photo by Todd Newcomer
"Water. That's the biggest expense a golf course has, and we don't have enough water to even think about a course," says Bjorkman. "So I got to thinking of all the artificial turf practice greens I've seen – almost all the major courses have used them for years – and came around to thinking 'Why can't the whole course be made of this stuff?'"

Knowing nothing about artificial turf, Bjorkman talked himself into a position of sales and marketing manager for FieldTurf, builders of artificial turf facilities in Montreal, Canada. He spent two years selling and promoting and learning on the job. He also discovered that, while the products manufactured by more than 20 mills were in demand, most of the "yarn" was inferior to the punishing demands of golf.

"All I could do was purchase my own mill if I was serious about this," exclaimed Bjorkman, "so I found one of the midsize mills, Playfield International in Chatsworth, Georgia, was for sale, and I bought it." Working with the former owner, now partner, Playfield began designing and testing turf that would hold up to the rigors of being smashed by the knife edge of a speeding golf club, and at the same time have the finesse to catch a golf ball with backspin or let it roll with top spin – in other words, act like real grass.

"I tested 15 different yarns in seven different lengths, and none of them held up," explains Bjorkman. "The blades shredded; my clubs would end up with stains and gunk on them; the turf wouldn't percolate enough water." So Playfield redesigned the stuff, from the backing right up to the stitching, formula and size of the blades. Self assured, and noticeably exhausted by the subject, Bjorkman boasts, "I've had many professional and scratch golfers out here to assess the performance, and everybody is amazed by it and thinks it behaves just like real grass."

With the turf problem seemingly solved, the real work in building an 18-hole, 7,800-yard PGA championship course is the design, for which the undulating ground and wooded areas of Echo Basin are ideally suited. First, the ground must be scrubbed of vegetation and contoured with regard to the challenge of the game – with doglegs, long fairways, water features and sand traps. This is done with surveying instruments, paying particular attention to water drainage. Then, leach fields are constructed in the low-lying terrain, and pipes are installed to direct water into ponds that perform landscaping function and act as collectors to replenish irrigation and well water for hay production and planned fairway homesites. Then, six inches of three-quarter-inch road base is meticulously compacted throughout, covered with three grades of Arizona silica sand, spread as a bedding for the turf. Silica sand is perfectly round, Bjorkman explains, and as the grades get smaller, the final layer supporting the turf is smoothed as slick as ice.

After the carpet is fitted, it is top dressed with a mix of silica sand and granules of recycled truck tires. This mixture holds up the blades and percolates down through the rubber backing to commingle with the silica, giving the turf a surprisingly real feel and the substance from which to take a divot without breaking the yarn or tearing the backing. Chopping down with a nine-iron, you can feel the divot being taken, then down on your hands and knees, see and feel with your fingers its depth and length.
Work is almost complete on holes one and nine, appearing now like the shiny skin and patches of hair from a dog with mange. "We can lay 10,000 square feet on a good day," claims Bjorkman. "The rolls weigh 600 pounds, are 15 feet wide and require careful cutting at the glued seams and around the contours so there's no bunching or bubbling."

Bjorkman expects the first nine holes to be open for play in the spring of 2007, and the driving range will open this coming spring.

The cost of artificial turf is twice that of natural grass. "But," Bjorkman points out, "18 holes of real grass use 1 million gallons of water a night to keep green, and it costs $1 million a year to cut the grass the water grows." In golf meccas like Arizona and Nevada, that's $1 million in water and $1 million in maintenance – $75 per player per round – in addition to the hundreds of thousand of pounds and gallons of fertilizers and herbicides that leach into ground water, he points out.
Go ahead, laugh. But you might want to reserve a tee time now.