Fleeing Katrina
Hurricane blows former Durangoans back West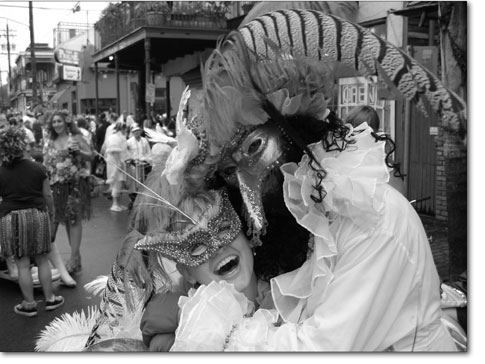 Former Durangoan Jen Reeder revels in happier times in full fairy attire during last year's Mardi Gras celebration in New Orleans. She is flanked by friend and costume designer, Leo. Reeder evacuated the city last weekend, but Leo stuck it out, facing a harrowing ordeal of survival and rescue./Photo courtesy Jen Reeder.
by Jen Reeder
This time last year, word got out that my husband, Bryan, and I were renting out our house in Durango so we could go check out the Big Easy for awhile. Reactions from Durangoans generally fell into two camps: "Don't you know New Orleans is always on 'Cops?'" and "Can I stay with you for JazzFest?" Only one person, married to an insurance adjuster, responded with, "If there is a hurricane, you have to evacuate." I thought she was crazy.
Obviously, I love Durango. I don't need to tell you why. I also loved life in New Orleans. I loved commuting on the St. Charles streetcar, which had been running since 1835. I loved Po' Boy sandwiches, and that the gigantic woman behind the counter would call me and every other customer "Baby," "Honey" or "Sweetie." I loved the architecture that is so conducive to a good buzz, and I loved the 350-year-old oak trees on our street. I loved dancing like a maniac to live music at Tipitina's and the Maple Leaf. I loved Mardi Gras and JazzFest as well as every other excuse for a celebration – they happen constantly. I loved being in a place where extra weight is an asset; my first day of work at a swanky jazz place in the French Quarter, the chef told me he wanted to see me in Spandex because he likes his women "with a side of beef."
I don't think I met a single boring person in New Orleans. They'll tell you about the invention of the cocktail, why you should never get married during the LSU homecoming (your guests will go to the game), or the importance of being able to have cheese fries delivered at 3 a.m. I loved their eagerness to show off their beloved city and complete lack of pretension. It is such a uniquely cool place that the natives don't leave – they might try for awhile, but they inevitably come running back. Their love runs deep.
However, just how deep was tested last week. Saturday morning, we awoke to news that Hurricane Katrina was pointed at New Orleans and nearby parishes were beginning voluntary evacuations. We decided to heed the warning, and Bryan went to gas the car, which required a 45-minute wait. I did laundry and packed the cooler with beer while waiting for the mayor's news conference to start. When we learned that contraflow (all lanes on the highway head out of town to help speed evacuation) would start at 4 p.m., we knew the threat was real. We called our co-workers and learned Bryan's boss was headed to Houston, while mine thought (like a lot of people) that Katrina was another false alarm. She expected me back Monday.
Just before midnight, we made it to Memphis. "You runnin' from that hurricane?" asked the hotel clerk. I was glad that one of my co-workers had told me to make a reservation, since they weren't taking any more walk-ins.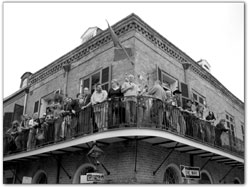 People flank a balcony in New Orleans' French Quarter last February during Mardi Gras./Photo courtesy Jen Reeder.
Sunday morning's news was that Katrina was a Category 5 and that Mayor Nagin (who I love, incidentally) had ordered a mandatory evacuation. We started calling people again, especially the two friends we were supposed to see a movie with that night. Leo's cell phone wasn't working, but I called a land line to get a hold of Lawrence, who Bryan and I call "the real Ragin' Cajun." He was refusing to leave his apartment in the French Quarter because it was built in 1849 and had survived many storms. "This ain't my first rodeo," he told me as I pleaded with him to leave.
As we all know, then came the flooding. Lawrence said because everything was dark from the continuing power outage, nighttime felt creepy. I begged him to leave, and he told me not to worry because he had a pistol. "There's a new sheriff in town – Lawrence Tullier!" That's the last time we spoke; now his phone just rings. (If you are his sister in Pagosa Springs, please let me know if he's OK at jen@jenreeder.com.)
We were in Kansas the week after Katrina hit when I finally got through to Leo. He had just gotten to Baton Rouge after waiting on I-10 to be evacuated. He'd tried to leave with family Sunday, but traffic was insane, so they decided to wait out the storm in his Mid-City apartment.
Leo couldn't really talk; he and some other family members were trying to get to Houston. He kept repeating that the situation in New Orleans was "horrible." But he tried to console me with, "Don't worry, girl, we will see each other again."
I can't believe the stories I'm hearing from evacuees and the footage I'm seeing on TV. I'm filled with a profound sadness (and mounting outrage).
There are a lot of uncertainties in our future, a lot of emotions to deal with and plans to make, and this is the perfect place to regroup. We feel incredibly fortunate that, unlike our Southern friends, we still have a home to return to – we can take comfort in Colorado. •