Explorations of light
Durango Arts Center unveils Members Exhibit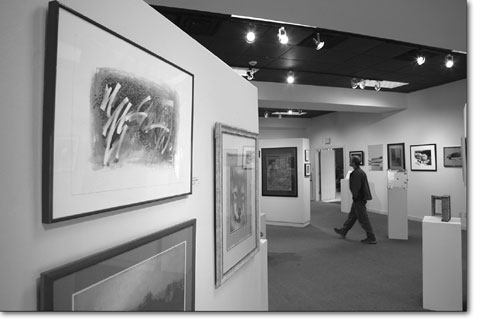 Louise Grunewald's "Dreaming of Summer," upper left, hangs on the gallery wall at the Durango Arts Center as Ed Oak peruses the annual members exhibit./Photo by Todd Newcomer.
by Jules Masterjohn
Light is essential for life and is at the very core of a visual experience. Without it, we could not see objects. It is light's interplay, the changing from light to dark across the surface of an object, which defines shape and dimension. On a metaphoric level, the idea of light informs and enriches life and art. The English language is replete with sayings that illuminate this: a genius painter or scientist is considered "brilliant," a beautiful person is "radiant," and a well-developed mind emulates the "light of reason." Consider that without light there could be no darkness and without darkness no light. Each gives definition to the other, and both are part of a continuum of experience.
On a recent trip to view the exhibit "Annual Durango Arts Center Members' Exhibit," I was drawn to a number of artworks that shone brightly.
On the most literal level, black-and-white photographers utilize the language of illumination to create images made up of lightness and darkness and the many shades of gray that lie in between.
Lanette Hartman's photograph "Grandpa's Hayloft II" is a picture taken of the inside of a wooden structure. Where we, the viewer, stand, it is darkish and quiet, yet it is apparent that the structure is a thin barrier separating the viewer from the brightness of what lies beyond. The light is so intense that it seems to be burning the edges of the structure's wooden slats as it streams into the hayloft. My first thought when I saw Hartman's image was of the initial scene in the film, "Close Encounters of the Third Kind," when the small boy is awakened at night and follows the mesmerizing light of the alien craft as it blazes through every crack and space into the house. The child was at first afraid and then intrigued by the unknown light. Hartman's image has a similar quality of seeming unsettling yet familiar.
Another photograph, "Juniper Glow," by Al Olson, describes his image perfectly. The foliage of the juniper tree, blushing with bright white light, stands solitary against a blackening sky. The tree being surrounded by rocks nearly the same size as itself, gives the scale of the composition an intriguing quality. Is this an elfin landscape, a bonsai juniper in a planter of palm-sized river rocks, or the dwarfing of a scene due to the overwhelming immensity of a coming storm? Olson's highly grainy image, as well as his amped-up highlights and dialed-down shadows, add to the otherworldliness of this photograph.
With few abstract works in the exhibit, much of what one encounters are more or less able depictions and interpretations of landscapes and objects familiar to us. Barbara Heinrich's acrylic painting, "Blue," refreshingly takes us away from this literally rendered world and places us in the realm of light, color and shape, purely for their own sake and the engagement of one's imagination.
Bringing us back to a more familiar place, artist Louise Grunewald enables the viewer to keep one eye to what is recognizable and the other to a world of pure feeling and color. Her mixed-media painting "Dreaming of Summer" employs gestural brush strokes reminiscent of alphabet letters, which was created last spring when she was waiting for the weather to warm. As she put it, "The piece is all about temperature." This is apparent when one views the bold strokes of white paint standing in front of a background of delicate lines of cool purples and icy blues. Her white marks transform into animated strokes tinted by all the colors in the spectrum, as they dance across the composition.
"Currently, I am making work that is more about an emotional response than the actual written word. I'm intentionally working to not have legible writing but a stream of consciousness mark-making."
Journeying ever deeper into the streaming consciousness is a poem and accompanying photo-collage by writer/artist Nancy Jacques. Untitled, her pairing takes us to a world where the metaphors of dark and light commingle and present the micro/macrocosmic wholeness of nature through its creative and destructive forces. Her words penetrate the seeming solidness of the world of matter just as her photographic image shows a doorway opening at sea level into an ocean cliff wall, a red wooden pathway beckoning the viewer to come into the light.
Her poem opens, "Come inside oh Holy Maker of storms and sea breeze mists/of fires in hearts and forests and mind-seeds/pop open/question myths of holy making/bud/ionic bonds nucleic cytoplasmic helixes."
Artist Alison Goss records the experience of her inward journey in the piece, "Following the Breath," a subtly painted, hand-dyed fabric quilt. Rich in pastel blues, turquoise, greens and pinks, with intricately stitched gauze and metallic threads, her overlapping and interlocking mandala form invites the viewer to stay and contemplate. Goss' title indicates her purpose for making this quilt as a meditative one: "I am interested in contacting that sense of stillness through the body, going deeply within and identifying what separates us from being one with the source, to cultivate a deepening sense of joy and presence in the world." For Goss, and many artists, the creative process is about gaining understanding and allowing something new to emerge into the light.
The Durango Arts Center's Members' Exhibit is on display through Oct. 1. Gallery hours are Tuesday – Saturday, 10 a.m. – 5 p.m. Call 259-2606 for more information. •