The treasure hunt
Uncovering finds and community at the Durango Flea Market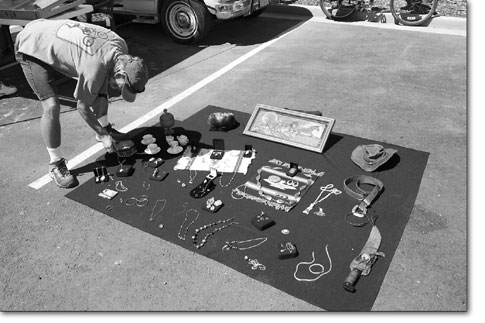 Loren Irwin arranges his jewelry at the Durango Flea Market on Sunday morning. Loren visits flea markets throughout the Four Corners and as far away as Taos traveling entirely by bicycle./Photo by Todd Newcomer
by Shawna Bethell
There is a slow murmur of voices and a laugh here and there. An old timer questions a boy about his newly found treasure. Folks nearby watch the child with amused smiles knowing that here is yet another soul now on the quest for that one unexpected find, laid out on a blanket or at the bottom of a box. And the older gent behind the table is handing it over for a fair price. It's all in a day's treasure hunting at the Durango Flea Market, and it's become a popular place to be on a Sunday afternoon.
"It gets in your blood," says Chuck ("just Chuck"), his straw cowboy hat blocking the glare from his sincere blue eyes and friendly face. "At first I would only come out maybe three times a summer because I enjoyed it. Then when I retired it became a pastime; then it became a strong habit. Now I've been doing it around 15 or 20 years, and I welcome the extra income since I retired."
Chuck is like many who travel the flea market circuit. There is something that draws them to the markets. Most can use the extra money the sales provide, but for many it is the sense of community that comes with years of marketing. His 8-5 job was with Sterns and Rogers Construction back when they were the third-largest heavy concrete building company in the world. Chuck would dabble with the flea markets on weekends, but after retirement it became something he did regularly.
Each vendor usually has a niche, and Chuck specializes in quality axes, Stanley Planes, handsaws, Marbles brand hunting knives and Coleman camping gear, and he has a reputation for really knowing his goods.
"That fella' there knows what he's doin'," says Rusty Bonnell, another retired gentleman in a cowboy hat, also a longtime vendor. Rusty graced the cover of the Durango Telegraph last week with his iron chandeliers and yard ornaments. The two have been friends since the early 1990s when they met at a flea market where Chuck was selling new saw horses he had made, and Rusty was selling tack from his feed lot.
"I couldn't figure out why he wasn't selling those brand new saw horses," said Rusty with a laugh, shaking his head.
"Yeah, I only had $15 on them, and couldn't sell a one," remembers Chuck. "But a fella came in here a while back, had 15 pair and was selling them for $70 a piece and sold every one." Times sure change.
Where the vendors find their goods varies, but each takes it fairly seriously. Rusty creates his items in a shop at his home in Aztec, and Charlie collects from other sales or from the internet, sometimes checking on prices of antique Coleman lanterns or other such finds until 3 or 4 o'clock in the morning.
Loren Irwin doesn't work on Saturdays because garage sales are on Saturdays, and that is when he finds many of his treasures. Loren's story is somewhat unique in the circuit as his nomadic life is spent on a bike and his goods must be small enough and carefully chosen to fit into his saddle bags.
"I owned a landscape business in Fort Bragg, California," says Loren sitting on a curb next to his blanket which is covered with silver jewelry and pottery from local Ute crafts people. "But my wife died four years ago, and I decided I wanted to travel. I never thought it would be this long."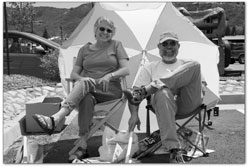 Barbara Snyder, left, and Dale Smith, display their items on sale at the Flea Market last week./Photo by Todd Newcomer
Loren started this season in Seattle and worked his way down to southern Arizona. From Arizona he came to the Durango Flea Market.
"The people are great," he says quietly, looking out over the parking lot and the vendors mingling there. "It's like a family thing, they are really supportive."
The bicycle nomad says that he notices trends depending on where he is selling. For example, the folks in California buy different goods than those in Washington, and the folks in Durango buy things that are different from the other two. Here, he says, people buy the Southwest jewelry and art, so that is what he sells. He just took a ride south to the Taos Flea Market, but ended up not selling while he was there as it was on Saturday – his shopping day. He returned to Durango where he'll spend the rest of the season, which ends Nov. 6. From here, he will head to Las Cruces for the winter.
"Many of the vendors live a nomadic life," explains John Dunn, Head Flea and organizer of the Durango Flea Market. "We do have a regular core of sellers who are here each Sunday, but we also have folks who are on the road week to week."
Dunn says what amazes him about the people who work the market is the amazing amount of hard work they do for such a small income. For some it is just a hobby and fun, but for others who are older, the money earned supplements their retirement savings, if they even have any.
The Durango Flea Market came into existence seven years ago when Dunn's friend Ray Fredette suggested starting a flea market. He was from California where often markets were held at drive-in theatres. Dunn contacted the Rocket Drive-In where Melanie Scales and her staff welcomed and helped host the vendors. When rumors of a potential sale curtailed the use of The Rocket, the flea market took a one-year hiatus, but Dunn did not give up on the idea. Finally, Pete Barrington, County Fairgrounds Manager, and his staff gave the market a home where it's been for the past three years with the exception of temporary displacement due to construction.
"The flea market is a great place to shop for new, used and unusual items," says Dunn. "And it is a great way to recycle a lot of stuff. Many of the items are used, but in great shape. The market offers a way to keep the items out of the dump and in use."
"The Durango Flea Market is the best," says Annzanetta (Ann) Owen who has been vending since the late 1960s either at flea markets or in her own shops which were scattered from Albuquerque to Las Cruces to Aztec. "The people here aren't afraid to spend their money. They come and shop." As Ann leans on her table, one hand on her hip, a local customer picks up two metal spatulas and the two begin discussing price. The man isn't a collector but a cook and says he and his wife threw out all the plastic years ago and now just use cast iron pots on their 1920s cook stove. He's looking for a utensil to use. The two settle on a fair dollar amount, and the guy walks off pleased. Ann pockets the cash.
But not all the items at the flea market are used. The Endito family sells traditional and contemporary Navajo jewelry, and they specifically chose the Durango Flea Market because of the location and the high number of tourists who visit the city. "I refuse to sell in stores," says Pat who is vending with her husband, Tom. "I prefer direct marketing. I like to tell people exactly what they are buying and who they are buying it from." The family creates no mass-produced items; everything is unique and handmade, which Pat feels allows for the quality of her jewelry. "We don't work any other markets," she says, "only here in Durango." The Endito family is not the only family selling native jewelry at the flea market. There are several native vendors and a large variety of turquoise, coral and silver to choose from.
By 2 p.m., many of the vendors are closing shop, taking down their tents and rolling up their blankets. Rusty and Chuck are both loading things in the back of their respective trucks and getting ready to leave. Chuck leans against the hood of Rusty's pick-up, holding a cigarette in his fingers.
"You know, I didn't used to know this, but I do now," he says. "Maybe, I'm mellowing in these years, but you've got me and Rusty, both cowboys, and you got my partner, Crash, who's a biker, and then you've got guys like John Dunn over there who's a business man and as honest and straight as any one I've ever known. People are just people. We're all the same. That's what the flea market's about."
In this week's issue...
July 21, 2022

Land swap approved in Southwest Colorado, but not without detractors
July 21, 2022

The latest strategy to save the San Luis Valley's shrinking aquifer: paying farmers not to farm
July 14, 2022

Despite SCOTUS ruling, San Juan Generating Station plans to shut down