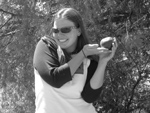 Diver:Stephanie Milner, from Nature's O
Facts:Stephanie's got one hand in the bean sprouts and the other in last month's 2LiveCrew concert
Got a dirty little secret?
Looking for guidance to remedy a sticky situation?
Seek help from the master of the kitchen! The Dish Diver has solutions to life's little messes. Send your problems to "Ask the Diver." - By mail to Durango Telegraph - Attn Diver -534 Main Ave., Durango, CO 81301; by email at telegraph@durangotelegraph.com, or by fax at 259-0448.
Dear Diver,
This town is full of dipshits. The way people chose to behave at last month's 2LiveCrew show was disgusting. Christ, Luther Campbell wasn't even there!
– Mac in Hermosa
Well Mac,
A dipshit is as a dipshit does. You know the 2LiveCrew show sucked because … maybe you were there? I mean, did you really think it was going to be the Luther Campbell, super raunchy, unclad/uninhibited women, nasty 2LiveCrew we all remember? Come on, this is Durango, not Albuquerque. Anyway, I had a good time. See you at the Ghetto Boys show next week.
– Thanks, Diver
Dear Diver,
My husband and I are planning on going on vacation with another couple. We rented a house on Lake Tahoe and planned on doing lots of hiking, perhaps boating and water skiing and much more with our two friends. However, in conversation the other day, they said they planned on sleeping until noon every day. My husband and I don't go on vacation to sleep, we go on vacation to do things! I can sleep on weekends or when I'm dead. We now want to cancel but are afraid of hurting our friends' feelings. However, we don't want to leave them out of stuff at Tahoe, nor do we want to wait until noon every day to do stuff! What should we do?
– Brad and Angie, via e-mail
Brad and Angie,
How dare your friends even think about not spending their vacation the way you want them to. Your idea of vacation is clearly the best one out there, and your friends are completely thoughtless for not considering that. You shouldn't even waste your time with "friends" like that. (To everyone else out there: avoid Brad and Angie, they're schmoes.)
– Thanks, Diver
Diver,
What's up with the idea of bars having "pimps and hoes" parties? Why do middle class people aspire to be people who are ultimately detrimental to society, and themselves? Are they, we, that stupid?
– Middle class guy who hates middle class people
Dear Ashamed,
I think I'm gonna start with a question of my own. Why are "pimps and hoes" parties detrimental to society? You can't go around saying everything that's bad for you is bad for society. I'm not really a fan of "let's get dressed up like people no one has one ounce of respect for" parties. But really, they are only making themselves look the fool. These parties are usually attended by the kind of people who never really amount to anything anyway, so they're not hurting anyone. I mean, there's always karaoke at the bar down the street, so don't worry.
– Diver
In this week's issue...
July 21, 2022

Land swap approved in Southwest Colorado, but not without detractors
July 21, 2022

The latest strategy to save the San Luis Valley's shrinking aquifer: paying farmers not to farm
July 14, 2022

Despite SCOTUS ruling, San Juan Generating Station plans to shut down