Walking a mile
Elected representatives get a taste for low-income life

SideStory: Bridging the gap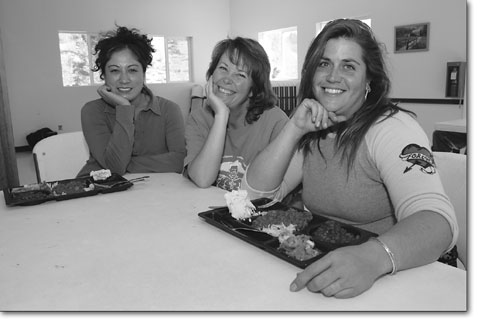 Eve Presler, right, local Walk a Mile coordinator, shares lunch with, from left, Advocacy for La Plata's Erica Elvove, and Kim Workman, director of the Manna Soup Kitchen, at Manna on Tuesday afternoon. The long-standing national program is coming to La Plata County next week, with local elected officials "walking a mile" in the shoes of less advantaged residents by living on a food stamp budget for the month of November./Photo by Todd Newcomer.
by Will Sands
Food stamps are in the future for numerous elected representatives in Durango and La Plata County. Beginning next week, several City Council members, county commissioners and state representatives will see first hand how the other half lives. At the same time, several of La Plata County's low-income families will gain insight into the challenges faced by policy makers. The interchange is happening courtesy of the local launch of the Walk a Mile program.
"There's such affluence in Durango now. I think we can lose sight of the rest of the community. These are the people who cannot afford to eat in the wonderful restaurants we have along Main Avenue," Durango City Councilor Renee Parsons explained as she related her motivation for taking part in Walk a Mile.
So far, Parsons, La Plata County Commissioners Wally White and Sheryl Ayers, State Rep. Mark Larson and Bayfield Town Board Member Ed Morlan have all pledged to Walk a Mile beginning Nov. 3. In addition to being restricted to as little as $152 to cover food for the entire month, each representative will be in constant contact with a disadvantaged local family. Walk a Mile is a long-standing, national educational program, and the results have been powerful elsewhere. Eve Presler, Advocacy for La Plata program director and the local Walk a Mile coordinator, is expecting the same in Durango and La Plata County.
"It's comical to think about our policy makers doing all of their shopping at Wal Mart, but there's so much power to people engaging in this experience," she said. "People who are low income can also be empowered to have a voice and get involved. Really, it's about creating a connection. It's totally about reciprocal benefit."
Presler suggested that the experiment will be especially valuable for Durango and La Plata County, where poverty is not as evident as in larger urban areas. "Do you have any idea who's washing your dishes at a restaurant or who's bagging your groceries?" Presler asked hypothetically. "These are people struggling to make a living in La Plata County, and when you're living off the system, you're sure as hell not going to Disneyland for spring break."
Wally White shared Presler's assessment of poverty in La Plata County, saying, "It's somewhat invisible for many people. People get blinded by the McMansions and the huge amount of growth and development, and they don't see the bottom end of the spectrum. However, because we are a tourist economy we have very low wages. It is very difficult for people to make a living here."
As much as 40 percent of the county's population struggles financially, according to Presler. Because of low local wages, many in the service industry work too many hours to qualify for assistance but still cannot make ends meet. Parsons, White, Ayers, Larson and Morlan will soon feel that hardship first hand.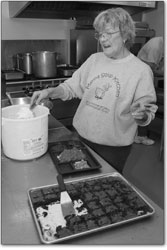 Volunteer Harriet Stetz works on keeping the kitchen running during a busy Tuesday at the Manna Soup Kitchen. The local Walk A Mile project will kick off at the soup kitchen, where many low-income residents eat./Photo by Todd Newcomer.
"We'll put them on a very frugal budget quite reflective of what a low income family is dealing with," she said. "There won't be any recreation in there. There's not a lot of room for anything."
Parsons and White will have only $247.96 in discretionary funds to spend during the coming month. Of that, $152 must be spent on food. That leaves $95.96 for filling up the gas tank, buying toiletries, replacing clothes or any of the other expenses can sneak up.
"When in the month are they going to run out?" Presler questioned. "That's really as interesting as anything. I would actually be really concerned if all of the policy makers made it through with flying colors."
With that budget in mind, Parsons said she doesn't know how the coming month will unfold. However, she is sure that Walk a Mile will teach her and the others some valuable lessons.
"I'm not really sure what to expect at all, but I think it's important for any elected official to understand the difficulty some of our residents experience in being in Durango," she said. "It's not an easy place to live if you're struggling."
White shared Parsons' enthusiasm for the coming month, saying, "I would hope that we as public officials will get a better grasp on what people are facing in this community. I also hope the people we'll be working with will get a grasp on what we go through as decision makers. I think it will be a good, mutual learning experience."
Though five policy makers have committed to the experiment, Presler had hoped for more. She extended invitations to all of the La Plata County commissioners, Durango city councilors, Bayfield Town Board members, the Ignacio Tribal Council and to State Sen. Jim Isgar and La Plata County Sheriff Duke Schirard.
"We've got what we've got, and we're absolutely going forward with it," she said. "I am enthused to have representatives for Durango, the Colorado Legislature, La Plata County and the Town of Bayfield. But more would have been merrier."
On Thurs., Nov. 3, Walk a Mile will kick-off with an evening event at Manna Soup Kitchen. Presler said that the choice of location was definitely deliberate.
"I really want to drive home the seriousness of what it's like to walk in other people's shoes," she concluded. "Plus, we want to introduce our policy makers to the Manna Soup Kitchen. There's a good chance that they'll have to eat a few meals there to make their budgets work out." •