Entangled at the Arts Center
Exhibit highlights four regional artists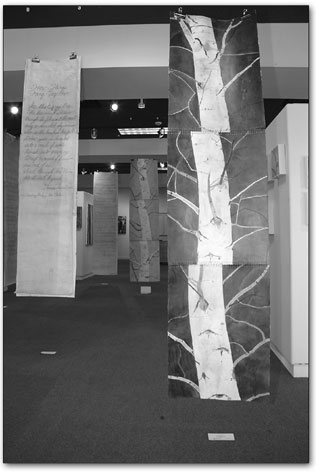 "Hanging Aspen Panels," by Meredith Nemirov, drops from the gallery ceiling at the Durango Arts Center as part of the current exhibit "Entangled."/Photo by Todd Newcomer.
by Jules Masterjohn
What's in a name? The exhibit titled "Entangled" suggests that the viewers, the artists whose work is on display, or both, might be involved in an inescapable visual affair. True enough, for the gallery is so full of work there is hardly room for the viewer to get a break, enmeshed in four different artistic sensibilities. On display for the next two days at the Durango Arts Center, "Entangled" presents interesting bodies of work by four regional artists, Deborah Gorton, of Durango; Meredith Nemirov, from Ridgway; Dale Latta, from Aztec; and Steve Bromberg, from Albuquerque, whose work ensnared me the minute I arrived in the gallery.
There is an essential part of me that loves working with tools, so I was immediately drawn to Steve Bromberg's black-and-white photographs. Affectionate and intimate portraits of hand tools and machines, their well-worn handles and knobs are gracefully revealed from the darkly shadowed backgrounds that surround them. Bromberg's artist statement reinforces what his images depict: "For black-and-white photography the beauty of the composition, the whites playing against the blacks, the patterns and shapes, all these things make a 'timeless' image." Bromberg's artistic goal of expressing the human condition is achieved without including a single human form in his photographs. Like other objects closely associated with human activity, Bromberg's implements imply a human presence.
We can see through Bromberg's close-up shots that these tools have been touched by human hands, documenting years of physical contact that have softened the hard cast metal levers, as is seen in "Mill Study #2" or "Mill Table." There is a nostalgia to some of these photos that harkens to simpler times. On a deeper reading of the photographs, I respond to the revelatory nature of these images: in each a loving light caresses and soothes the nicks and dents of the tools' surfaces, marked by a lifetime relationship to the tool's user. In "Ball Peen," Bromberg captures the character of this tool; its personality and condition are revealed through an honest look at its flawed surface. This image reminds me of the classic Dorothea Lange photo from the 1930s of a migrant mother with her children, showing dirty, frayed clothing, facial blemishes and concerned wrinkles on the mother's face, a poignant and truthful portrait.
I applaud Bromberg's fascination for telling the truth about tools with a minimum of visual devices. He has reduced these portraits to their most essential and expressive parts, cropping his photos so they depict simplified forms and high-contrast values, creating an abstract quality in his photographs.
Dale Latta and Bromberg share an interest in abstraction, yet Latta's acrylic paintings picture a world 360 degrees from Bromberg's. Latta's point of view is from the outside looking in and down on the scene, as the observer or voyeur. He chooses this viewpoint "to suggest the idea of surveillance." He paints disquieting images, as Latta writes in his artist statement, "of anonymous subjects involved in unknown pursuits, conducting business of their lives against the onslaught of modern life." His acrylic paintings are constructed in an abstract style, using thick strokes of brightly colored paint to define and outline the people and spaces in his "stop-action" scenes of life on city sidewalks. These vibrant brushstrokes of color visually merge, causing a wiggly, wobbly world indeed, where the subjects meld with their backgrounds, reinforcing a feeling of chaos and uncertainty that Latta intends for these works.
It is interesting to me that Latta employs a nearly 600-year-old Renaissance technique, drawing with the aid of a grid structure, to create his post-modern images of urban life. Today's artists live in an era when the making of art utilizes and embraces the philosophies, knowledge and techniques from all times throughout history.
Deborah Gorton's work is a testament to the pluralistic nature of today's art. Using objects found in nature and from everyday life, as well as traditional art materials like paint and pastels, her mixed-media assemblages integrate these various elements into three-dimensional constructions, mounted on wall panels. One such piece, and a laborious undertaking, "From A – Z," is comprised of 26 individual small panels each representing an alphabet letter. This piece reads like a playful exercise that appeals to the kid in me. Most of the alphabet emblems are straightforward, like the "R" piece, which has a toy rake, three polished rocks and a picture of a rose affixed to the panel's surface. A few are more nuanced in their letter equivalence, for example the "B" panel is painted with blue paint, and the "G" piece has a subtle grid drawn on the surface. Not deeply contemplative, a quality usually found in Gorton's work, "From A – Z" is simple and direct, communicating on the most elementary level. Knowing Gorton's ability to create multilayered, mysterious and enigmatic work, she must have intended to keep this piece basic and up front, perhaps as an exercise for a "beginner's mind" in which one finds newness in simple things, like a child learning the ABC's.
Seeing from a child's mind helped me in viewing Meredith Nemirov's "Hanging Aspen Panels," eight tall paper panels, each sensitively painted with segments of aspen trees on one side and poems espousing the wonders of trees by Robert Frost and Sylvia Plath, to name a few, handwritten on the other. Nemirov took these large sheets of paper into the forest, and with oil paints and layers of glazing, caught the essence of aspens on her paper, not only their form and coloration, but also their life. As I stood amidst Nemirov's shimmering aspen forest, I reconnected with the "buzz," that undeniable vibration felt when in the presence of old and powerful trees. The quality that some art possesses, to connect us to ourselves and to the natural world, is an undeniable gift of creativity. Thank you, entangled artists!
"Entangled" is on view at the Durango Arts Center through Sat., Oct. 29. •