A different breed of steed
Cyclocross riders successfully bridge the seasons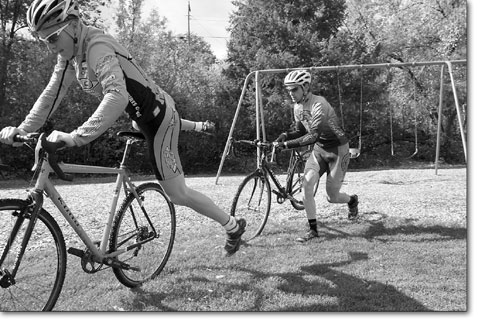 Matt Shriver, left, jumps back on his bike as he's followed by fellow rider Ryan Barthel during a recent cyclocross training session at Folsom Park./Photo by Todd Newcomer.
by John T. Rehorn
The hunter's moon is waning and so might your enthusiasm for the workhorse of two-wheelers, the mountain bike. Sure, the weather and fall colors are lovely, but with the recent rains that never let the trails dry out, your bike can accumulate 15 pounds of mud before you get a mile down the track. If you're not a huge fan of the road, it might be tempting to let all that hard-fought-for physical conditioning fade until next year.
But what if there was , more like a fine Arab Charger, coming to your autumnal rescue? Would you ride? All the way to ski season?
Fear not. There's a bike to add to your fleet and an entire community of riders who would be thrilled if you joined them. The sport is cyclocross, or just 'cross, if you're cool. And if you get your bike now, you'll be in on the ground floor; the sport is only 55 years old.
"I just started racing," says Chad Wells, 23, who rides for North Country Cycle Sport out of Michigan and Fort Lewis College. "It's a blast. It's a little bit different than mountain biking and the intensity is definitely higher. The skill of getting on and off your bike just gives it a whole new aspect."
Whoa — "on and off your bike?" Cyclocross racing involves a 1.5- to 2-mile loop negotiated six times. The race, held rain or shine (or sleet or snow), lasts about an hour. There are velocity-gobbling tight turns, climbs and straight-aways. There is grass, pavement, dirt and mud. If the variety of rolling surfaces isn't enough to keep one's attention, add a few barriers placed strategically over the course – basically, boards staked high enough that it's difficult to hop them while mounted – and you've got a 'cross course. A city park can be an ideal venue.
Dismounting is executed on the fly, so that you hit the ground running (don't forget to unclip out of your pedals). The motion is not unlike a calf-roping rodeo cowboy hopping off Trigger. The racer smoothly shoulders his bike and clears the barriers on foot. Then, maintaining speed, he sets his bike down and mounts it, hopefully with the fluidity of a gymnast. Think of your local Pony Express rider, legs a-flyin', leaping onto his delivery horse.
The machine is a sort of hybrid between a mountain bike and a road bike. Ryan Barthel, road and cyclocross rider for Rocky Mountain Chocolate Factory and mechanic at Mountain Bike Specialists, explains: "Obviously it's more of a road style bike, so it's got a bigger wheel than the mountain bike and a skinnier tire, so they roll faster. You do a lot more smooth grass and pavement. The course is usually not too technical, not too rocky, so you don't need a big fat tire. They use a cantilever brake, so there's more clearance for mud, and they're a little bit more powerful than a road-style bike. They're geared a little bit lower than a road bike usually because of the grass and shorter, steeper climbs. You're running through all the gears on a regular basis. A lot of guys run a single front chain ring just for simplicity."
There is no suspension on these bikes – it would absorb too much energy and add too much weight. Drop handlebars angle the rider for maximum power during acceleration and give the bike a roadworthy appearance, but with teeth.
"That's the sweet thing about 'cross bikes is you can go anywhere," Barthel says.
On this day, Chad Wells has come on his 'cross cycle from a little trail work up Horse Gulch to join Barthel and Matt Shriver for some course practice at Folsom Park. Shriver, lanky and thin, seems to
have a longlegged advantage over his buddies as they give a demonstration lap. Shriver creeps ahead after a "carry" while Barthel and Wells close the gap on the straighter sections of the course. They are smooth on and off their bikes; their legs fly up behind them on the mount; and they manage to find the seat with the proper section of their anatomy, preserving the family jewels. As they slalom through a section of trees, I see how people might get hooked – speed takes a back seat to technique and grace. After a couple of laps, they ride up with no particular signs of breathlessness.
Shriver, 25, also rides for Fort Lewis College. With his teammates, they're two-time national champions in an omnium scoring system that includes all the racers, men and women. Kona and Easton sponsor him in 'cross, and they should be pleased. Cyclocross websites show him consistently up there in the standings in races across the nation. However, lest you think cyclocross is solely a competitive sport, Shriver would be the first to set you straight.
"You don't have to be a racer to do cyclocross," he says to the accompanying nods of Wells and Barthel. "And it's a relatively cheap bike to get" (about $1,000 entry level). They make it clear that anyone who shows up to learn the techniques is welcome. Interested riders can get the word about cyclocross training sessions at any of the local bicycle shops.
So how does one learn to be a 'crosser? "I just came out and started riding with (pro cyclocross racer) Todd Wells (no relation to Chad) and other guys," Shriver says. "Todd is one of the best, so you learn real quick when you're trying to stay up with him."
Asked if the more experienced bikers instructed him, Shriver shakes his head.
"They'd just punish us. Starting out, I found that it was better to practice being smooth rather than being quick. And then I worked on timing, then the speed came. You just get used to going into those barriers and getting off at the last second and then jumping back on."
Clearly, this discipline has the potential to be the most social of all in the bicycling realm; even spectators can get to a city park and watch skills develop and hang out with the riders between laps. In the bigger races, there's a two-man cleaning and mechanical pit for each racer situated at the nexus of a figure eight-shaped course. The racer exchanges a muddy and sometimes mechanically failed bike for a clean one as often as twice per lap. With some races having as many as 130 participants, the spectating possibilities are endless.
Racing pro Todd Wells (GT/Hyundai) is obviously more interested in inciting local enthusiasm for the sport than he is in career opportunity. An accomplished racer in both road and mountain bike venues, Wells admits to a "knack" for 'cross. Knack indeed – he's among the top three cyclocross national champions and has won more than 20 races over the last year. Yet he insists that he uses cyclocross to keep in shape for road and mountain bike racing.
"Cyclocross is a good time," he says. "People are serious but not too serious. They are short races in usually crappy conditions. The worse the weather, the more people come out, kind of like a football game."
Calling it a niche sport within a niche sport, he says that the passion people have for it is what makes it so fun.
"We have a good local series in the next month," Wells says of the races that start at Fort Lewis College football stadium on weekend mornings at 10 a.m.. "I encourage everyone to come and check it out." •
In this week's issue...
July 21, 2022

Land swap approved in Southwest Colorado, but not without detractors
July 21, 2022

The latest strategy to save the San Luis Valley's shrinking aquifer: paying farmers not to farm
July 14, 2022

Despite SCOTUS ruling, San Juan Generating Station plans to shut down