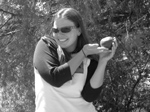 Diver: Steph from Nature's Oasis
Facts: Steph is not only a Diver, but also a shrewd moneymaker.
Got a dirty little secret?
Looking for guidance to remedy a sticky situation?
Seek help from the master of the kitchen! The Dish Diver has solutions to life's little messes. Send your problems to "Ask the Diver." - By mail to Durango Telegraph - Attn Diver -534 Main Ave., Durango, CO 81301; by email at telegraph@durangotelegraph.com, or by fax at 259-0448.
Dear Diver,
I'm on the wagon. My question is this, why do you need an excuse not to drink? For example, last night I'm at dinner with friends. When I ordered a Sprite, the waiter responded "Just a Sprite?" Why do I need a reason, I just don't want to? Jesus, they act like I'm sick or something. So, why do I need an excuse for when I'm not drinking?
– KF in Durango
Katie, Katie, Katie,
I saw you at the Summit on Saturday night, and you definitely needed an excuse then to STOP drinking. You didn't let go of my ponytail for almost half an hour. Your friends are probably concerned because it is such a drastic change in behavior … they probably think you are sick. Don't scare them like that anymore!
– I'll never wear a ponytail again, The Diver
Hey Diver,
I was just in this heated conversation with my southside neighbor about the train smoke this year. Guess what? This guy
bitched all about the train smoke and how he can't breathe in his house, yet during our hour-long conversation, this moron smoked about 15 cigarettes. So he's complaining about breathing train smoke, yet breathing cigarette smoke? Please, do something to point out this guy's idiocy.
– Thanks
Well,
I'd like to point out the title of this column: "Ask the Diver." I don't "point things out" to people, I answer questions (which you have failed to ask). Anyway, you say you had a heated conversation with this friend of yours, implying that you disagreed with him. Since you don't mind the train smoke, what's the big deal with cigarette smoke? Would someone please point out this guy's idiocy?
– Always there for ya, The Diver
Diver,
I work in a liquor store. When people try to use fake IDs, they are so bad and so fake that we take them. Then they get mad. As a matter of fact I often get yelled at, threatened or whatever. I'll tell you this, before I was 21 and used a fake ID, if it got taken, that's the chance you
take. So why do these spoiled little pansies get all upset when all I'm doing is my job?
– Curious, Jack
My dearest Jack,
Having been a beer pourer in a past professional life, I understand what you are going through. I had someone give me a ski pass once! This is what I would do: Take the IDs, sell them to freshman at the Fort so you can take them again, and sell them again. It would be never-ending profit! (Feel free to give me a cut for this great advice.)
– Hoping to score some cash, The Diver