Heli-skiing lands at Silverton Mountain
New permit includes approval for helicopter skiing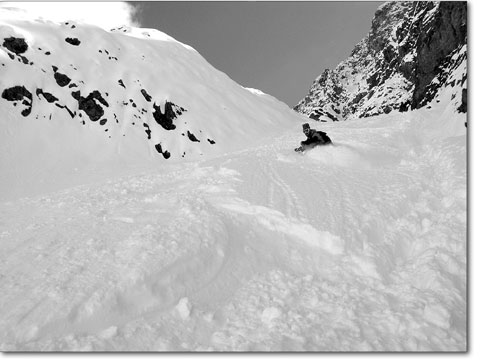 A Silverton Mountain employee tests the product last Sunday after the ski area received its first big dump of the season. The ski area also received good news in the form of approval of its 40-year permit to operate on 1,300 acres of public land. The record of decision also includes approval for potential heli skiing within the permit boundaries./Photo courtesy Silverton Mountain
by Will Sands
The sound of helicopter blades could echo over Silverton Mountain in the near future. A surprising component of the ski area's recently approved 40-year lease has come to light. In addition to gaining permission to host 475 skiers per day on 1,300 acres of Bureau of Land Management land, Silverton Mountain ski area also has the agency's permission to conduct helicopter operations and build a heli-pad near the current base area. The ski area contends that while helicopter skiing is a strong possibility, the focus will be on helicopter-assisted avalanche control.
In 1999, Aaron Brill, owner and operator of Silverton Mountain, submitted a plan for an expert backcountry skiing operation on 350 acres of his land and 1,300 acres of adjacent BLM land about 6 miles north of Silverton. He installed a double chairlift on his property, an old mining claim, in 2001 and moved toward his dream of creating a powder skier's paradise with inexpensive lift tickets and a 475-skier cap. For the last three years, the unique ski area has operated under a short-term Special Recreation Permit, and only 80 guided skiers per day have been allowed to ski the terrain.
However, on Sept. 29, the BLM put a close to three years of environmental study and opened the way to guided and unguided skiing at Silverton Mountain. Under the new permit, which takes effect next April, Silverton Mountain will be able to host up to 475 skiers per day. Under the new permit, helicopter skiing also will be permitted at the ski area. "Limited helicopter use" was not a component of the BLM's Preferred Alternative C but made it into the final approval as an Approved Resource Management Plan Amendment.
"That was not in the preferred alternative, but it was analyzed during the environmental review," explained Richard Speegle, recreation project leader for the BLM. "Even though it was not in the preferred alternative, the decision maker can look at bits and pieces and put them together."
The environmental impact statement for the ski area explained the rationale behind permitting helicopter usage, saying, "This would allow wider skier distribution, more extensive skier compaction in the permit area, and more rapid and wide ranging stability testing and avalanche-control activities."
Speegle added that avalanche control is the main reason that helicopter use was approved as part of the final lease, saying, "We always felt that helicopters would be an integral part of avalanche control."
During the extensive environmental review, no significant impacts associated with helicopter use were revealed, according to Speegle. In fact, Telluride's Helitrax already has approval to conduct heli-skiing in the vicinity of Silverton Mountain but takes advantage of the permission only occasionally.
"Telluride's Helitrax already has approval to conduct its operation on a whole lot of area up there, but they use it very rarely," he said.
Brill commented that helicopter use at Silverton Mountain remains "highly conceptual" right now. Like Speegle, he said that avalanche control is the major issue, noting that the ski area is responsible for control on the road leading to the ski area. When the area weighed all of the options, dropping hand charges from a helicopter actually made the most sense.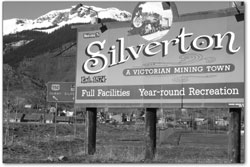 A sign welcomes visitors to Silverton. The town will be able to live up to its promise of "year-round recreation" even more now that Silverton Mountain has received the go-ahead for 475 skiers a day on 1,300 Burea of Land Management acres starting next April./Photo by Todd Newcomer
"We had a lot of discussion about avalanche control with San Juan County and considered the use of howitzers," Brill said. "But howitzer rounds are super expensive and helicopter time is actually cheaper."
Taking clients heli-skiing would provide a means of paying for expensive control work, according to Brill. "I'm all for anything we can do to make the area safer for our employees and improve access to the ski area," Brill said. "In order to make these new safety aspects happen, we have to find a way to pay for it."
Nonetheless, Brill said that heli-skiing will never be a focus of Silverton Mountain. "All U.S. heli-skiing operations lose money," he said. "I don't need another way to lose money. We're just exploring it on a very limited basis."
The ski area is indeed limited in terms of future heli-skiing. The BLM approval is constrained to Silverton Mountain's 1,300-acre permit boundary, and Brill said only a small piece of that would be appropriate for heli-skiing.
"Even if it were in my interest to provide lots of heli-skiing, every other heli operation in the world has 40 or 50 square miles to work with," he said. "We only have a couple hundred acres. Realistically, it's probably a day's worth of skiing."
In spite of the fact that helicopter operations would be relatively low key at Silverton Mountain, the BLM is proceeding cautiously. Speegle said that the agency is aware that heli-skiing could blow up into a controversy.
"We think that it could be a controversial issue especially with the noise," he said. "But we figured we'd have a test period so we'd know from the Town of Silverton and backcountry skiers if noise is going to be an issue."
Speegle added that the biggest impact of all could be on other backcountry users. However, by restricting helicopter use to the ski area's current boundary, the BLM hopes to minimize conflict.
"Really the big issue is encroachment on other backcountry skiers," Speegle said. "People are all trying to get after the same powder. But because this will be inside Silverton Mountain's permit boundary, I don't think it's a big issue for people."
The public still has two weeks to appeal Silverton Mountain's 40-year permit. However, Speegle said the BLM is not expecting any last-minute fireworks. "We haven't been getting many calls," he said. "This has all been around for so long. I think people are just letting it go."
For his part, Brill is looking forward to relaxing into the next 40 years. Looking back at the last three, he commented, "The guys with the BLM worked really hard on this, but I'm very glad to have the permit and very glad I'm no longer in the public lands process. I'm also very thankful that we got a 40-year lease. This is not something I want to have to deal with every five years." •