Grim traffic future takes form
Transportation forecast details potential for gridlock

SideStory: The future of the local road map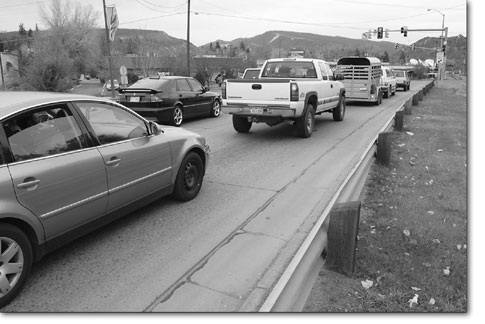 Cars begin to back up on Camino del Rio while waiting for the light to change on Main Avenue just as rush hour starts Monday afternoon. The city and county's new transportation plan calls for more than $110 million in improvements and new roads in Durango alone over the next 25 years./Photo by Todd Newcomer.
by Will Sands
Total gridlock could be in the future for downtown Durango. Early results of an ongoing effort to plan for transportation are pointing to a grim transportation future for the City of Durango and La Plata County. More than $110 million in improvements and new roads are being recommended inside Durango alone to avert what's being called a "worst-case scenario."
The city and county's new transportation plan has been given the catchy nickname of 2030 TRIP. Started in response to the ongoing development in Grandview and growing transportation issues within city limits, the plan is intended to ensure a transportation system that meets the area's needs through the year 2030. The city, county and a team of consultants have been hard at work on 2030 TRIP since January of this year and plan on releasing the final plan in coming weeks.
One of the foundations of the planning effort is a 75 percent projected increase in the population of La Plata County. The jump in area residents from 46,300 to 80,900 over the next 25 years is expected to have serious impacts on the transportation picture.
"A lot will be changing in the next 25 years," explained Jack Rogers, Durango Public Works director. "We think the total population of La Plata County will grow to over 80,000. The transportation needs are going to be substantial and most of those needs are going to be in and around the City of Durango."
Already, certain corridors like Camino del Rio and North Main Avenue are beyond capacity, according to 2030 TRIP. The study will endeavor to improve existing problems and try to keep the congestion from spreading into other areas of Durango or into the unincorporated county.
"For the most part, I don't think the traffic in the county's that bad right now," commented Jim Davis, La Plata County engineer. "It's once you get into the City of Durango and when you hit state highways that you start to experience real congestion."
However, Davis added, "We do know it's a matter of time at the rate we're growing. This is an effort to get ahead and start planning for transportation."
Though traffic volumes are forecasted to jump dramatically, local population is still not large enough to legitimize a sweeping mass transit solution like light rail or sprint buses. The recommended fixes all come in the form of expanded roadways or new roads.
"Unfortunately, we weren't able to find a good mass transit system that is going to work for this kind of community," Rogers explained. "Instead, there will have to be substantial investments in the road and street system."
The study recommends a possible six-laning and conversion of U.S. Highway 550/160 into a freeway, complete with off-ramps. That responsibility that will fall on the Colorado Department of Transportation as will the cost, which is expected to exceed $100 million. The added burden of increased traffic will fall squarely on Durango. 2030 TRIP recommends the city undertake 15 separate projects (see sidebar) with a total tab of more than $113 million.
"There'll be some things we can do to reduce the need for road systems, but it's going to be a difficult proposition," said Rogers. "Based on the projected development outside of Durango in the county, a lot of those people are going to need to get into their cars and drive to work every day."
The findings of 2030 TRIP are no shocker for Durango City Councilor Renee Parsons. "This was no real surprise," she said. "The costs of growth were bound to catch up with us at some point."
Given current development approvals and relatively unconstrained growth, such a pinch was bound to happen, Parsons said. She also noted that the more than $113 million in scheduled infrastructure improvements will have to be carried by the Durango taxpayer. However, elected officials do have the ability to change the expected outcome, according to Parsons.
"This grim projection assumes the continuation of current levels of growth," she said. "But, the city has an opportunity to take a step back. I think it would be prudent to adopt a growth moratorium. It's only a done deal if we continue to approve developments without requiring developers to provide infrastructure."
Parsons expressed her hope that 2030 TRIP will send a powerful message to Durango city councilors and La Plata County commissioners that the present approach to growth and development needs to change.
"I think both the city and the county have responsibility here," she said. "I think it's time to sit down and start doing what we should have happened 10 years ago — some hard planning."
Parsons then concluded, "I'm really hoping the reality of this presentation will show the city and the county that we have a responsibility to work together."
Local residents have a final opportunity to do some work on transportation issues. La Plata County and the City of Durango are hosting a third public workshop on 2030 TRIP on Wed., Nov. 16, from 6-8 p.m. at the Durango Community Recreation Center. Attendees will have the opportunity to learn about the analysis of transportation alternatives and discuss preliminary recommendations. Additional information on the study has also been compiled online and can be found a www.2030TRIP.com