Getting 'out' in Durango
Group steps up to the plate for local gay community


by Missy Votel
To effect change, Kate Sullivan first had to spare a little.
"I was walking into City Market with a friend and some teen-age boys called me a dyke," said Sullivan, 31, who, despite being openly gay, was still taken aback by the comment. "When I went to check out, they were in front of me and ended up being a few cents short. My friend and I gave them the amount they needed for their purchase. They thanked us and left the store."
After that experience – and many others like it she has had since coming out at 16 – Sullivan decided it was finally time to do something.
"It honestly doesn't bother me," Sullivan said of the slur. "But it just shows me there's a level of ignorance. I realized that the best way to combat homophobia is to be 'out' and involved in the community. The more out and open we are, the more it becomes a part of everyday life."
So, shortly after the City Market incident, Sullivan launched OutDurango, a "super grassroots" organization to serve as both political watchdog and community mobilization tool for the local lesbian, gay, bisexual, transgendered community. The group kicked off with a disco night last month at Solid's in honor of Coming Out Day. Sullivan said more than 50 people showed up to the event, which she plans to turn into a monthly occurrence.
"We want it to be more celebratory," she said. "It's just an opportunity for members of the gay and lesbian community and straight supporters and friends to come together and have fun in a safe setting."
Sullivan, who moved here 4½ years ago, said the idea came from her experience growing up in New York City, where there are more resources for the gay and lesbian population.
"I grew up in New York, and I'm used to gay clubs and bars and community centers," she said.
In addition to providing a place to socialize, Sullivan said she is hopeful the monthly gatherings will serve as a springboard for more serious endeavors.
"To start, the most important thing is to bring the community together. Then we can start to look at things going on around us politically that are affecting us."
A former law student and vice chair of the the La Plata County Democratic Committee, Sullivan is no stranger to political activism. She said there are several areas where Durango and Colorado could improve upon gay rights, pointing out that although Colorado does have anti-hate crime legislation, it is lacking in other areas.
"We live in a state that still allows discrimination in employment and housing based on sexual orientation," she said. "I'm not talking gay marriage here, I'm talking the ability to work a job without the fear of being fired because you're lesbian or gay. I'm hoping OutDurango will begin to raise the level of awareness on some of these issues, not to mention 4 the level of public debate."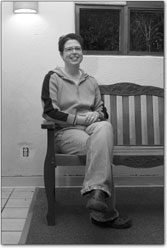 Kate Sullivan founded OutDurango after an incident where she was publicly harassed because of her sexual orientation. The group holds monthly gatherings and hopes to unite the community, and raise awareness of gay-rights issues and contributions to society./Photo by Todd Newcomer.
Aside from having no recognition of same sex couples, the state also does not allow second parent adoption in same sex partnerships, and second parents are not allowed to seek medical attention for their children or enroll them in school. She said this is increasingly problematic given that the number of same sex households in Colorado increased by 385 percent from 1990 to 2000, from 2,070 to 10,045.
In addition to drawing attention to same-sex couple rights, Sullivan also would like to work for protection for gay and lesbian students.
"I was a gay teen, and it sucked, and I lived in New York City," she said. "I was in this no-man's land where you weren't accepted by the gay community because they didn't want to be seen as 'recruiting,' and you weren't accepted by the straight community, either."
To drive her point home, Sullivan pointed to the recent murder of Cortez transgendered teen Fred Martinez, as well as the death of University of Wyoming student Matthew Shepard in 1998.
"Matthew Shepard was killed eight years ago, and how much has changed since then?" she asked "Not much."
On a local level, Sullivan also is working with the Washington, D.C.-based Human Rights Campaign in the hopes of providing free sensitivity training for Durango schools, including Fort Lewis College, and local law enforcement.
"Education is huge, especially in a small town," she said.
Although the group is starting small, Sullivan is in the process of obtaining registered nonprofit status. Upon completion, she said the group will appoint a board of directors and be able to go after grant money for programming.
"There's a lot I can do without money, but for what I want this to grow into, it's going to take some funds," she said.
In addition to the sensitivity training, Sullivan also envisions a gay and lesbian community center and free legal seminars on gay rights protection.
"There's a lot of issues that need to be addressed, and we want to start at the community level," she said.
She also would like to explore teaming up with the Four Corners Gay & Lesbian Alliance for Diversity, or 4CGLAD, another local gay and lesbian advocacy group that hosts the annual Black Tie AIDS Benefit and regularly publishes a newsletter for the gay and lesbian community.
"We want to be an active group," she said, adding that community involvement will be key. "People feel like, 'Everything's all right in my life, so I don't need to get involved,'" she said. "That's not the way a community can function well. We have responsibilities."
In closing, Sullivan emphasized that although the group serves the gay and lesbian population, it actually will have far-reaching effects – such as more tolerance – that will make the entire community a better place.
"I hope I can get it rolling and make it something for our community, and I mean our community as a whole," she said. "I love Durango, and this is where I want to put down roots. And I want it to be a place that honors diversity."