Red Bull readies for round two
Difficulty and technical challenge keep extreme race?s field small

SideStory: The Divide & Conquer safety net: High water tops list of concerns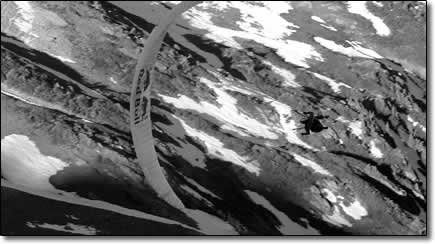 Othar J. Lawrence, of last year's 1st place team "Nike ACG," takes the lead off Kendall Mountain. Finding a paraglider is one of the biggest challenges for prospective Divide & Conquer teams./Courtesy photo.
by Will Sands
t could arguably be called one of the most extreme races anywhere. But the difficulty of the second-ever Red Bull Divide & Conquer may also present some unforeseen problems. As the four-person relay approaches its start June 18, entries are not exactly pouring in. Plus, racers competing in the paddling section face a new rule on kayak length and could be challenging the Upper Animas at high water.
Divide & Conquer is modeled on the Red Bull Dolomitenmann which has run for the last 17 years in Austria. Divide & Conquer takes place in the San Juan Mountains just north of Durango and features four-person relay teams competing in trail running, paragliding, kayaking and mountain biking. The race has been touted as among the most difficult to ever take place in North America and more strenuous than the Dolomitenmann. Athletes competing in last year's first ever Divide & Conquer said the characterization was accurate.
"I've still got a stomachache," said cycling legend and Durango resident Ned Overend. "It's a brutal mountain bike portion. It's an epic ride for sure. That slog up to Mitchell Lakes is like nothing else I've ever seen."
The race begins in Silverton with 8 miles of trail running up Kendall Mountain. Next, paragliders take the baton and launch from as high as 13,300 feet. From there, a kayaker takes over and runs the Upper Animas and its 27 miles of Class IV and V whitewater to below the Rockwood Box. The fourth and final leg of the competition features 27 miles of mountain biking covering more than 7,000 feet of elevation gain, including a rough, steep climb up Mitchell Lakes. The
mountain bikers eventually cross the finish line at the Durango Mountain Resort base area.
Last year, Overend helped Team Specialized/Riversports, which also included Jesse Rickert, Will Gadd and
Arron Pruzan, to a third place finish. The team completed all four legs in just more than eight hours, 15 minutes. While Overend is quick to characterize the race as brutal, he also believes it is unmatched in greatness. In fact, he is opting to pass on a NORBA National in Park City on June 18 and instead line up at the Divide & Conquer.
"The prize money is great," he said. "There was a lot of press, and there wasn't even an entry fee. There are mountain bike races out there that are longer, but this is interesting because it's kind of a solo time trial, but you've also got the weight of the whole team on your shoulders."
Big press, prize money and lack of an entry fee do not appear to be working out for race organizers, however. Divide & Conquer currently has 13 teams entered, well under its 50 team cap and just on par with last year's first annual event.
"Because of the nature of the event, it's hard to get people in each of those disciplines and get a lot of teams," said Patrick Harper, the course designer.
Harper added that the paraglider seems to be the most difficult slot to fill. "There aren't a lot of paragliders out there that like this kind of high altitude flying. Plus, we bumped up the rating, so we're screening out a lot of people who are not comfortable with mountain paragliding."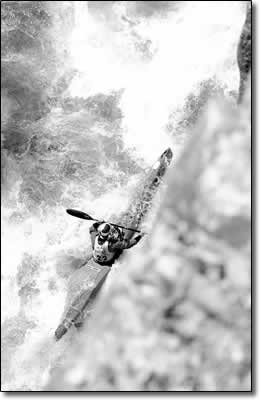 Red Bull athlete Steve Fisher reaches for speed on the Animas River section of last year's Divide & Conquer race. High water could present some issues during this year's second Divide & Conquer. However, organizers have an alternate in place./Courtesy photo
Harper added that the paraglider seems to be the most difficult slot to fill. "There aren't a lot of paragliders out there that like this kind of high altitude flying. Plus, we bumped up the rating, so we're screening out a lot of people who are not comfortable with mountain paragliding."
On the other hand, Harper said that the field should be more diverse this year. During its first running, Divide & Conquer was populated principally by Colorado teams.
"We've got a lot more people from throughout the U.S. this year," Harper said. "We've really concentrated our marketing efforts outside Colorado, and that's paying off.
Harper said that organizers also have ironed out some minor issues with media coverage and other logistics that arose last year. "We ran into a few problems last year that were easy to solve," he said. Red Bull Divide & Conquer is also hoping to avoid any major incidents this year. With the Animas River currently running at near flood stage, organizers are prepared to shorten the kayak leg if high water persists.
"We have an alternate plan," Harper said. "We would shorten the kayak section and racers would not run the lower Rockwood Gorge. But we're going to make that call when we get closer to the event."
In addition to a potentially shorter4 course, kayakers will be paddling much shorter boats this year. Last year, Durango's Mike Freeburn won the kayaking leg in a plus-13-foot Wavehopper. His time helped push Team Nike ACG, which also included Mike Kloser, Michael Tobin and Othar Lawrence, to the overall victory in just under eight hours. This year, Freeburn will be adhering to a new requirement and paddling a 9-foot boat. Team Nike ACG will also not be back to defend its title.
"The team that I've been racing with fell apart," Freeburn said. "Othar Lawrence was injured recently, and Michael Tobin got really ill after a race in Sweden. I'm going to race. I just don't know which new team I'm going to race with."
Freeburn noted that the new boat requirement will change the nature of Divide & Conquer. "The different boat will make it a different race," he said. "If the water is high, it'll compress the times. It's likely that there will be smaller time gaps between people."
Like Overend, Freeburn noted that there is no other race that can match the difficulty and intensity of Divide & Conquer. "There are races that are longer," he said. "I don't know of a race that has whitewater that's this hard and is this long at high altitude."
Freeburn concluded by saying that if the current high water holds, this year's event could be off the charts.
"I just hope it all goes safely this year," he said. "If it's really high, the gorge can be very unforgiving. You could easily get beat up and swim and drown. It's already happened in there."n