Paying the price for wildlife
New stamp to be required for access to state wildlife areas

SideStory: The stamp's local implications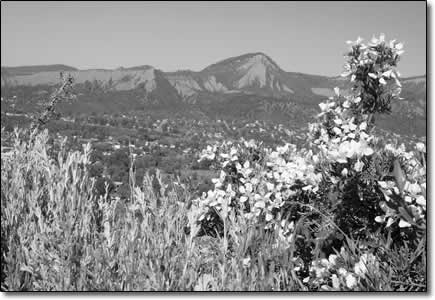 Perins Peak punctuates the skyline from atop College Mesa. A new bill passed by the state Legislature will require users of state wildlife areas, such as the Perins Peak State Wildlife Area, to buy an annual wildlife habitat stamp for $10./Photo by Todd Newcomer.
by Missy Votel
ecreating on some public lands will carry a price next year. The move by the Colorado Division of Wildlife is being supported by typically anti-fee environmental groups yet is expected to catch more than a few land users unawares.
Colorado House Bill 1266 was quietly signed into law earlier this month by Gov. Bill Owens. Starting in 2006, it will require all users of DOW managed state wildlife areas to buy a "Colorado Wildlife Habitat Stamp." The stamps will cost $10 per year, or $5 if bought in conjunction with a hunting or fishing license. The fees from the stamp, in addition to increases in resident fishing license from $20 to $25 and hunting licenses from $20 to $30, will go toward DOW wildlife habitat conservation and acquisition. The stamp will be required for entrance to 230 of Colorado's state wildlife areas, which encompass nearly 370,000 acres, including about 23,000 in Southwest Colorado.
According to Joe Lewandowski, public information officer for the DOW's Southwest Region, the stamp is long overdue for the financially beleaguered agency. Unbeknownst to many, the DOW is self-funded, relying on license fees, sales tax on hunting-related goods and grants.
"We do not get any general tax money," he said. "Seventy-five percent of our money comes from hunting and fishing licenses, and the rest comes from grants from the U.S. Fish and Wildlife Service, surcharges on hunting weapons and ammunition, and GOCO grants."
However, with hunting numbers flat in recent years, the DOW has been forced to look elsewhere for funds.
"We manage for a variety of uses," said Lewandowski. "In addition to preserving hunting and fishing habitat, we also are responsible for the reintroduction of the lynx, protection of endangered or threatened species like the river otter and peregrine falcon, and the study of endangered species, like the humpback chub. It's an expensive operation."
Thus, he said, it seemed only logical for the DOW to seek money from all users of its lands, not just hunters and fishermen.
"The reason we went this direction is because a lot of people who don't hunt or fish use state wildlife areas to bird watch, walk their dogs, etc.," he said.
Lewandowski said since funds are earmarked for habitat protection and pur
chase, most environmental groups around the state back it.
"People hold wildlife as an important value," he said.
He also said the stamp did not receive the scrutiny and opposition that the federal government's Fee Demo Program did because of the DOW's self-sustaining nature.
"A lot of protest with fee demo was because people said it was double taxation," he said. "But since we don't get any money form the general fund, there really is a distinction."
One statewide conservation group, the Colorado Mountain Club, with 10,000 members and a chapter in Durango, backed the stamp despite a general policy to the contrary.
"We are against fee demo; we think government should be appropriating money to these very important resources," said Vera Smith, the Golden-
based group's conservation director. "However, the DOW doesn't get appropriations, and the fact is, we need money to protect wildlife."
The wildlife stamp also was easier to swallow because it makes exceptions for lower income people, will sunset in five years and will go toward alleviating the DOW's backlog, she said. "We were really concerned that the DOW didn't have adequate funds," she said. "Each year, they were only bringing in 90 percent of the previous year. They've been running down reserves and needed an infusion."
She also noted that her group's members, as well as Coloradoans in general, have a vested interest in the condition of DOW lands, whether they use them or not.
"We don't want (the DOW) in crisis mode because that will lead to less enforcement and less proactive management of fish and game and nongame,"4
she said. "The Colorado economy and quality of life depends on vibrant hunting and fishing and nongame ecosystems. We need complex biodiversity to be healthy."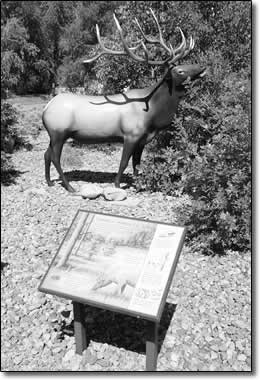 An educational display greets visitors to the Colorado Division of Wildlife offices in Durango. Starting next year, the self-funded agency will require users of its lands to buy an annual stamp for $10. The funds will go toward habitat protection and acquisition./Photo by Todd Newcomer
she said. "The Colorado economy and quality of life depends on vibrant hunting and fishing and nongame ecosystems. We need complex biodiversity to be healthy."
In addition, she said the group welcomes any efforts to conserve what is left of the state's dwindling wild lands.
"We're seeing fairly rapid development of wildlife areas, and it's important to try to preserve some of them," she said. "Our whole membership values healthy ecosystems and being able to go out and enjoy them. We decided it was time to step up and pay and not just leave it on the shoulders of hunters and fishermen."
However, not everyone is on board with the new wildlife stamp. Kitty Benzar, of the Western Slope No Fee Coalition, said her group has not taken a stance against the stamp because the group concentrates on federal lands rather than state ones. However, as a resident of northern La Plata County, near the soon-to-be-affected Haviland Lake State Wildlife Area, she is opposed to the stamp.
"I think it's unfortunate that it passed," she said of the bill. "People should be able to go into these areas, walk around and enjoy the scenery. If I don't take anything and just want to look, that should be free."
She said public lands fees, no matter their intent, are detrimental.
"My personal opinion is that any fee discourages people from using public lands," she said. "It's healthier for people and society to get out and enjoy the outdoors."
Benzar, who frequents Haviland Lake to snowshoe, cross country ski and walk her dog, said she rejects the argument that the stamp is not double taxation.
"We paid for that land sometime in the past, so we own the land," she said.
Furthermore, she said enforcing the stamp will be logistically difficult, particularly in areas where multiple agencies cross over.
"Are they going to put up signs and fences all over to tell you whose permit you need to have in your pocket?" she asked. "I think they're going to have an enforcement nightmare on their hands."
Bill Manning, of the local trails advocacy group Trails 2000, said his group is taking a wait-and-see approach to the new stamp. Of particular interest to Trails 2000 is the Perins Peak Wildlife Area, which is crossed to access the Dry Fork Trail and ultimately, the Colorado Trail. Although the Dry Fork Trail is on Forest Service land, the trailhead is on DOW land.
"The discussion is centered around the Dry Fork Trail," said Manning. "We're just waiting to see, like everyone else."
Currently, La Plata County and the DOW are embroiled in a dispute over who owns the access road, known as Dry Fork Road, or County Road 207. Lewandowski said the DOW has yet to decide whether it will charge a fee for accessing the Dry Fork Trail via the Dry Fork Road or for using the trailhead.
"It's being considered," he said. "The devil's in the details, and the details are being worked on now."
Regardless, Manning said the stamp will likely take more than a few public lands users by surprise.
"I think this may end up blindsiding a lot of us," he said. "There's going to be some people who are going to be shocked."
However, Lewandowski said it is this sort of thing the DOW is trying to avoid.
"We're not going to be hammering people the first year; we're going to be easing into this," he said. "We're not going to be going around playing habitat stamp cops. That's not the intent. The intent is to promote wildlife values."
He agreed that a lot of people will likely be surprised upon learning they need to pay to use the once-free lands, and for most first-time offenses, officers will be lenient.
"We're nice people, generally," he said. "This is a long-term project for the DOW, and we want to do it right."
In this week's issue...
May 11, 2023

New hostel offers hikers, skiers and other frugal fun hogs place to hang their hats
May 4, 2023

Proposed apartments spur efforts to preserve historical burial grounds
May 4, 2023

Small mountain hamlet to remain resort-free, for now