Second homes spread through region
Baby boomers push increase in seasonal residences

SideStory: Detailing the influence of second homes: Region 9 initiates study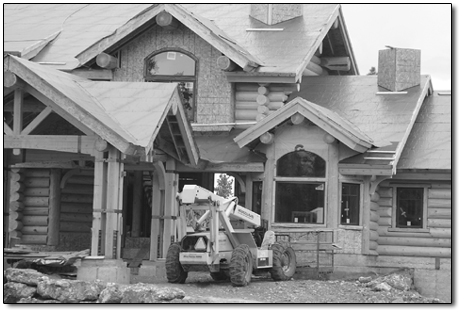 A new log home in the Two Dogs development nears the final stages of construction. The north county is typically populated by more second homes, a trend that is on the rise in La Plata County as Baby Boomers reach retirement./Photo by Todd Newcomer
by Will Sands
Many Baby Boomers are discovering that there's no place like a second home. Call them what you will – snowbirds, second homeowners or part-time residents – but seasonals are increasingly choosing the Durango area for one of their homes. The trend has picked up in recent years and is bringing widespread changes with it.
Judy Sipe and her husband, Dennis, are two people who are banking on a local boom in second homes. The Sipes own Mountain Home and Ranch Caretakers, a business dedicated to maintenance of properties that are lived in for only part of the year. The couple has taken care of Granite Ranch, located north of Durango in the Animas Valley, for 11 years. In recent years, they've started offering other seasonal residents peace of mind when they are away and a turn-key situa
tion when they return. These services range from simple weekly checkups to full-blown maintenance, including gardening, carpentry, snow removal and cleaning.
"We'll go by their houses and check up on them," Judy Sipe said. "If they need cleaning done, maintenance work or any
thing they might want, we can provide that service. Our clients feel comfortable that someone's going by their homes every week to make sure they're alright. They know they haven't been broken into, damaged or aren't getting run down."
Sipe said that business has picked up
steadily since they started accepting new clients a few years ago, and that she envisions many more seasonal residents requiring similar services in the future.
"Things have picked up for us in the last couple years," she said. "With the amount of new construction going on in the area, I think people are looking more and more at Durango."
Riding the Baby Boom
The exact number of new second homeowners in La Plata County is hard to pin down, according to John Wells, broker-owner of the Wells Group. Warranty deeds to new homes often have misleading addresses, and finding the actual numbers would entail researching new La Plata County driver's licenses in conjunction with home closings. However, Wells said that he senses a surge in local second homeowners.
"In my opinion, I'd say we're having an uptick in the number of vacation4 homes and second homes," he said. "If you go to traditional second-home neighborhoods, like Durango Mountain Resort and Tamarron in the north county or Vallecito, we are seeing more sales."
Wells said that the increasing number of second homes can be tied in part to aging Baby Boomers. The eldest members of the most populous generation are currently approaching retirement.
"Even though the economy is interesting on a national and international basis, we have Baby Boomers getting close to retirement," Wells said. "People are making lifestyle choices to move here and not have to be employed."
Wells added that a revitalized oil and gas industry in Texas and Oklahoma also is sending increasing numbers of second homeowners toward the Durango area, saying, "With the oil and gas industry doing what it's doing, we are seeing more people from Texas again buying part-time residences."
Second generation tourists
Bobby Lieb, director of the Durango Chamber of Commerce and the La Plata Economic Development Action Partnership, concurred that the Baby Boom is a major component of La Plata County's second-home scene.
"I like to refer to the second homeowner as the second generation tourist," Lieb said. "They first come through as a touring visitor and say, 'Wouldn't it be nice to spend more time here?' As the Boomers move more into their peak earning years, some are buying second homes."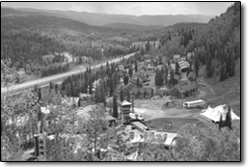 A golfer enjoys the links at Dalton Ranch recently. As more affluent Baby Boomers retire, they are seeking second homes in areas with amenities such as golf courses and ski resorts./Photo by Todd Newcomer.
"I like to refer to the second homeowner as the second generation tourist," Lieb said. "They first come through as a touring visitor and say, 'Wouldn't it be nice to spend more time here?' As the Boomers move more into their peak earning years, some are buying second homes."
Lieb then concluded, "The rise of the second-home market is completely in line with the life cycle of the Baby Boomer."
The Baby Boomer-second home combination is also having a profound impact on the finances and character of the Durango area, according to Lieb. He noted that while tourism remains the biggest local stream of income, seasonal residents are spending more time and money in Durango.
"It's not going to replace traditional tourism," Lieb said. "Tourism still creates the vast majority of jobs in our community. But second homeowners really have a much bigger impact on our local economy than people think."
Lieb argued that evidence of the impact is obvious along Main Avenue. "We've replaced T-shirt shops with art galleries," he said. "You still have T-shirt shops in downtown, but more and more businesses cater to people who aren't just passing through."
A taxing influence
The Friends of the Animas Valley is a local group that adamantly opposed the development of the Kroeger Ranch just north of Durango city limits, has raised concerns about the Southern Ute Indian Tribe's Three Springs project and challenged a municipal water system in the vicinity of Bayfield. In spite of this track record, FOAV has mixed feelings about second homes.
"It's sort of positive and negative," said Richard Nobman, FOAV vice-president. "Most of the second homeowners seem to have more money than locals and that drives up real estate values. Also, infrastructure needs to be put in place whether people live here full-time or just for a month. But the property tax is probably good for the school system, so it's kind of a double-edged sword."
Nonetheless, Nobman said that FOAV has significant concerns about the rapidly escalating value of local real estate. He personally got a good taste of that escalation upon receiving the latest tax assessment for a home he's owned for more than a decade.
"I got my county tax assessment not long ago, and it went up nearly $100,000," he said. "I'm asking myself if I can even sell this home for that much. A big question about second homes is what are they doing to the taxes we're all required to pay."
Not your typical trophy home
Both Lieb and Well concluded that typical issues with second homeowners do not necessarily apply in Durango. Lieb said that this is particularly true in the case of the "trophy home."
"In terms of the whole trophy home thing, the numbers aren't as high as people perceive them to be," he said. "But the perception's there because they stick out. People see larger, single-family houses and assume they're second homes. But it's not always the case."
The image of the second homeowner as a wealthy, image-conscious, part-time resident also does not fit neatly in Durango, according to Wells. Durango is unlike nearby resort areas and consequently draws a different flavor of seasonal resident.
"Durango is not specifically a resort," Wells said. "Durango has resort influence in an actual town."
Even though townhomes might be listed for as much as $1 million in north La Plata County, Wells argued that Durango is still far behind the second-home scenes of areas like Telluride and Aspen. Locally, high-end prices range from $300 to $400 per square foot in contrast to $600 to $1,200 per square foot in Telluride.
"The flip side is that we get a whole different person than Telluride does," Wells said. "That's the place that's on the map, and the place where the elite live. There's a lot of wealth in Durango, but people don't want to flaunt it. They like the real atmosphere of our community."