He's a farmgirl after all



by Chef Boy Ari
Calling all farmgirls: MaryJane Butters wants to talk to you. If you live in the city and haven't met your dormant inner farmgirl, MaryJane will help you find her. "There is a farmgirl in all of us," she says, although I learned the hard way that her use of the word "us" has its limits. This is a story about MaryJane's farmgirl phenomena, and it's a story about the existence – or nonexistence – of a farmgirl in me.
I went to a presentation she gave, part of her national book tour in promotion of: MaryJane's Ideabook & Cookbook & Lifebook … for the Farmgirl in All of Us.
It was in the back room of the organic food store, where MaryJane addressed a room packed with happy, freshly scrubbed women wearing their best farmgirl outfits. MaryJane spoke about the difference between doing it your way and doing it the way you think "they" want it done. This was a lesson that she learned the hard way when her first stab at a book proposal – based on what she thought the market wanted – was rejected. Her next proposal was based on what she wanted to write and was accepted.
This was only her most recent success. For the last decade, MaryJane Butters, 52, has been marketing a home-grown, passionately organic lifestyle, and her efforts have been paying off. It started with her farm, then a mail-order catalog offering value-added products from her farm, like those delicious curried lentils. Eventually the catalog "got out of hand," as she puts it, turning into a glossy magazine called MaryJane's Farm. The magazine contains information on gardening, cooking and other do-it-yourself advice for those who share her aspiration to "live on a farm at the end of a dirt road." With her new book, MaryJane is further defining her audience by marketing to farmgirls, including farmgirl wannabes – still farmgirls, by her definition. "A farmgirl doesn't have to live on a farm," she says.
After her talk, MaryJane received a line of well-wishers and autograph seekers, many of whom had stories to tell. In this unstructured shmooze-time, I began to feel invisible and out of place. The only male in the room, nobody – not even my friends – would look at me. After sampling her instant curried lentils, which were excellent, I retreated to the coffee bar to gather my thoughts.
As I drank my coffee and pondered my cynicism toward the farmgirl phenomena, I wondered if focusing on the farmgirl thing was at the expense of a certain subset of the population – those of us biologically incapable of being farmgirls. I also wondered if perhaps my attitude was related to the fact that nobody's offered me a million-dollar book deal like MaryJane's. After all, success has a way of turning the blameless into targets.
Maybe I was frustrated that, barring surgery or hormone therapy, I would never be a farmgirl. I decided to ask MaryJane if guys can be farmgirls, too.
Back in the room, I took my place behind a woman gushing to MaryJane about how beautiful she was in a July 2004 New Yorker article. The only people left at this point were the gushing woman, MaryJane, her three farmgirl assistants and me. When gushing woman left, so did MaryJane and her entourage, leaving me to stew in my cynicism.
Maybe that was my answer. Guys can't be farmgirls.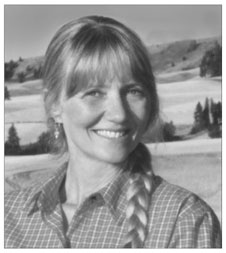 MaryJane Butters
MaryJane's book was on display. I flipped through it, expecting to find advice on sewing aprons out of pillowcases, but I was quickly impressed by the farming advice. I noticed a possible solution to a bindweed problem that plagues a farmer friend of mine. It seems MaryJane had a similar problem and was "about ready to quit farming" before she found a nontoxic material called Nonwoven Propex 4553 (find it at geotextile.com or 800-445-7732). She covered her entire bindweed-infested field with Propex, mulched it, and then planted into it by slicing small holes in the Propex. No more bindweed.
Then I read about a cool hoe, and again she provided information on where to buy it – not from her, but from the manufacturer. Page after page, my cynicism withered like suffocating bindweed. When I found three full pages celebrating garlic flowers, I began to wonder if maybe I was a farmgirl after all.
That night, MaryJane was on the radio, answering to the inevitable comparison with Martha Stewart. "We've both branded ourselves," she said, "and we both celebrate what women do in their homes. I appeal to a more rural crowd; Martha is more Connecticut. My stuff is low budget and doable."
I finally reached the farmgirl queen by phone at her farm near Moscow, Idaho. I asked MaryJane if guys can be farmgirls, too.
"Talking to women is my comfort zone," she acknowledged, sweetly. "Women are my audience, and I'm having fun with this farmgirl thing right now. And the demand is really growing. Women are the fastest group buying small farms right now. At this pace, we will own 75 percent of American farmland in 10 years. We aren't into commodity farming or big machines. We are primarily interested in feeding ourselves and neighbors.
"But we do have embroidered baseball caps for the guys," she added. "They say 'I Dig Farmgirls.'"
With that hat, MaryJane Butters finally spoke to me.
I remain charmed and disarmed by the farmgirl and her mission.
For more info on MaryJane Butters, visit maryjanesfarm.org. Check out her chatroom for a look at the farmgirl dialog she's encouraging. •