Exploring man's darker side
Durango author releases second thriller, 'Locked doors'


by Jules Masterjohn
When I first had the notion to interview Durango writer Blake Crouch, I felt nervous. Partly because he is a real writer, degreed in English and all, and partly because his last piece of fiction, a crime novel to be specific, scared the **** out of me. I made numerous attempts to keep turning the pages of Crouch's first book, Desert Places, a sometimes violent and for this reader, an always frightening tale. After a weekend spree of being simultaneously compelled to read and frozen by the idea of picking up the book while home alone, I finally allowed myself to admit that Crouch's book was too challenging for my consciousness. I could not force, coax or cajole myself to read on. Comfortable with my assessment that I could not embrace his characters' dilemmas and decisions, I put Desert Places down.
Perhaps my fear is owed to the believable, first-person voice coupled with Crouch's well-written and convincing descriptions, which easily formed visual images in my mind. Desert Places took me inside his characters' minds to places that I did not want to know and do not want to recall. Even as I write this, many months after my attempted reading, I have a hard time expelling some graphic imagery from my memory. All the time that the book sat at the head of my bed, I wondered how this kind and humor-loving person, now a new father, could create these kinds of victim/sadist scenarios. Totally perplexed by the incongruity of my personal experience of the man and his fictional creation, this interview is as much an exercise in understanding myself as for public sharing. So, here begins the chronicling of my exorcism.
JM: I can't possibly be the only person who is wondering this – how did such a gentle guy like you write such a terrifying novel like Desert Places?
Crouch: I probably need some serious therapy. I really have no idea why the dark side of human nature became such attractive subject matter for me, although I wrote crime stories as early as grade school, so it must be something deep down in the recesses of my childhood. Surprisingly, I'm not a fan of horror, movies or fiction. What intrigues me is the dilemma of an ostensibly good man or a good woman faced with decisions that threaten to unravel their moral code. Desert Places takes its title from the Robert Frost poem of the same name, and the final stanza nails what's at the heart of what I'm trying to tackle in my fiction. The poem closes: They cannot scare me with their empty spaces/ Between stars – on stars where no human race is./ I have it in me so much nearer home/ To scare myself with my own desert places. Some people think that human nature tends toward good. Some think it tends toward evil. I'm of the latter persuasion. What scares me is the idea that a person really doesn't know what he's capable of until he encounters a situation that puts his values to the test. It's easy to be a good person if you never face the fire. The characters in my books face the fire. Some of them come out unscathed. Some don't.
JM: While reading Desert Places, I kept flipping through the book to get an idea of what was to come because I couldn't stay in the horrifying present moments with your characters. I felt seduced by your luscious writing and disgusted by the violence that your characters committed and received. How do you write so beautifully about ugly things?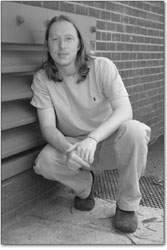 Durango crime novelist Blake Crouch enjoys a little down time before heading out on a tour of the East Coast to promote his new book, Locked Doors./Photo by Todd Newcomer.  
Crouch: My subject matter, the evil that men do, requires that I write some difficult scenes.To help the reader (and myself) through them, I try to write about violence in such a way as to distance the reader from the more visceral aspects. To some extent, I didn't do enough of that in Desert Places. There are moments in that book that, if I could, I would go back and either omit or treat more gracefully. But I didn't repeat that mistake in the sequel, Locked Doors. I think you'll find the new book, if you aren't too scared to try it, much more palatable. And there might even be some redemption for the characters in the end.
JM: A part of me wants to read Locked Doors, yet I still get hung up on the violence thing. I'm pretty sure that I don't want brutal and sadistic images introduced into my consciousness.
Crouch: Though the novel contains violence, it isn't about the glorification of violence. It's about acknowledging that man has some pretty rotten things buried deep in his hardwiring. I think it's naive to assume that human nature is inherently good and will ultimately do the right thing. There's something like 35 wars going on right no; 25,000,000 people were killed since the second World War. The world is a violent place because its occupants are violent. That isn't to say that it can't or won't be overcome, but to underestimate even the average man's capability for evil is very dangerous. I look at my books to some degree as cautionary tales, and even though violence is a byproduct of my subject matter, the overall goal is a serious exploration of the fallen state of man.
JM: With two published crime novels under your belt, what's next?
Crouch: The important thing to me is finding the idea that gets me the most excited, that I don't mind devoting a year or so of my life to … and there's nothing like holding the final book in your hands after two years of slaving away or seeing it in a bookshop. That makes it all worthwhile.
Maria's Book Shop will host a reading by Crouch from his new book, Locked Doors, on Thurs., July 28, at 7 p.m. Check out his website, www.blakecrouch.com, and his recent article, "Sick Little Goobers," at www.crimespreemag.com. •
In this week's issue...
May 14, 2020

Shrouded in unknowns, the timeline for re-opening some businesses in Colorado came into clearer view Tuesday.
May 15, 2020

Pandemics often bring pandemonium. It is easy to be fearful about coronavirus. But we already possess the greatest weapon on Earth against it: our amazing body and its powerful immune system.
May 7, 2020

It may be hard to imagine, but while us humans are shuttered away in our houses, or hiding behind facemasks and Zoom meetings, the natural world is going on without us.